Antonio Banderas is a famous actor who is well known for his many films such as the "Mask of Zorro" in 1998, Assassins in 1995, Spy Kids series, and is a voice actor for "Puss in Boots" in the Shrek franchise. The actor has received various awards for his roles including Primetime Emmy Awards, Golden Globe Awards, and Cannes Film Festival Awards as well.
But Antonio Banderas got nominated for his first Oscar nomination in 2020, where Antonio was accompanied by his daughter Stella Banderas and his girlfriend, Nicole Kimpel. Antonio started dating Nicole Kimpel in August, 2014, where he was still following his divorce from his former wife Melanie griffith. Since then, the Spanish actor has been seen with Nicole Kimpel on many occasions and events together.
If you're curious about Antonio's current longterm girlfriend, Nicole Kimpel ,here's her information down below.you can find out Nicole's facts through our article.
Antonio Banderas and Nicole Kimpel: How Did They Meet?
The 62-year-old Spanish actor met his longterm girlfriend in 2014 at Cannes festival where they met at a party which was organized by their mutual friend; however, they started their romantic relationship after Antonio separated from his former wife Melanie griffith.
While following his divorce with Melanie, Antonio remained friends with Nicole but so many people assumed that Nicole might be the reason for his divorce, but eventually Antonio cleared out the rumors by giving his interview in Spain's Hola! magazine, he said
"Nicole was not the motive of my divorce. I met her at the Cannes Festival last year, but we both knew where we were. I was still a married man, although things were already heading the way they have now ended up. He added "Nicole told me, 'You've got to solve your problems first, then we'll see'. So there's no direct connection to my break-up with another woman, it's not like that."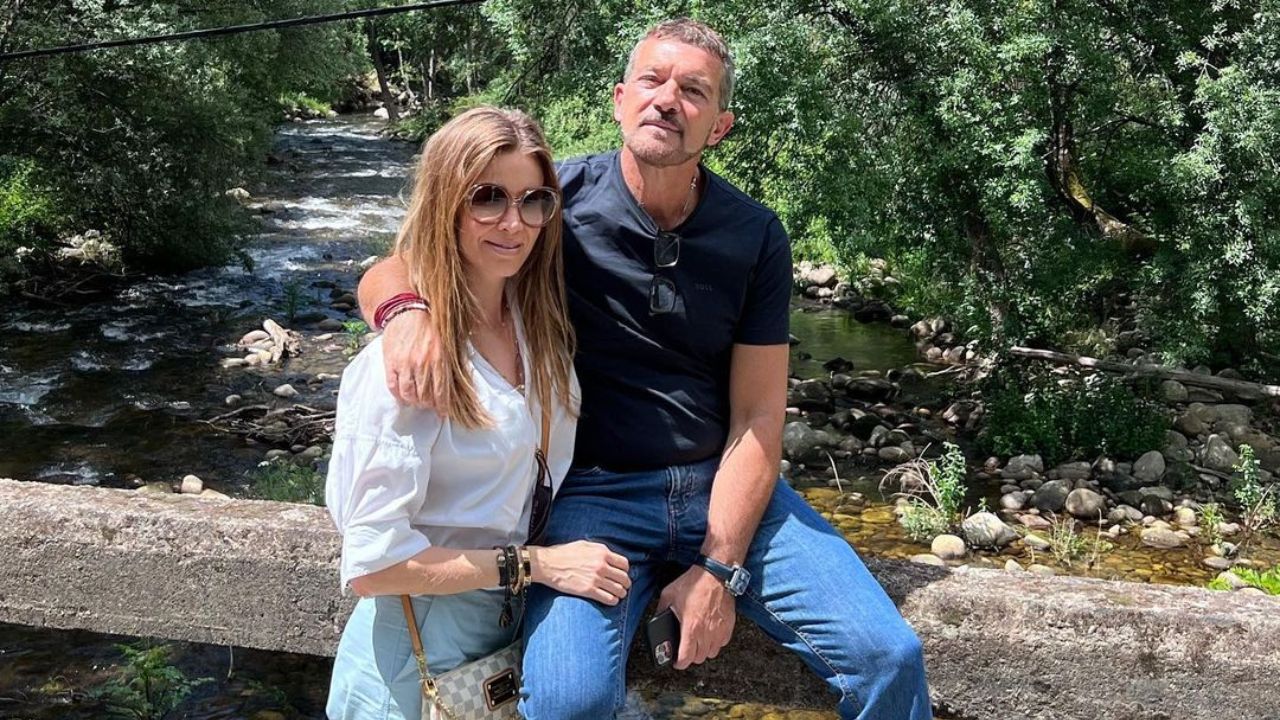 Antonio Banderas is dating his longtime girlfriend, Nicole Kimpel. The couple admits they are not married yet. Nicole Banderas' Instagram
Antonio also shared that after signing the divorce papers he and Nicole started to know eacthother and led to romantic relationship. He even mentioned being thankful for his 19 years of marriage with Melanie and said"With Melanie all is good, thank God. Our marriage has ended in a very natural way. There were no ashtrays thrown to the head.'' Even after their split, Antonio released that he still speaks to his ex wife and that she will always be a part of the banderas family.
Are Antonio Banderas and Nicole Kimpel Married?
After Nicole Kimpel changed her surname into Nicole Banderas in her Instagram bio, many of her fans and people are assuming that the longterm couple might be engaged secretly. Following through Antonio's Instagram, the engagement might happen on July 28, where Antonio celebrated his girlfriend Nicole's birthday at a trendy restaurant in Marbella, located in Spain.
The couple also shared a picture of them celebrating the 8 years together on their Instagram page.
Who is Antonio Banderas' Girlfriend, Nicole Kimpel?
Nicole is a Dutch investment banker, who was born on 28th of July in Stuttgart, Germany. There's no information about her parents except that her mother is Dutch and father is a German engineer ; Nicole grew up with her twin sister named Barbara Kimpel. Both sisters completed their preschool in Stuttgart and moved with their parents to switzeland, where they also studied French and went to high school.
But again, before completing high school, both sisters and their parents had to move to United States. While living in United States, they went to universities on the east and west coast. After that, both sisters returned to Geneva and completed their college degrees. After graduation Nicole started to work for a software company while Barbara moved to United States and study for psychology.
As she started her career from a software company; later she worked for an international bank and then she joined a private bank in Geneva; not to forget Barbara also started working in a real estate business, after returning to Geneva; Barbara also worked in a biotechnology firm.
Eventually both sisters established their own business and named it Bankini, which is a fashion business. Besides, Nicole has worked for some of the many reputed companies such as Merril-Lynch and Lombard Odie. Talking about her net worth, Nicole has an estimated net worth of $1.5 million as of 2022.
Don't Miss These,