Chris Canty, the former American football defensive end, is known for his stint in the New York Giants. The 39-year-old won Super Bowl XLVI with the Giants against New England Patriots in 2011. After his retirement, he works as an NFL analyst and appears on ESPN's "Get Up."
We can see he Chris Canty is doing great after his retirement, but what about his personal life? Is he married or dating someone? Does Chris Canty have a wife? The former NFL player is not married yet but is engaged to his longtime girlfriend, Melanie Renee.
Who is Chris Canty's Fiance, Melanie Renee?
Chris Canty's fiancé, Melanie Renee, is a product marketing agent. She completed her bachelor's degree in marketing from Hampton University and joined Michigan Ross School of Business to complete her MBA, which she did in 2017.
Chris Canty's wife-to-be wrote a lengthy post on her graduation day; on Instagram, Melanie Renee said, "And I am out... Here's to 2 years of learning, development, and love. I anticipate breaking down in the next couple of days but for now, I am hyped about getting through the next chapters."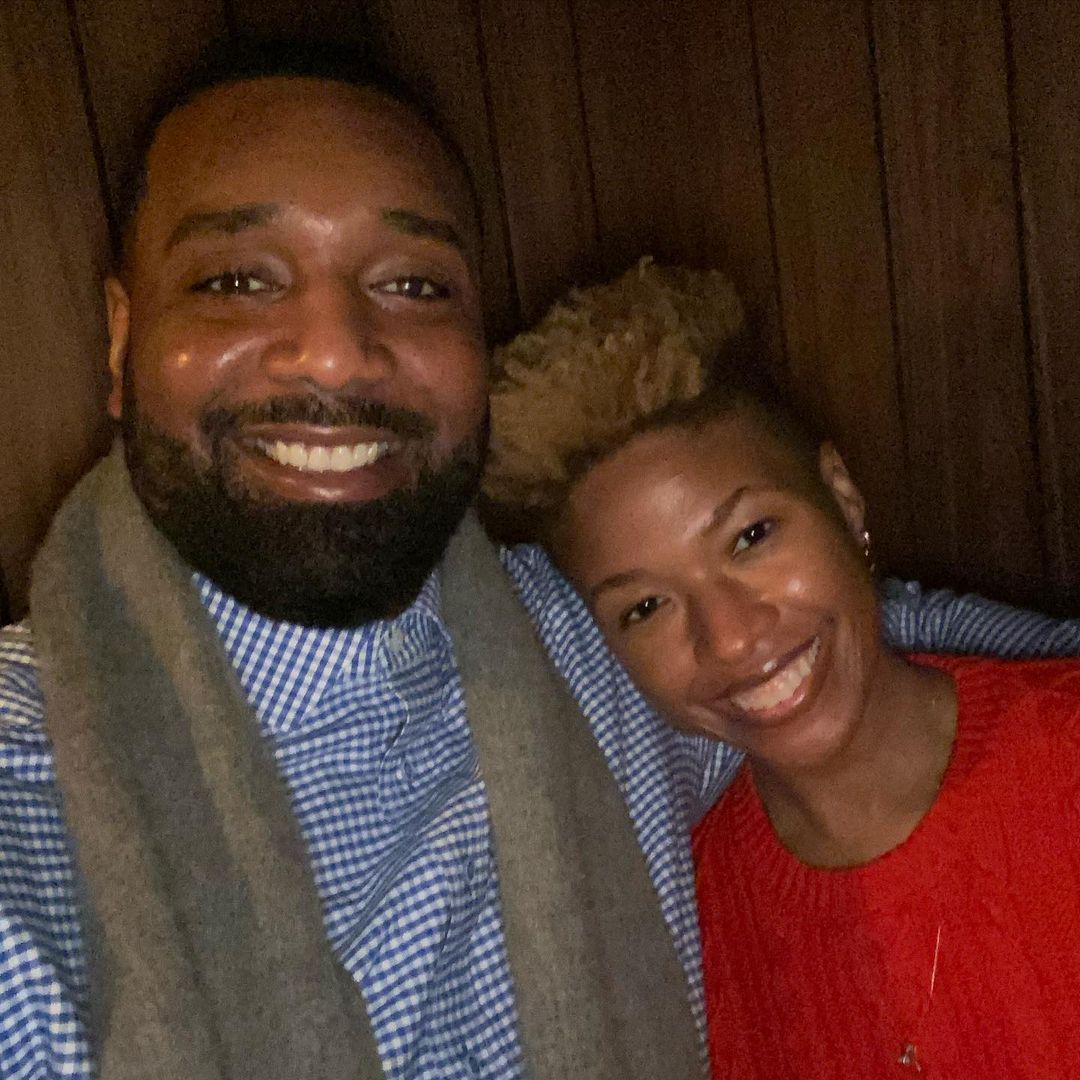 Chris Canty and his longtime girlfriend, now his fiance, Melanie Renee, got engaged on March 4, 2021. The couple started dating in 2018 and went public about their relationship in August 2019. (Chris Canty's Instagram)
Melanie Renee, born Melanie Richards, added, "All roads lead to the big apple (NYC)! From Mommy, who let me move back home to study for the GMAT, to new friends that supported me through the many blunders conquered while in school. Much love and many thanks."
After achieving her MBA degree, Chris Canty's girlfriend moved to New York City. Melanie Renee works as a product marketing agent for Glossier and L'Oréal USA, headquartered in NYC.
Chris Canty and Melanie Renee's Love Story! How Does it All Begins?
Chris Canty and his fiance, Melanie Renee, met in 2018 and went official about their romance in 2019. The couple took time in their relationship to get to know each other before taking a step further. Since everything went well for Chris and Melanie, the two finally got engaged in 2021.
The proposal came from the former NFL player, Chris Canty. The 39-year-old was taking a stroll in Central Park with his longtime girlfriend, now fiance, Melanie. Suddenly, Chris got on his knees and proposed to Renee. One of their friends who was walking behind the couple captured the memorable moment.
Chris Canty proposed to his wife-to-be, Melanie Renee, on March 4, 2021. The same day Melanie took to Instagram to post pictures and videos with a lengthy caption that read,
"I want to sustain this vibe for the rest of my life—a vibe characterized by talking in movie quotes, singing 90s RnB to one another from separate rooms, sound boarding professional aspirations, and sharing a mutual obsession with reveling in 'the culture.'"
Melanie added, "[Chris Canty], your general and emotional intelligence fuels our respect and admiration for one another. The security and sense of safety this gives me are precious and something I can't imagine my life without. This is my context behind every "I love you" said and for those yet to be uttered. 🖤"
The couple hasn't announced the official wedding date yet. Melanie and Chris seem contained in their relationship and think they should take more time before walking down the aisle.
Don't Miss These,