Finn Wolfhard, the actor who played 'Mike Wheeler' in Stranger Things, reportedly has been in a relationship with a fellow actress. The recent speculations came when the 18-year-old actor was seen with his alleged girlfriend in a social media post. So who is the gal?
The Sun reported Finn Wolfhard is dating his new girlfriend, Elsie Richter, a fellow actress known for her work in  Doll & Em (2013) and Di Bibl (2019). Canadian actor and musician and his actress girlfriend were seen cuddling up in their recent Instagram story.
As 'The U.S. Sun" reported, the 'Stranger Thing' actor was spotted with his lips on Elsie's cheek in a "playful post." Finn has always remained secretive about his private life, and even this time, it wasn't him who uploaded the story; it was Richter.
We are happy for the actor; however, there is still a confirmation to come from the actor himself. But looking at the picture that The Sun posted, we can pretty much assume Finn Wolfhard and Elsie Richter are in a relationship.
So, Who is Finn Wolfhard Girlfriend, Elsie Richter?
Finn Wolfhard's girlfriend, Elsie Richter, is the daughter of her celebrity parents, Dolly Wells and Mischa Richter. So we can say Elsie's passion for acting came from her mother, Dolly, an English actress and writer.
Elsie's mother is known for her work in "Pride and Prejudice and Zombies," "Doll & Em," and "Bridget Jones's Diary," an actress and writer.  While Richter's father is a photographer, her mom and father tied the knots in 2000.
The sources claim Elsie's parents, Dolly and Mischa, are blessed with two children, Elsie, and Ezra Richter. Indeed, Elsie does have a younger brother, born in 2005.
How Did Finn Wolfhard and His Girlfriend Meet?
That's the thing; we have no clue yet. Although, to be honest, we were kind of taken aback when the reports of Finn's new relationship came in. While we were busy shipping Millie Bobby Brown and Finn Wolfhard all this time, all because of their excellent on-screen chemistry, the 18-year-old actor was secretly hatching a different plan.
But some activity on Finn Wolfhard and his girlfriend's social media posts suggests the alleged couple does have mutual friends. So maybe they have known each other for a long-time or could be secretly dating even.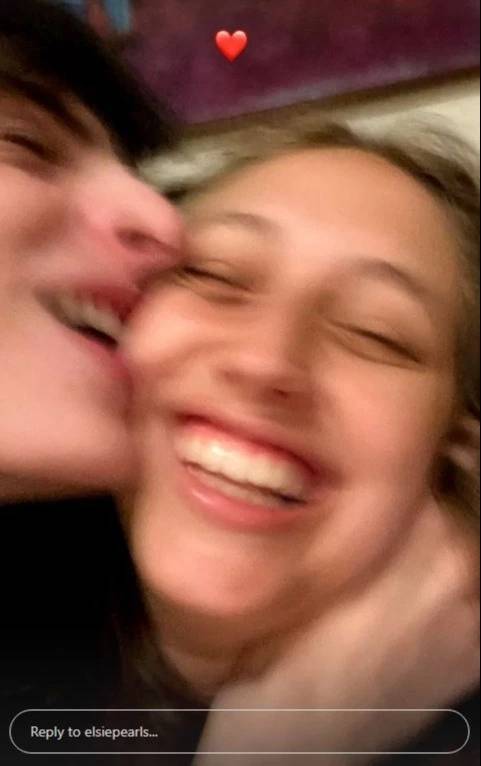 Finn Wolfhard is in a relationship with his new girlfriend, Elsie Richter, in 2021. Elsie Richter is an actress known for her work in Doll and Em. (The Sun)
One thing we know for sure, both Finn Wolfhard and Elsie Richter are friends with "Wynonna Earp" actor William Bryk. We found both Elsie and Finn on Bryk's Instagram posts. Well, it makes sense William and Wolfhard are friends as they are working on the same project.
William Bryk and Finn Wolfhard are starring in Jesse Eisenberg's directorial debut, "When You Finish Saving the World," adapted from Jesse's book of the same name.
But seeing Elsie Richter close with Bryk suggests that all three knew each other before Jesse's project and have been friends for a long time now, which also indicates that Elsie Richter and Finn Wolfhard started dating a while back and only chose now to make their relationship public.
Don't Miss: