Jonathan Bennett is an American actor and model best known for his role as Aaron Samuels in "Mean Girls." The 40-year-old actor is married to his husband, Jaymes Vaughan. The couple got hitched around in April of 2021.
Within a few months into their engagement, Jonathan Bennett and his husband, Jaymes Vaughan, adopted a dog. The couple took to their Instagram account to upload a picture of them and the dog, "Rudolph."
Jaymes, in the caption, wrote, "Merry Christmas Eve from the soon-to-be Bennett-Vaughan family." While Jonathan Bennett, on the other hand, uploaded a picture of him and Rudolph a few hours earlier than his husband and captioned it, "Me and Rudolph."
Rudolph joined the family on Christmas day; certainly, it was the best gift the couple could have ever asked for. Following the couple's announcement about the adoption, fans congratulated them and wished them a merry Christmas.
One fan wrote, "Wish you both a very Merry Christmas! Thanks for making IG fun! ❤️?." Another fan wrote, "Merry Christmas to Both of you ❤?❤?❤?❤ Enjoy your Christmas Eve with your Loved Ones. Love Always."
Jonathan Bennett and Jaymes Vaughan's Wedding!
Though Jonathan Bennett is already calling Jaymes Vaughan his husband, the couple is yet to get married officially. The reports suggest the couple was all set to get married in April 2021, and they had their venue and date all set up at the Palace Resorts in Mexico.
However, the resort owner denied the wedding, stating, "same-sex marriage is against his morals." J0nathan Bennet said, "When we got engaged, the owner said he couldn't marry us because we're two men and it goes against his morals. A sucker punch to the gut."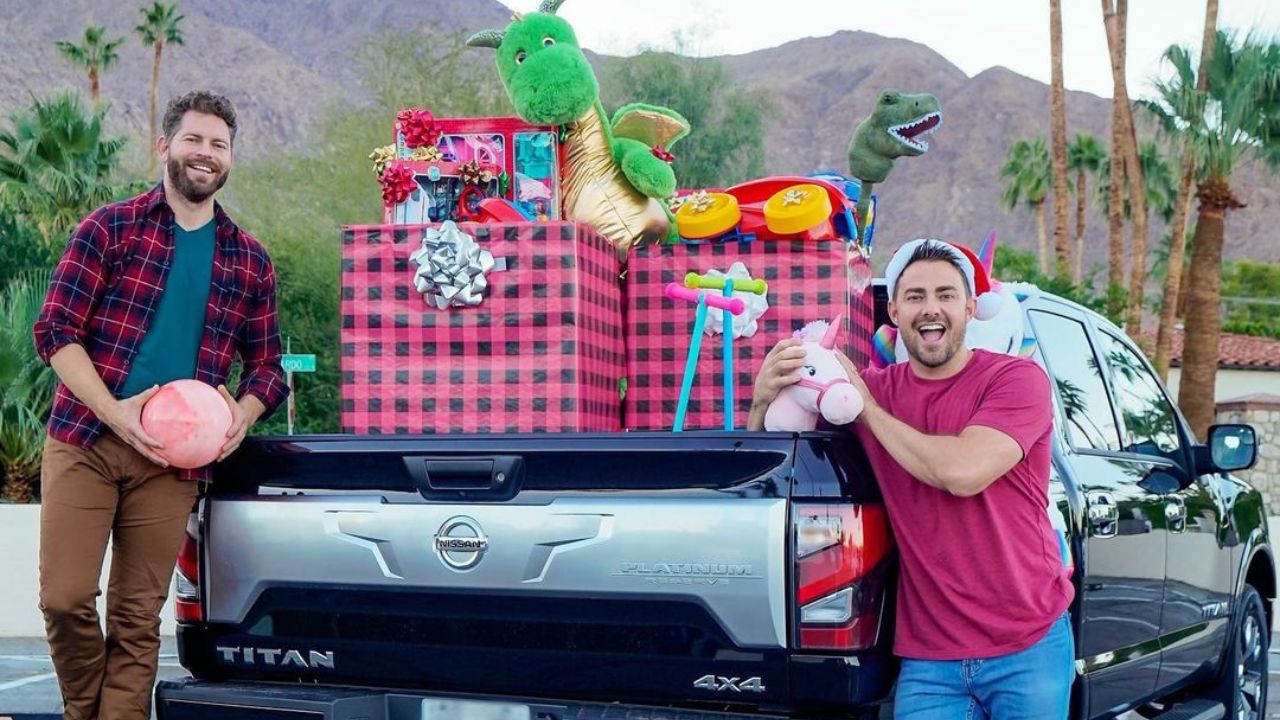 Merry Christmas from the couple: Jonathan Bennett and Jaymes Vaughan said, "Thrill Of Giving Toy Drive was a success! We were able to fill up the entire [truck] with toys for "Toys For Tots" and the military base families. Thanks to everyone who helped and if you're able to give back this year, please do so!"
Jonathan added,
"We decided in that moment that our wedding was bigger than us. It's our wedding, but it isn't just about us. It's about the LGBTQ+ community. We're really making a point to make this wedding very loud on purpose."
Jonathan Bennett and Jaymes Vaughan's Relationship
Jonathan Bennett and former Amazing Race contestant Jaymes Vaughan have been dating for over four years now. The couple went public about their relationship in 2017. Three years after going public about their romance, Jaymes and Bennett announced their engagement in 2020.
The couple has decided to get married officially, and they have decided to have their wedding at the UNICO Hotel. Jonathan and Jaymes said people at UNICO are very welcoming and support same-sex marriage.
Jaymes said,
"We want to make sure that there's never a moment during the engagement or wedding planning journey that LGBTQ+ people aren't excited," Bennett added. "We want to make sure that they are celebrated every moment and don't feel a sense of otherness. The otherness needs to be removed from gay weddings."
Don't Miss,