Kyle Abrams is a 29-year-old glazier from Chicago, Illinois; he came into the limelight after appearing on the Netflix dating show"Love Is blind." as an introduction, abrams expressed he is looking for a partner who can make him laugh, happy and who can cheer him up, however, his biggest pet peeve is someone who has a negative, pessimistic attitude.
Aside from a glazier profession, Kyle loves doing water sports such as jet skis; his Instagram account is full of pictures of him doing extreme stunts with jet skis and seashores; After looking at his posts, seems like he also has an interest in photography, you can find him @kyleabrams10 in Instagram page where he gained over 16.4k followers after the show released.
There is no information about his family background and education on the internet, yet; Kyle hasn't released any of it on his social media to this date; however, he did mention he has a sister named Brittney; Kyle is also an animal lover; most of his Instagram posts are of his pet dogs Marley and Jasper. The second batch of the dating series will be released tomorrow on Netflix; hopefully, this time, Kyle will open up more about his things on the show "Love Is Blind."
Who is Kyle Abrams New Girlfriend? Is He Dating Someone?
Kyle Abrams dated Love Is Blind contestant Deepti Vempati for a while. The former couple announced their split in September 2022. Following the split, Abrams revealed, "since After the Altar was filmed, we had decided to go our separate ways in early summer. I have since embarked on a new relationship which I intend to keep private for a bit."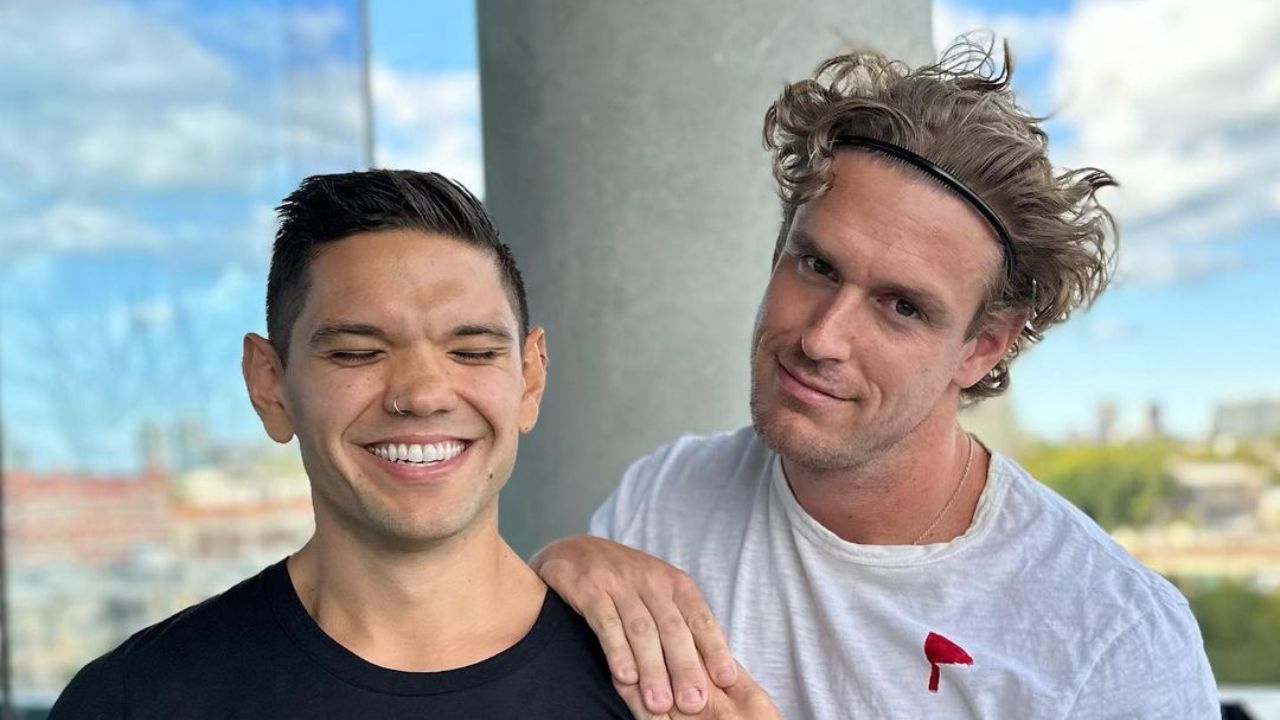 Kyle Abrams is in a new relationship. The former Love is Blind contestant didn't reveal the name of his new romantic partner. Some suspect he is dating Shyanne Jansen. Kyle's Instagram
Following his statement, people are wondering who the new girlfriend of Kyle Abrams is. Well, it seems, it's not a girlfriend, but a boyfriend. In his recent posts on Instagram, Kyle is giving an impression that he is gay and dating Shayne Jansen.
The fact that Kyle is keeping his new relationship a secret adds more to the rumors of him being gay and dating Jansen. Guess, we will have to find the answers. However, people suspect it's all to promote his OnlyFa** profile. Kyle Abrams promoted his OF account within a few days of his breakup with Deepti.
Some people also claim Kyle is confusing people about his sexuality and relationship just to promote his onlyfans.
Kyle Abrams on Love is Blind Season 2
After the massive success of the reality dating series "Love Is Blind" in 2020, Netflix premiered its second season on Tuesday, Feb 11, 2022; the reality show is all about strangers who are single and ready to be loved for who they are rather than the physical appearance;
The singles have to date each other and build the connection without knowing what the other person looks like until they get engaged. The show is full of romance, drama, and mystery, where single people sign up for the less conventional approach to modern dating.
Season 2 of Love Is Blind is split into three batches where the first batch of 5 episodes are already on the Netflix platform; the 2nd batch of Love Is Blind will be published on 18 feburary 2022 finale on Feb 25.
Also, A married couple, Nick Lachey and Vanessa Lachey, are returned as hosts for season 2 of Love Is Blind; the show included 30 single contestants where only 12 contestants can get featured on the show as a couple until the finale; the selected couples were Danielle and Nick, Abhishek "shake" and Deepti, Shaina, and Kyle, Shayne and Natalie, Salvador and Mallory, Jarrette and Lyanna.
Don't Miss These,