Bryan Quang Le, aka RiceGum, is in a relationship with his new girlfriend, Ellerie Marie. Technically, the couple rekindled their romance after a brief break. The couple went public about their rekindled relationship through social media. Ellerie Marie and RiceGum went Instagram official on January 9, 2022. The 25-year-old YouTuber introduced his girlfriend by posting a series of pictures. Apparently, it was Ellerie's birthday that day. In the caption, RiceGum wrote, "GF so cute (: hbd bby."
It's unclear when the couple started dating, but some assume they started seeing in late 2021. The couple seems to be going strong in their relationship, which was not expected from his fans; Yep, RiceGum has those reputations! Anyways, coming back to Bryan and Ellerie Marie's relationship, they often post pictures together on social media.
Who is RiceGum New Girlfriend, Ellerie Marie?
RiceGum's new girlfriend, Ellerie Marie, is a social media influencer. Marie has managed to get a huge following through her TikTok and Instagram presence. As of this writing, Ellerie has over 559K followers on her Insta, way behind her beau, but she will get there eventually.
Ellerie Marie is big on TikTok as well; Ellerie and her friend, Jayka Noelle, were known as the fun duo of the platform; however, things have changed since Jayka got "practically married." And it seems she has. The 20-year-old TikToker has already found her new partner for the videos. Indeed, it's RiceGum!
Ellerie, famous on TikTok as "MommyEllerie," has over 336K followers and more than 4.7 million likes on her videos. The 20-year-old social media influencer is often seen making lip-sync and dance videos along with her friends, cousins and RiceGums.
Ellerie Marie is From San Diego
Ellerie was born and raised in San Diego. According to the reports, she was born on January 19, 2002. While much is not known about her education, she seems to be a huge fan of San Diego Padres. The 20-year-old flaunts San Diego Padre's jersey and cap on her social media posts.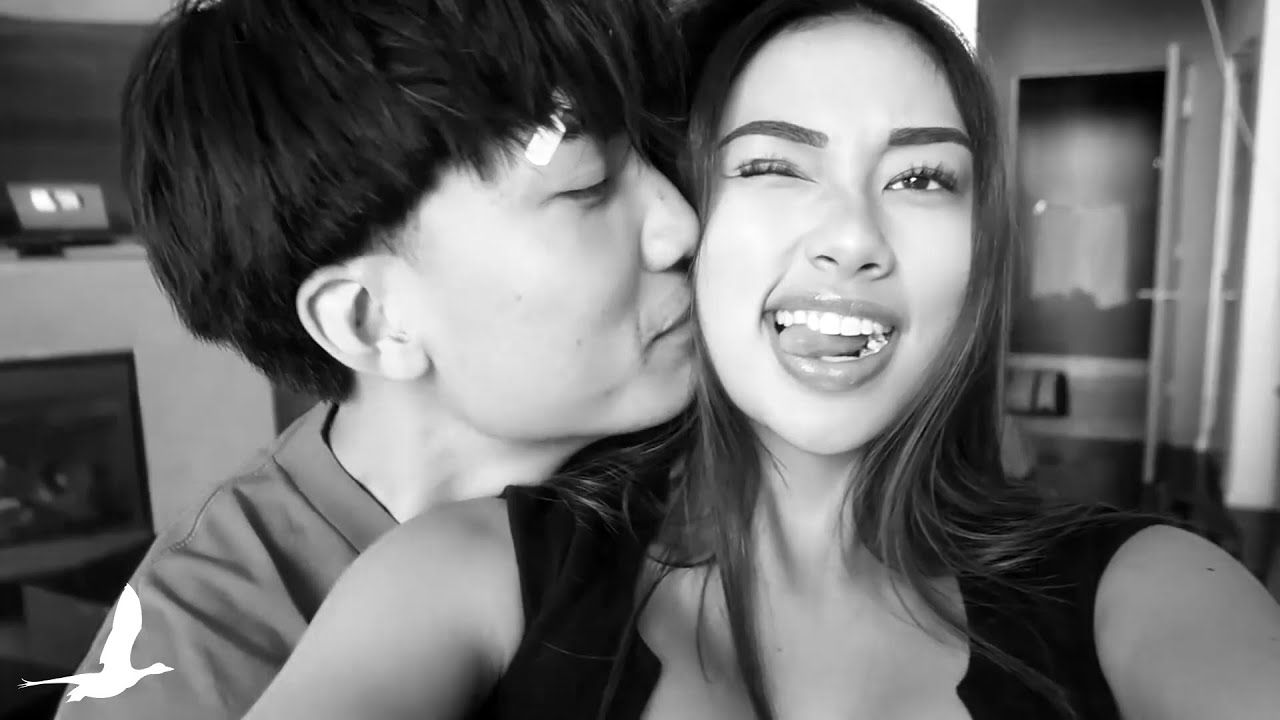 Ricegum and Ellerie Marie rekindled their romance in late 2021. (Leroy Merius YouTube)
Ellerie Marie started her career as young as when she was 17, the fun tryout she did on TikTok blew overnight, putting her on social media influencer. During the course, she even managed to get her account banned, now she is back again on TikTok with her new account.
Did RiceGum and Ellerie Marie Break Up?
Like we said in the beginning, RiceGum has those reputation that everyone assumes he will eventually break up with girls within a few months. Something similar was assumed of Ellerie Marie and her boyfriend, but this time, RiceGum is playing a long-race! In fact, the couple broke up earlier, and got back together again, which gave the fans a benefit of doubt. Well, we don't blame you for assuming they are not together anymore, but the fact is, they are still together.
Ellerie Marie, a 20-year-old social media influencer, is in a relationship with her boyfriend, RiceGum. The couple previously dated in 2020. (Ellerie Marie Instagram)
It's surprising for many fans but RiceGum and Ellerie Marie are still together and going strong in their relationship. Don't believe us? Go check out Ellerie's social media, you will find her goofing around with her boyfriend in most of her posts. Ellerie Marie is quite active on Twitter as well, and sometime she retweets some posts that hints she has found the person she could ever ask for. Looks like the two are looking to take their relationship to the next level.
And we can say the feeling is mutual, it's not just Ellerie Marie pushing things to the right direction, but our boy, RiceGum is truly in love this time, at least that's what his social media posts suggest. Bryan's social media are also filled with pictures of Ellerie, which is a clear give away that they are madly in love with each other.
Don't Miss,