It's not very often we see the feuds between ex and current girlfriend; nevertheless, it's always exciting to see the drama. Something similar happened between Austen Kroll's new girlfriend, Olivia Flowers, and his ex, Madison LeCroy.
It was Southern Charm's star, Madison LeCroy, who started the feud after she posted some derogatory remarks about Olivia Flowers. On Saturday, June 25, Madison shared a picture of her, in which she captioned, "I'd rather be a homegirl than a homely girl."
Madison LeCroy threw shades at Austen Kroll's new girlfriend, Olivia Flowers. She said Olivia looks "homely!" (Madison LeCroy Instagram)
While LeCroy didn't deliberately point the remark at anyone specifically, people who have been following "Southern Charm" knew the caption was directed at Austen Kroll's new girlfriend, Olivia Flowers.
But, not to anyone's surprise, Olivia Flowers also knew the remarks were pointed at her. Flowers took some time to give a fitting reply, but she did, after all. 30-year-old Southern Charm star took to her Instagram to share a story where she is seen wearing a night robe and munching on Doritos.
In the caption, Olivia Flowers wrote, "Homely? More a like homebody." Following the incident, fans have a pretty mixed-up feelings about the whole situation. While some are taking sides with Olivia, some support Madison, and some just wonder if it was all necessary.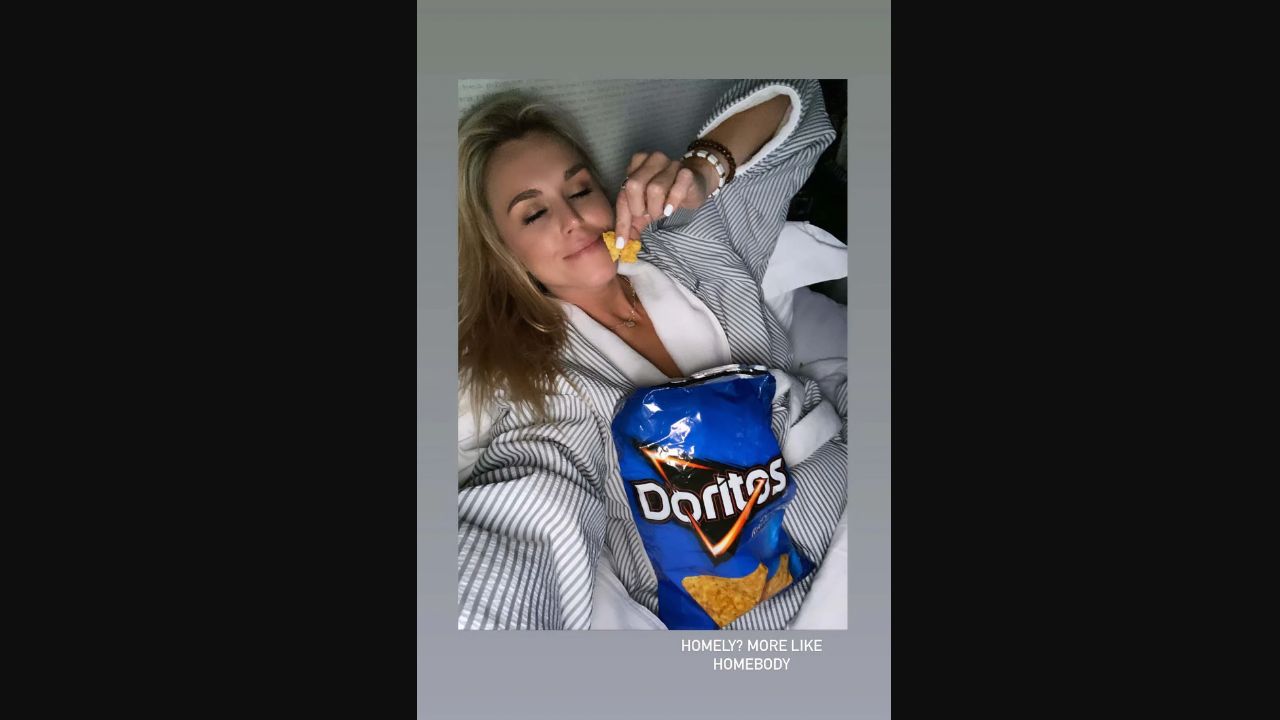 Olivia Flowers gave a fitting reply to Madison LeCroy. She said, "Homely? More like homebody." (Olivia Flowers Instagram)
One fan wrote, "The sad thing is that [Madison LeCroy] spends so much time showing the world how 'beautiful' she is, selling anything/everything as an influencer.... just to blow it all with a post like this that shows your true heart."
Another fan, in support of LeCroy, wrote, "Good shade is good shade! You dropped this, queen! 👑."
Austen Kroll and Olivia Flowers' Relationship
Following the breakup with Madison LeCroy, Austen Kroll is dating his new girlfriend, Olivia Flowers. The rumors of them dating started following the couple was sighted together at some restaurant. However, it was later found that the couple has a mutual friend.
One of the Southern Charm's stars, Leva Bonaparte, is the one who helped Austen Kroll and Olivia Flowers meet for the first time, well, not intentionally, though. It was Leva's birthday and all other Bravo TV's Southern Charm's Season 8 stars, including Austen and Olivia.
After (informally) meeting with Flowers, Kroll slid into Olivia's DM, and the rest is history. However, their relationship was not well-received by their friends. Some, including Bonaparte, thought Kroll rushed into a relationship too soon.
Leva said, "They actually met on my birthday and he rolled up in her DMs. I think I posted a picture of [Olivia Flowers] because she was coming back to town. He was like, 'Who is your friend?' and I was like, 'Austen, you need therapy right now. You need to date nobody, including my friend. You need to figure your stuff out."
No matter what, Austen Kroll and Olivia Flowers' relationship seems to be going pretty smooth as of now. When asked, Kroll has only good things to say about his new girlfriend. Talking to Us Magazine, Kroll said,
"She is the exact type of person that we should have around, like, we want to be around her. So it was so exciting [to have her on board]."
Don't Miss,