On March 4, 2022, Netflix released a reality tv show, Making Fun, where five talented artists, who are real-life best friends, make children's weirdest wishes come into reality by building the wildest gigantic inventions on the show; the show includes five experienced artists, Paul Jackman, Jimmy Diresta, Pat Lap, Derek Forestier and John Graziano.
The series contains eight episodes which are all available on Netflix; one of the cast members, the artist, designer, and builder, is Patrick Laperriere, aka Pat Lap, and some also call him Canadian Pat. he appears on the show along with Paul Jackman, infact Paul and Pat Lap are the hilarious duo who makes the show more Fun and engaging.
Who is Patrick Laperriere, AKA Pat Lap from Making Fun?
Pat Lap, aka Canadian Pat, was born in Shawinigan, Quebec and currently resides in Durham, New York; The Making Fun Star will be turning 42 in May of 2022; Regarding his family members, Patrick Laperriere has a sister Annie Laperriere, who is married to Steve Bordeleau and resides in Grand-Mere, Quebec.
According to his Facebook profile, Pat Lap went to the University of Quebec at Trois-Rivieres and graduated with social communication in 2009. furthermore, he also studied graphic designing at Cegep de Trois-Rivieres and finished his graduation in 2010; later, Laperriere went to the National School of Humor and Study in Humorous Writing, then completed his college in 2013 with the degree.
Pat has been working as a full-time wood maker since 1979; besides, he loves making funny, comical and inspiring videos and posts on his social media platform, he has his YouTube channel with over 31.1k subscribers; he creates videos related to his woodcrafts such as wooden bowls, furniture everyday use items made out of woods. You can see his works finished products on his websites, Instagram and youtube.
On February 19, 2022, Pat took to Instagram to announce that his show with four other best friends, Making Fun, was coming on Netflix. In the heartwarming caption; he wrote,
"I met Paul in 2015. Our first exchanges were made in comments on YouTube. At the time, I barely spoke any English. I was chatting with him, and Google translate on a separate window. The first time we met in person, it would have been more effective to communicate with smoke signals! Today, I speak English well enough to put myself in deep sh*t and it is largely thanks to him."
Pat Lap further added, "I am very proud to count him among my best friends. In 2015 we made our first collaboration on YouTube. In 2022 we will have our own series on Netflix!".
Patrick Laperriere, aka Pat Lap Wife: Is He Married?
Patrick Laperriere is not married yet; however, he has a fiance, her name is Stephanie Lavoie; on November 29, 2011, pat and Stephanie got engaged and have been together since. In 2021, the couple also had brought a house together;
On November 16, 2021, pat announced the happy news through his Instagram post, and the caption was, "So this beautiful lady and I just bought a house! Meaning, I finally have a workshop! It even comes with a portable office to check my social! Now, who wants a side table? I need to pay my mortgage! ☝???".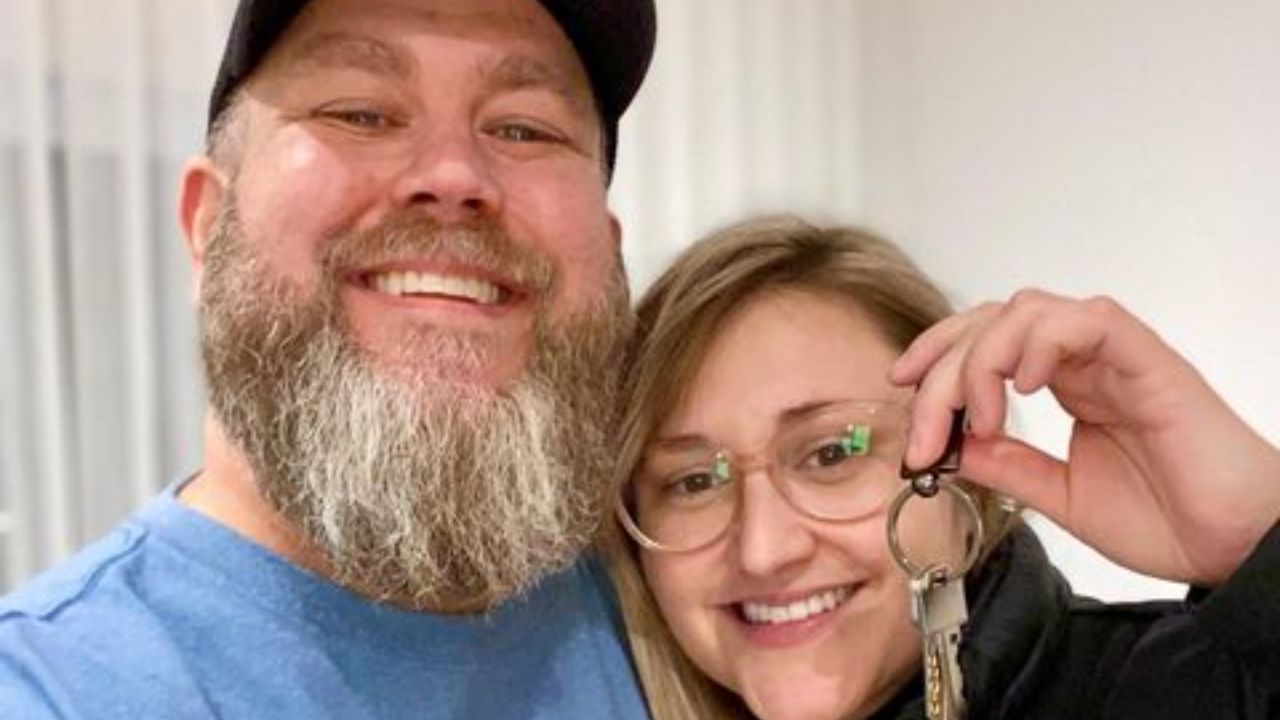 Pat Lap, aka Canadian Pat, from Making Fun, is engaged to his wife-to-be, Stephanie Lavoie. Pat Lap's fiancée is a graphic designer and works as a freelancer. (Pat Laperriere Instagram)
There is no doubt that these lovebirds will get married soon, as they have already made one step closer to being together. Talking about Pat's fiance, Stephine Lavoie graduated from the University of Quebec with a bachelor's degree in social communication; later, she completed graphic designing at Cegep of Trois-Rivieres. She also studied fine arts at the University of Quebec.
Pat Lap's wife-to-be, Stephanie Lavoie, is currently working as a graphic designer and editing assistant in SR Editions; besides, she also does work graphic designing as a freelancer; before her working in SR Edition, Stephine had a job as a cosmetician at Jean-Coutu; in addition, she had worked as a facilitator and sales specialist at Caudalie.
Patrick Laperriere's Net worth is Close to $400,000 as of 2022
As per online sources, Patrick Laperriere's aka Pat Lap's net worth is estimated at around $400,000 as of 2022; Pat has worked as a camera operator for many years and has also worked as an artist in television series such as "sous Ecoute" in 2018 and "Le care de Sable" in 2019, including the Netflix series "Making Fun."
Most of all, his earnings come from his workshop "pat lap;" Apart from that, Pat is also a TikTok star. You can find him @patlapoffical.
Don't Miss,