Belinda Bencic, the Swiss tennis player, became the first to win gold in singles at the Olympics. She did what her other counterparts, a name such as Roger Federer, Stan Wawrinka, couldn't do in years.
Belinda Bencic did her magical serve to end the game to win the gold medal following she earned a love in Marketa Vondrousova's serve. However controversial, the 24-year-old won the Czech Republic player by 7-5, 2-6, 6-3 at the Tokyo Games for the first major title of her career.
Belinda Bencic won the doubles with her partner Viktorija Golubic against Barbara Krejcikova and Katerina Siniakova of the Czech Republic. Following the matches, Belinda talked with the press, during which she said,
"It's unbelievable to have two medals, to have one gold and the other still to be decided. I will give all the energy that I have left in me.I think I accomplished it for them,They did so much in their careers. I don't think I will ever be able to accomplish what they did. So it's for Martina [Hingis] and Roger [Federer]."
One interesting fact we were missing, According to Andrew Dampf of Associate Press, Martina Hingis has been the role model for Belinda Bencic for her tennis career, and Martina's mother trained her. But after winning Gold at the Olympics, she just outperformed her star.
Let's move on to her personal life and know if the 24-year-old Swiss tennis player is dating someone.
Belinda Bencic Boyfriend 2021: Is the Swiss Tennis Player Dating?
Belinda Bencic is long committed to her boyfriend, Martin Hromkovič. The couple is together since February of 2018; it's more than three years since the two are together. However, the start of their relationship didn't feel right to many people.
When Belinda Bencic and her boyfriend met, Martin Hromkovic was already in a relationship with a Czech model, Denisa Dvorakova. Hromkovic and his former girlfriend were still dating and going on vacation together when he and Belinda were started to have feelings for each other.
Belinda Bencic is dating her longtime boyfriend, Martin Hromkovic. 
Later, within a few months, Belinda Bencic's boyfriend left Denisa and started to date the tennis player. Martin still keeps his ex-girlfriend's pictures on his Instagram, that's something we haven't figured out yet, and it's surprising to know Denisa is okay with it.
While some didn't feel right about their relationship initially, Belinda Bencic and her boyfriend, Martin Hromkovic, are still together, and it seems their relationship is here to last.
Who is Belinda Bencic Boyfriend, Martin Hromkovic?
Belinda Bencic's boyfriend is a trainer from the Czech Republic, the 38-year-old started as Belinda's personal trainer, and that's how their romance started. It's apparent the couple is pretty open about their relationships through their social media posts.
Even recently, when the 24-year-old Swiss tennis player bagged gold in Olympics, her boyfriend was the first to post about it on social media. Belinda Bencic's boyfriend is with her at the Summer Games; following the match, Martin took to his Instagram to let the world know how proud he is of Belinda as a trainer and a boyfriend.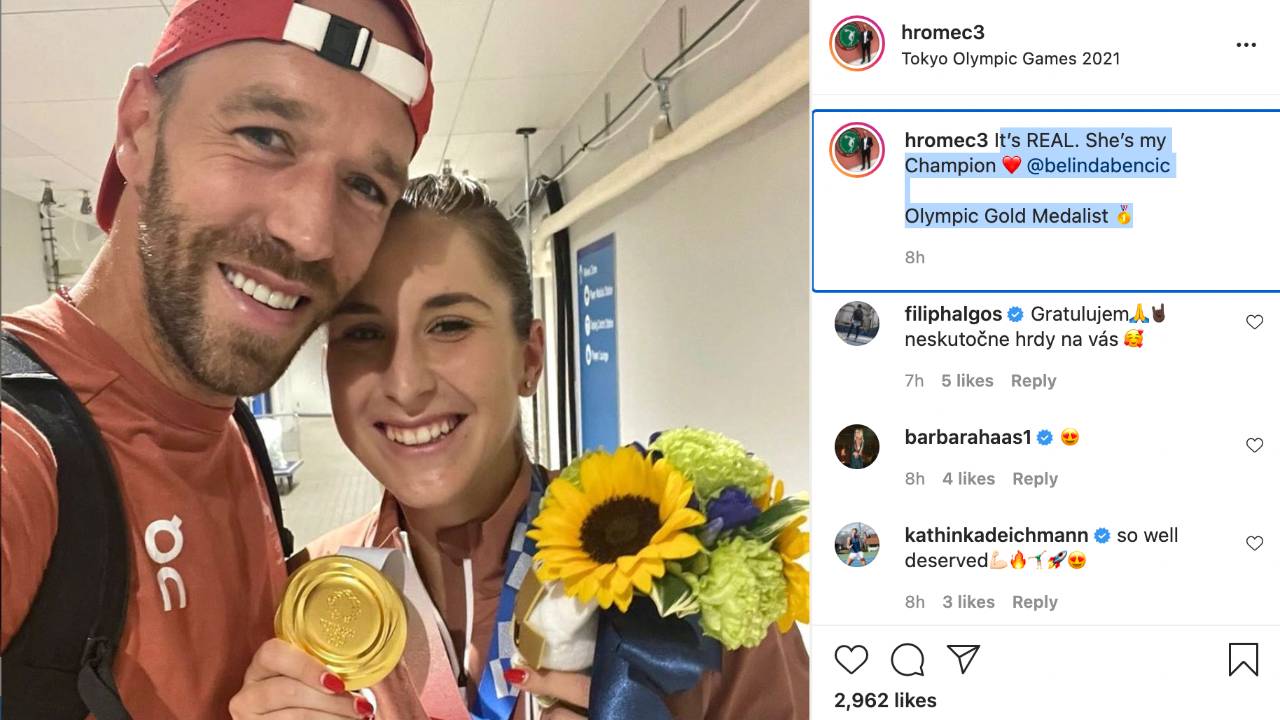 Martin congratulated his girlfriend on his social media profile.
Belinda's boyfriend took to Instagram to upload a picture of him and his girlfriend, where the tennis player is seen holding a gold medal and a bouquet. On the caption, the 38-year-old trainer wrote, "It's REAL. She's my Champion ❤️ [Belinda Bencic] Olympic Gold Medalist ?"
Don't Miss