Recently we covered a story where some sources claimed Blake Shelton and Gwen Stefani tied the knots. However, the confirmation was yet to come from the couple.
Recently, the pair decided to announce the news and confirm their wedding to their fans. On the 4th of July, 2021, the former Voice coach, Gwen, took to her social media to share the picture from her wedding day.
The reveal came in a rather suspenseful manner. First, Gwen shared a video clip from the morning of the wedding day as she put on her veil, followed by the picture of the couple kissing on their special day.
The reports suggest the couple invited only 40 guests to their special day, and their wedding was officiated by "The Voice" host Carson Daly, who is a good friend of both Gwen and Shelton.
The report by People Magazine claims the veil worn by Stefani was worn during the reception only, and not for the ceremony, and the dress was a Vera Wang ensemble.
The magazine reported Stefani changed into a different dress described as a "custom lily-white Italian silk crepe and hand tumbled tulle strapless mini dress," before the reception.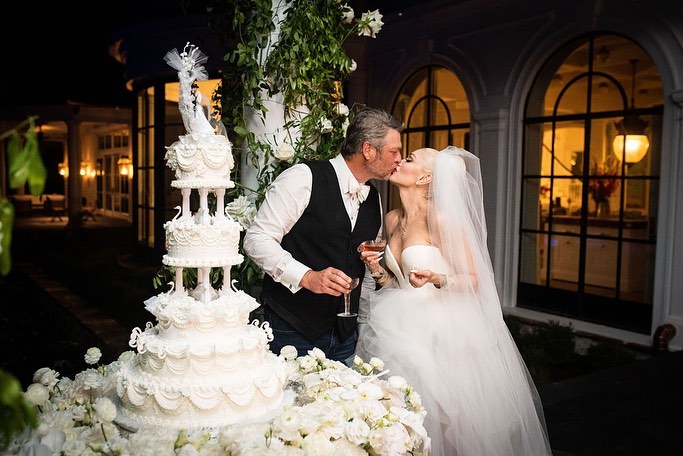 Gwen Stefani and Blake Shelton confirmed their wedding. (Stefani/Instagram)
Following the official announcement, many friends and fans took to the comment section of the post to congratulate the newly-wed couple.
One fan wrote, "Congratulations to my favorite couple on earth. So happy for you both and also dying to see a photo of the bride and groom."
"OH MY HEART!!!!!!! Congrats to you gorgeous, Mrs. Shelton! ❤️❤️❤️❤️❤️❤️❤️❤️❤️❤️❤️❤️ I couldn't heart, like or love this more for you!," another one wrote.
"MY FAVORITE HUMANS EVER ?? you both deserve all the love and happiness in the world!! i'm so happy you guys found each other ❤️❤️," the next one wrote.
Don't Miss: