Damini Ebunoluwa Ogulu is a Nigerian singer/songwriter and rapper, better known by his stage name, Burna Boy. The rapper is known for his hits like "Like to Party," from his debut album L.I.F.E.
Burna Boy recently came into prominence in American media following his subtle feud with Boston rapper Bia. The 29-year-old Boston singer/songwriter came into the limelight through her new single "Whole Lotta Money."
The song went viral on TikTok, which attracted support from Cardi B, Kendal Jenner, Lizzo, Lil Nas X, Kylie Jenner, and Nicki Minaj.
Everything was working out just well for Bia, but recently, she made a statement that attracted negative comments from some of her fanbases. What really happened is, Bia made commented on Nigerian artists, which backfired.
In her statement, BIA said she doesn't know any Nigerian artists/singers. Since her comment received a negative comment, she clarified she just doesn't know Nigerian artists but has a special place for Nigerian music.
Bia tweeted, "I said I don't know what they all look like doesn't mean I don't know their music Hugging faceOrange heartFlag of Nigeria I didn't mean to offend anyone Folded hands #LOVE."
But Burna Boy seemed to have some problem with Bia's statement, and that's how their fuss started. The Nigerian singer/songwriter tweeted a reply to Bia, where he claimed Bia slid into his DMs and the Boston rapper claiming she doesn't know their face is a lie.
Burna Boy tweeted, "That babe wey nor know our face don dey my dms since 2018 o. ?? ?."
Well, there you have it; there's a reason why Burna Boy seemed a little ticked off following Bia's statement. We don't know the truth, but all we know so far is that the two are definitely cool.
Does this all suggest Burna Boy dated BIA? Well, we suppose no! Because as far we know, Burna was then and still is in a relationship with his girlfriend.
Who is Burna Boy Girlfriend in 2021?
Burna's Nigerian fans already knew about it, but for his international fans, it's all-new. The 30-year-old Nigerian rapper is in a relationship with his longtime girlfriend, Stefflon Don.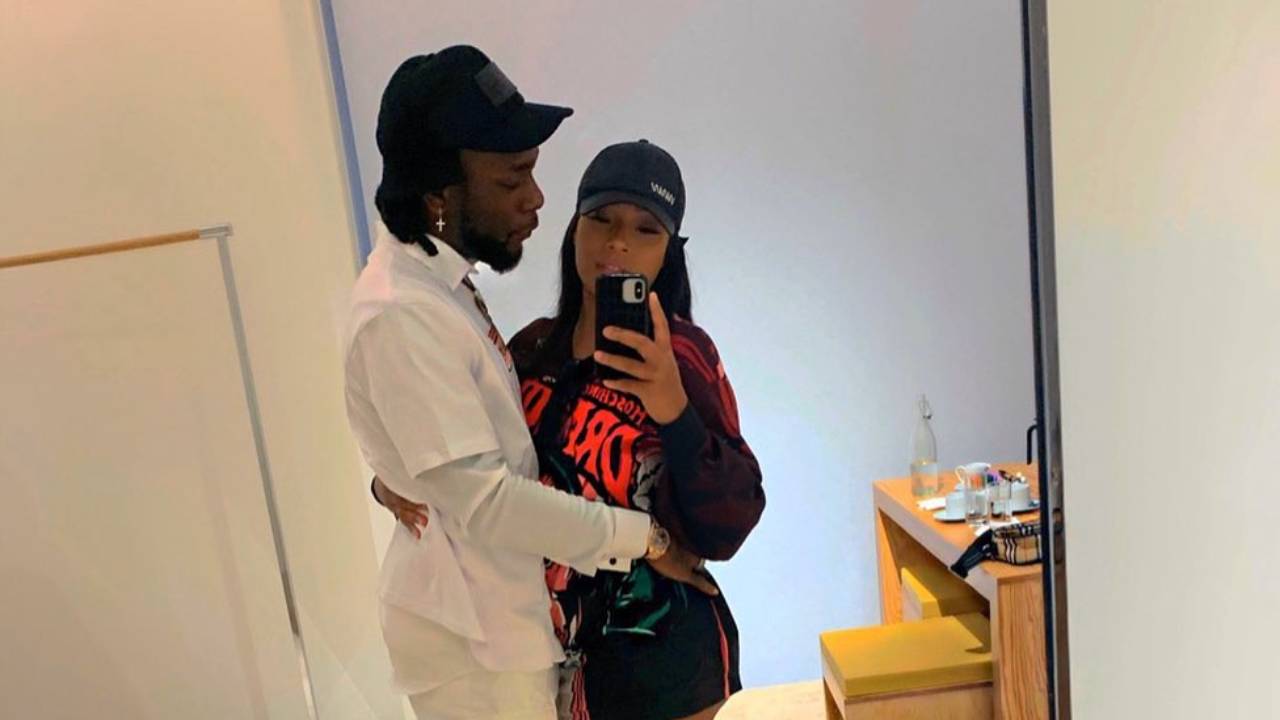 Burna Boy is dating his longtime girlfriend, Stefflon Don.
Some even claim the couple is already married, but that's still to be verified. However, it's for sure Burna Boy and his girlfriend, Stefflon Don, are dating for sure. The couple's relationship was not easy though, there have been some nasty accusations as well.
Burna Boy was recently accused of cheating on his girlfriend with a 23-year-old girl, Jo Peal. The accusation came from the girl herself; the 23-year-old claimed she and the rapper are dating secretly for two years.
The timeline clashes with the period exactly as the rapper and Stefflon's relationship. The Burna Boy started dating the 29-year-old English rapper back in 2018.
Who is Burna Boy Girlfriend, Stefflon Don?
Burna Boy girlfriend, Stefflon Don, is a British rapper, singer, songwriter known for her single like "Hurtin Me," featuring French Montana. The song peaked at number seven on the UK singles chart.
When we stalked her social profile, we found she is mostly focused on her work these days. We didn't find any of Burna Boy's pictures, due to which some fans even speculated the couple is no longer together.
Despite the claims of their split, the couple is yet to make the official announcement.
More on Cheating Allegations!
Burna Boy was recently accused of cheating on his girlfriend, Stefflon Don, with a 23-year-old girl named Jo Peal. Jo claimed she and Burna were in a secret relationship for two years.
In her statement, Peal said, "
"Two years is such a long time for a person to be hidden. It has affected me in so many ways, and I can't hold it any more to protect people that wouldn't protect me. I feel like what he made me feel like when I met him made me feel like love at first sight. He just gravitated towards me, he was very sweet."
Jo added,
"His words actually worth his action. Not only will he tell me like he loves me, and other personal things, he actually showed me. This is somebody that wanted me around; this is somebody who I basically moved in with."
Burna Boy didn't address the accusations.
Don't Miss