Remembering Aaron J Mattia... It's always great to find something new off the shelf, and Netflix did it well this time. The streaming platform premiered its peculiar yet fun new show, Making Fun. The new series is about five real-life friends, Jimmy DiResta, Paul Jackman, Pat Lap, Derek Forestier, and John Graziano, who gets inspiration from kids for their new projects.
Jimmy and the team embark on the mission to build pointless inventions, all suggested by the kids. However, they don't consider all ideas, but only Jimmy feels like making them. The show premiered on Netflix on March 4, 2022, and it couldn't be a better time to release the show as people were frustrated after the premiere of Special Force Season 2. (No offense, Steve!)
Making Fun on Netflix has eight episodes for its first season, and so far well-received by the viewers. The show got 7.7 stars out of 10 on IMDb, and its popularity is increasing as we write this article. There's one thing people have been asking, though. During the end credit, Making Fun tributes Aaron J. Mattia, who is Aaron Mattia?
Making Fun Pays Tribute to Aaron J Mattia
Aaron J Mattia, born Jeremy "Aaron" Mattia, was a member and teacher at "The Crucible," an art school in West Oakland. Aaron first went to the art school as a volunteer, then he quickly became a fixture of the studio and started taking classes and renting on-site studios.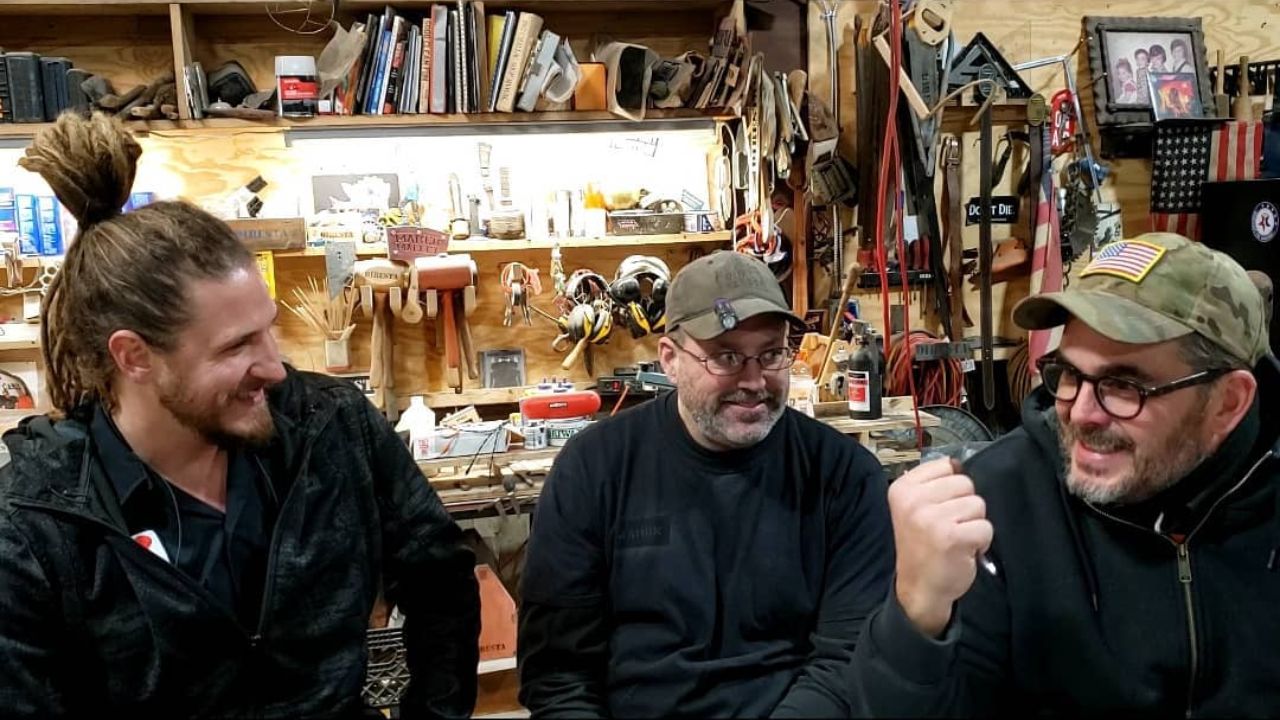 In the picture, from left Jabez Manning, Aaron Mattia, and Jimmy DiResta. Netflix show Making fun pays tribute to Jeremy Aaron Mattia; he died on August 20, 2021. (Manning's Instagram)
One of Aaron Mattia's friends, Celeste Flores, said,
"Aaron was known for his willingness to help others. Quietly caring for others by gifting things to them, giving them a ride or a hand; he was always happy to help and looked for no recognition for his kind deeds."
There's a reason why Making Fun honored him; Aaron J. Mattia started teaching in the leather, textiles, and fine arts department and eventually became the department head; he taught in Foundry, Machine Shop, and Woodworking. Aaron died in August 2021.
Aaron J Mattia Worked At Jimmy DiResta's Shop
Jeremy Aaron Mattia had an impressive career at The Crucible; however, that's not the only place he showed his magic. Before he found his passion, Aaron served ten years as a US Marine, including two tours in Afghanistan.
After his retirement, he worked with the MythBusters team, and after years of experience with the Discovery show team, he then served as a shop manager for Jimmy DiResta. Following the passing of Aaron Mattia, Jimmy shared a moving tribute on his podcast, Making It.
In his message, DiResta said,
"Aaron J. Mattia was a great guy that wanted to see everybody succeed. He was a problem solver. He was an organizer and at heart, he was an artist trying to figure out his place in the world…Aaron, I love you and I miss you already."
Aaron J Mattia Obituary
Aaron J Mattia died on August 20, 2021. The announcement was made through "The Cruscible's" social media. In the statement, they wrote,
"It is with deep sadness we share the passing of Crucible community member, maker, and friend Jeremy 'Aaron' Mattia. From his time with the MythBusters team to his close work with well-known maker Jimmy DiResta and every project in between, there is no question Aaron left a lasting impression on the maker community. He will be deeply missed by so many at The Crucible and beyond."
Don't Miss,