Collin Morikawa, the professional American golfer, is making a wave at The Open Championship in England this year. Believe it or not, people are already rooting for him and think he can win two separate major championships debut following a 6-under in the second round of the 149th Open.
Talking with the reporters, Morikawa said,
"We have four of them a year, and you're trying to definitely win these four because they're that big. Sometimes you have those days where you're very fortunate to have good numbers, and today was one of those days."
Collin Morikawa believes his new irons helped him at The Open; the pro golfer changed his TaylorMade P730 irons to the brand's P7MC model following he learned the new irons aided his turf interaction and provided a more centered ball strike.
Collin said, "I changed my irons, my 9- through 7-iron that I normally have blades in. I changed to the MCs strictly because I couldn't find the center of the face. Those are three crucial clubs that are some of my favorite clubs. My 8-iron is my favorite club in the bag, and when I wasn't able to hit it (well) last week well, I knew I had to try something different."
Since we know he is doing great in his tour and is on the verge of winning two titles at debut, there are certainly a few more things we want to know about the 24-year-old professional golfer.
While we were looking at some details for his personal life, we found Collin Morikawa is in a relationship. So, who's the lucky gal?
Collin Morikawa Girlfriend in 2021
Collin Morikawa, unlike many sportspeople and athletes, is not secretive about his relationship at all. He is out and about talking about his girlfriend on his social media profiles.
People who follow him on his Instagram know Collin Morikawa is dating his girlfriend, Katherine Zhu. The professional often posts pictures of him and his girlfriend together.
The couple doesn't shy away from PDA, one can easily guess Collin Morikawa and his girlfriend are truly and deeply in love, and they have a way to tell it to the world.
The couple is dating for almost five years now celebrates their anniversary on April 1st of every year. Not a perfect day to celebrate it, but who cares? The two make anyone swoon over their relationship.
If you go and check their Instagram, you can see the profiles are pretty much identical as the couple shares mostly the same photos of them together on their social media.
Collin Morikawa and Katherine Zhu's PDA on Social Media
Both Collin Morikawa and his girlfriend couldn't be more thankful for having each other in their lives, and they are pretty candid about it. In 2018, Collin posted a picture on March 31, where the couple celebrated their first anniversary.
A bit of confusion there; Collin Morikawa's girlfriend celebrates their anniversary on April 1st, while the pro golfer does it on March 31. Seems like the two are still arguing about the actual date.
Anyways, since we are here to talk about their PDAs, let's go back to 2018 again, during their first anniversary. Collin posted a picture of them on his Instagram with a caption that reads,
"Bacon, 31,536,000 seconds spent with you ❤️. Happy ☝? year @katherinezhuu !! You make me smile, laugh, and most importantly a better person. Keep being weird and loving food because I'm ready for more adventures. I hope you have an amazing day. Love you, Pancake?"
Katherine wished her beau this year on April 1st; Collin Morikawa girlfriend posted a collage of their pictures, and in the caption, she wrote,
"another year with my best friend. grateful for all the memories we've made. i love you [Collin Morikawa]."
But that's not all; their profiles are filled with pictures with PDAs. Take a look at the picture below.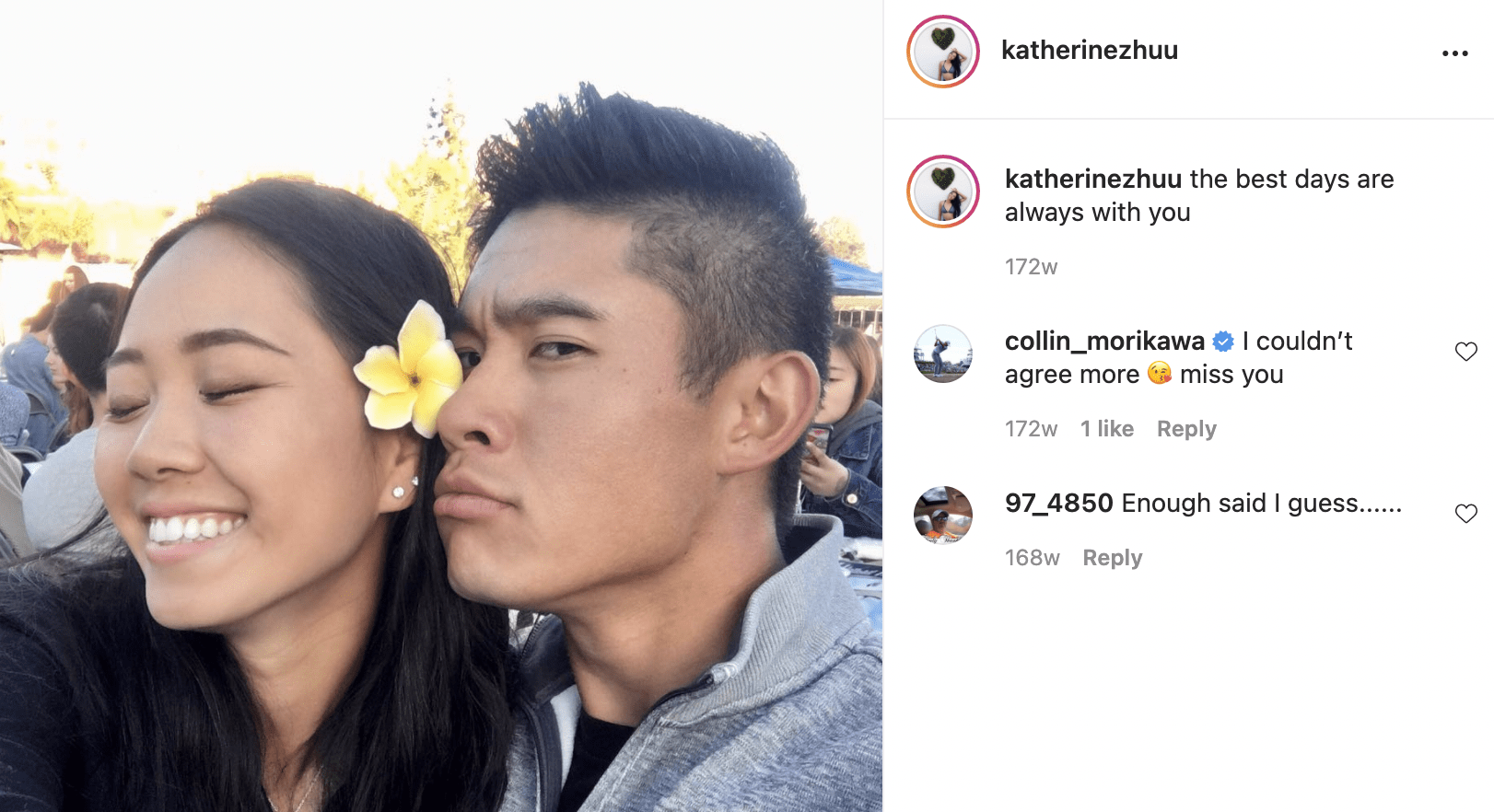 Collin Morikawa is dating his girlfriend, Katherine Zhu, since March of 2017.
As you can see, the couple is deeply in love with each other, and it was back in 2018, but you can see the two haven't changed a bit in all these years. They are really adorable together.
Who is Collin Morikawa Girlfriend, Katherine Zhu?
It's was not hard to find details about Collin Morikawa's girlfriend; Katherine Zhu is from Vancouver, British Columbia. She comes from an athlete's family, her father, Mike Chu, was a renowned tennis player, and moreover, she herself is an athlete. Katherine Zhu was a tennis player at an early age, but she shifted her focus to golf later on. Indeed, golf brought Collin and Katherine together.
Brought up in China, as she did most of her schooling back there, Kat went to the USA to attend Pepperdine University. When asked why she chose the uni, Kat replied,
"First, I really like Coach Gibbs. I believe all good players have good coaches and I believe Coach Gibbs can help me become a good player. Second, Malibu has great weather conditions, which create a better environment for me to practice. Third, Pepperdine is a small school that is strong in both academics and athletics."
Katherine's university profile says she played on the collegiate team for four years and played as a division one player. Zhu's career average was 76.54, and she earned WGCA-All American honors.
Don't Miss: