The American professional basketball player for the Milwaukee Bucks of the NBA, Grayson Allen, is now engaged to his longtime girlfriend, Morgan Reid. The 26-year-old proposed to his fiancee on February 24, 2022, to which Morgan said, "Yes!"
Grayson Allen and Morgan Reid took to Instagram to announce the news. The couple shared a series of pictures from their special day. In the photographs, Allen is seen on his knees holding a ring, and Morgan seems awe-struck by the whole thing.
As we scroll through the pictures, Morgan says, "yes," and puts the engagement ring on her finger. In the next slide, we see the couple kissing passionately as the sun sets in the background.
Grayson wrote, "My forever person," followed by a heart, a smiling face with three hearts, and a ring emoji in the caption. Morgan also shares the same caption on her Instagram. Following the announcement, congratulations are in order.
One of Morgan's friends, Elizabeth Heddy, wrote, "Bestie is engaged to her dream man, couldn't be happier ???." While her other friend, Marisa Viggiano, wrote, "Ahhhhhh congratulations!!!!! So exciting ♥️♥️♥️."
We saw a similar reaction on Grayson's Instagram as well. One of his friends, Pat Connaughton, stopped by to congratulate the couple. In the comment, he wrote, "Pat Connaughton, congrats my brother ??✊?." Another friend, Sandro Mamukelashvili,
wrote, "I knew it was coming !!! ??? congrats, old man ??."
Who is Grayson Allen's Girlfriend, Morgan Reid?
Grayson Allen's girlfriend, Morgan Reid, is an athlete; Born on June 13, 1995, as Morgan Nicole Reid, the 26-year-old is a soccer player from Cleveland, Ohio. According to the reports, Morgan was drafted by the North Carolina Courage in the fourth round of the 2018 NWSL College Draft.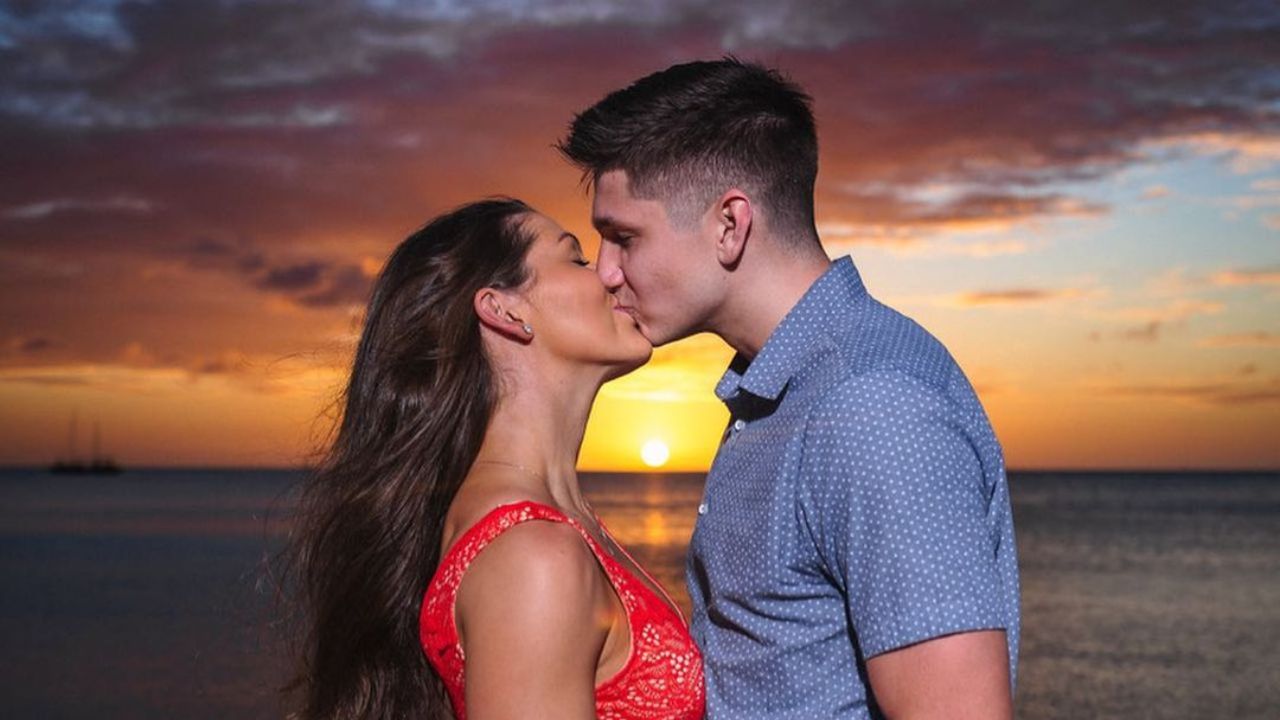 Grayson Allen proposed to his longtime girlfriend, Morgan Reid, on February 24, 2022. As per the reports, the couple has been dating since 2018. (Morgan Reid Instagram)
Grayson Allen's girlfriend, Morgan Reid, also played for US National Team; the 26-year-old trained with the U-20 Women's National Team in May 2014 and was also a member of the 2012 U-17 United States World Cup Team.
As per the reports, Morgan Reid was born and raised in Cleveland to her parents, Brian Reid and Cheryl Reid. The 26-year-old soccer roster is blessed with four siblings, Justin Reid, Jake Reid, Jason Reid, and Madison Reid.
It seems she has a long lineage of athletes in her family, Reid's mother was a basketball player, Morgan's father is a former wrestler, and her brother, Justin, is a freshman on the Hampden Sydney Men's basketball. Moreover, her grandfather, George Reid, also wrestled at Purdue.
Grayson Allen and Morgan Reid's Relationship Timeline
Grayson Allen and Morgan Reid have been in a relationship for more than four years now. However, the couple went public about their relationship in 2018 through an Instagram post. On November 15, 2018, Morgan and Grayson went Instagram official, however, their romance was not well-received by Morgan's followers.
Some call Grayson name, but the couple stuck together and made it through all difficulties. Now, they are engaged. While the couple hasn't revealed their marriage date, yet, we suppose they will announce soon.
Don't Miss,