Heather Dubrow of Real Housewives of Orange County on Bravo TV is one of the returning cast of the show. She started her RHOC journey in season 7 until season 11. After a long hiatus, the 53-year-old rejoined the show in 2021, but when she returned, fans noticed something unusual about Heather Dubrow's foot.
As 2021 ended, Heather Dubrow was on bed rest, putting up her foot in a huge boot. It seems the RHOC star needs some time to recover her foot after the surgery. What happened to Heather Dubrow's Foot?
Heather Dubrow Underwent a Bunion Surgery on Right Foot
Heather Dubrow has been keeping her fans posted about her foot surgery; According to the reports, The RHOC star had a bunion on her right foot, which has now been surgically removed. It's been a week she underwent surgery to remove the bunions from her right foot.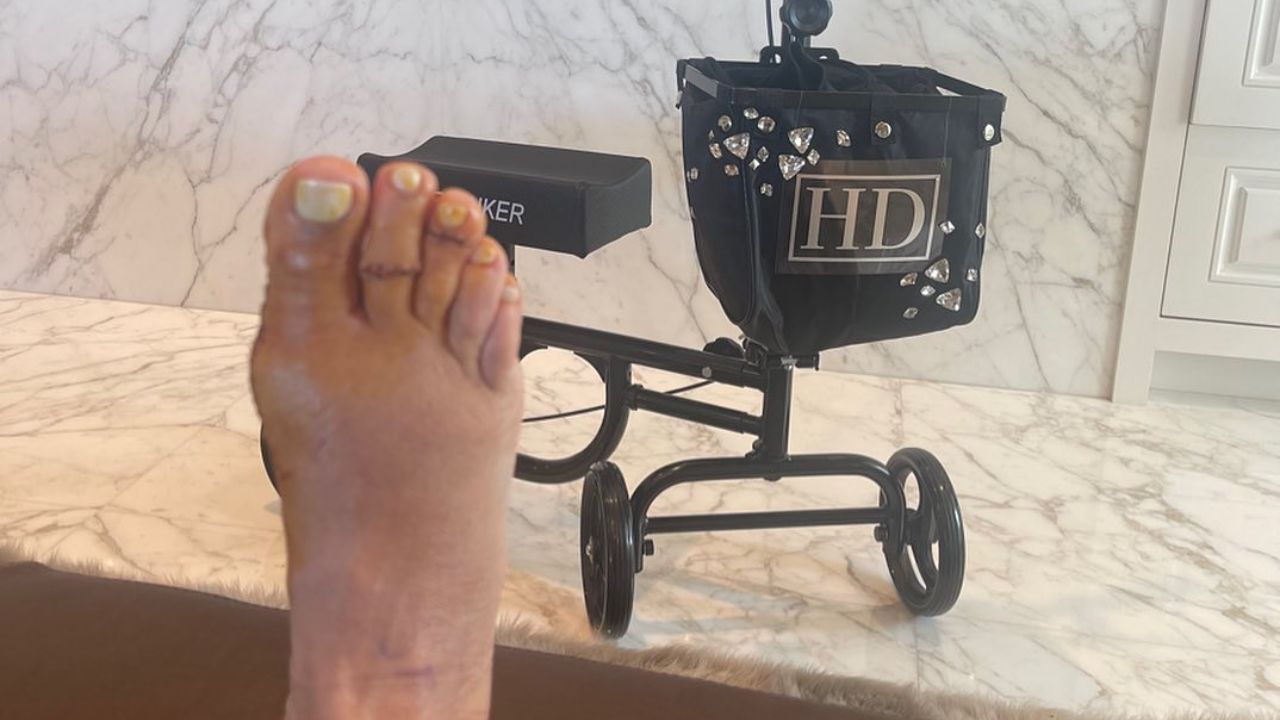 Heather Dubrow Foot Surgery: The RHOC star is recovering well after the bunion surgery. The 53-year-old thanked her fans for the well-wishes. (Heather's Instagram)
Heather Dubrow took to her Instagram account to update her fans, posting a picture of her foot; Heather wrote,
"HAPPY BIRTHDAY TO ME!!! Well… one week out from surgery and I'm doing MUCH better! Thank you for all of the beautiful birthday (and get-well) wishes! ❤️ I am so grateful to my family, friends and followers for your love and support! ( Also grateful for my blinged-out scooter !)."
Heather Dubrow added, "Wishing you all a HEALTHY, happy and successful 2022! ALSO! #RHOC is ALL NEW tonight! My amazing kids are on the episode tonight which makes me happy on my birthday! If you want my take on the episode and to hear about my surgery…  ❤️❤️❤️."
What is Bunion, and How Long Does It Take to Recover From the Surgery?
A bunion is a bony bump that forms on the joint at the base of the big toe, only occurs if the bones in the front part of the foot move out of place. Experts believe bunions are often the result of wearing poorly fitting shoes, particularly those with narrow, pointed-toe boxes.
Some experts believe it's not always necessary to remove a bunion if it is not painful. They often worsen over time, and people with bunions are advised proper footwear and other preventive care, which can slow down the progression. But it seems Heather Dubrow was in pain because of it and opted to remove it via surgery.
Following bunion surgery, the stitches are out about two weeks; however, it takes about 6 to 12 weeks for bones to heal, and Heather Dubrow will have to wear a protective shoe or boot. During the healing period, the RHOC star won't be able to pull all her weight on her foot.
Don't Miss,