Jaelin Kauf won Silver in the 2022 Winter Olympics in Women's Moguls. The 25-year-old is a two-time Olympian; before this year, Jaelin competed in 2018 in Pyeongchang Winter Olympics but only finished seventh. This season was different, she won, but she had no one from the family at the event to celebrate her victory.
But she was not alone; Jaelin Kauf's boyfriend, Brad Wilson, was there with her to motivate and celebrate the victory. Brad brought plenty of energy on the sideline, which was enough to bring the extra cheer on Jaelin's face.
Brad Wilson was captured jumping and shouting in joy following Jaelin Kauf winning Silver. After the event, the 25-year-old was interviewed by Today and was shown a clip of her boyfriend. After seeing her boyfriend's excitement in the video clip, she said, "Oh my God, I love that video so much."
It's Jaelin's first Silver Medal in Olympics since 2014; she said it feels amazing to bag the Silver; Kauf added, "yeah, it has been a big fight to get back here, but I think all of that all of what I went through and especially what I learned from the last Olympics um is why I was able to perform at these ones you know."
"I've learned that it's not guaranteed, every run isn't guaranteed every round at this event was not guaranteed and so for me I just wanted to go out and put it all out there every single run um and that's exactly what I did," Jaelin Kauf added. Since we don't think we need to add more about her skills, let's find out about her relationship with her boyfriend, Brad Wilson.
Jaelin Kauf and Brad Wilson's Relationship
As mentioned earlier, Jaelin Kauf's family and friends couldn't be with her because they could not travel to Beijing, but her boyfriend, Brad Wilson, was there to support her and cheer for her as she bagged the silver medal.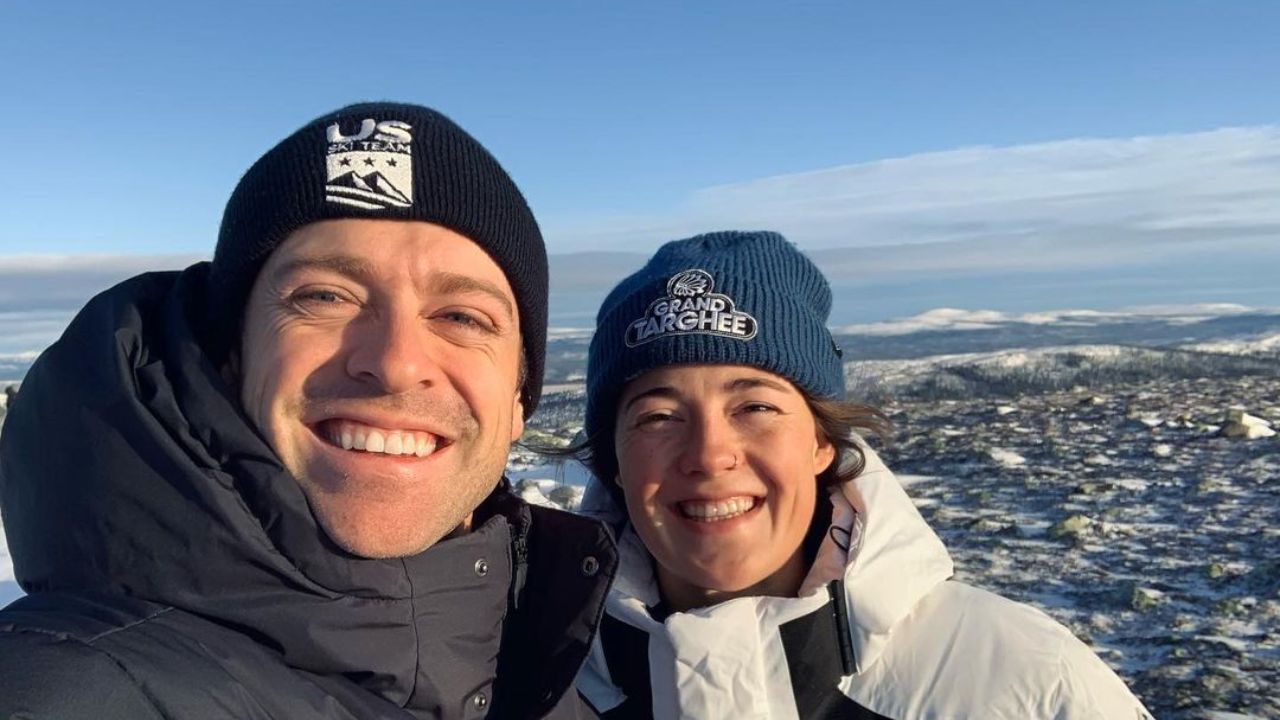 Jaelin Kauf has been in a relationship with her boyfriend, Brad Wilson. The couple started dating in 2020. (Jaelin Kauf Instagram)
Jaelin's boyfriend, Brad, is a fellow American Skier; the viral celebration clip shows Wilson decked out in Team USA gear, standing behind a gate, jumping up and down to support his girlfriend. The clip is now dubbed "The Proud Boyfriend Moment" on social media.
When it comes to their relationship, Jaelin Kauf and Brad Wilson started dating in 2020, but their friendship goes way beyond that, and they have known each other for several years.
More About Jaelin Kauf's Boyfriend, Brad Wilson
Brad Wilson is an American freestyle skier from Butte, Montana. The 29-year-old is a three-time World Cup winner and has five US Championship titles. Brad was voted the FIS World Cup Rookie of the Year in 2012.
Apart from skiing, Jaelin Kauf's boyfriend also serves on the Board of Directors of the ID One Foundation and is an excellent painter. Brad has his own painting studio; if you want, you can check his work on his personal website by clicking here.
Coming back to Brad's Olympic appearance, this is his third time; however, Brad Wilson's time on the slopes came to an end in the Men's moguls as he finished 15th in the second qualifying round and failed to advance.
Don't Miss,