Safa Siddiqui, one of the cast members of the new Netflix series, Dubai Bling, is in the news for her glamorous lifestyle. It's needless to say, the show is all about showing riches, and extravagant life and how lavishly they spend their money. Safa, is no different, despite not being the one with a big net worth.
We will discuss Safa Siddiqui's wealth in a while, but let's first find out about her married life. For the better half of the show, when got some glimpses of Safa's personal life; in fact, some tense moments between Safa and her husband, Fahad Siddiqui, made it to the screen. Since the show is over,  fans are wondering if they are still together.
Fahad and Safa Siddique Are Doing Just Fine!
As the show panned cameras into Safa Siddiqui and her husband, Fahad Siddique, we seriously doubted their married life. But this is life, right! So, there are always some compromises to be done to save the relationship. Fahad and Safa, despite rocky moments, pulled together their things!
Safa Siddiqui and Fahad's relationship was put to the test, when they had to go through conflicting decisions regarding family planning, career, and friend circle. But they showed a true spirit, and saved their marriage. After all, they are the Dubai Blingers!
Safa and Fahad's Story: The Couple's Journey
The Siddiquis are the most loved couple on the Netflix series, Bling Dubai. Safa Siddiqui and Fahad's relationship goes way back. They went public about their relationship in 2018. The following year, in October 2019, the couple tied the knot.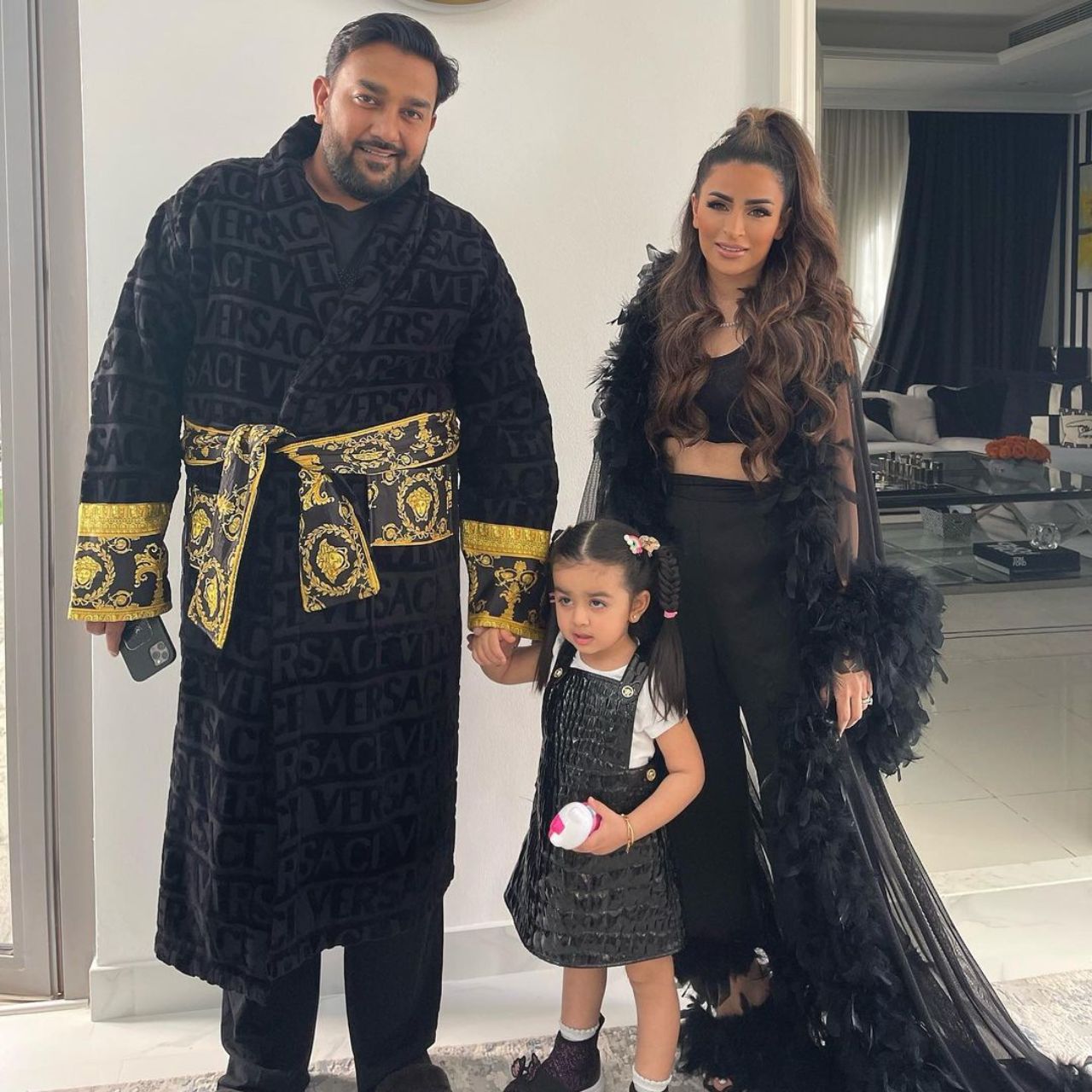 Safa Siddiqui with her husband, Fahad Siddiqui, and daughter, Alina Siddiqui. Safa's Instagram.
Forget what you saw on the show, and take it as entertainment only because, we think the couple is doing great in their marriage. Now, Fahad and Safa Siddiqui are parents to their lovely daughter, Alina Siddiqui, in 2020. Following the birth of their first child, Safa took a break from all her work and calls herself "a retired housewife."
Who is Safa Siddiqui and Fahad Siddiqui?
Safa is a former real estate agent from Dubai; She was born and raised in London. However, her roots are in Iraq and she is proud of her Iraqi ethnicity. Coming back to her career, despite her claim to be "a retired housewife," she is a successful social media influencer.
Safa has over 137,000 followers on her Instagram, alone. Her Insta profile says she is an Iraqi Brit living in the UAE and India. Some reports reveal interesting facts about Safa's life. She was married a few times before she met her now husband, Fahad.
While talking about Fahad Siddiqui, Fahad is a businessman based in Dubai. He belongs to a conservative Indian family, and that's one reason the couple ran into problems in the initial phase of their relationship. Later, they overcame the difficulties in their marriage and are happily married now.
But, show business demands drama, so all those fights over bigger wardrobes and luxurious property are just their way of adding "MASALA." After all, it's a reality show! And who doesn't like a little pinch of drama! It's what makes reality series so lovable.
Don't Miss These,