Sarah Palin is an American politician, commentator, author and reality television personality known for her appearing on shows like "The Masked Singer," "Sarah Palin's Alaska," "Bristol Palin: Life's a Tripp," and many more. Recently she has been making headlines for her relationship with her new boyfriend, Ron Duguay.
Sarah Palin and Ron Duguay's relationship speculation started when the couple was spotted together having dinner in New York City a few days earlier. At the time, both Palin and Ron denied they were dating, but now Sarah's beau has confirmed the relationship.
Following the revelation, Sarah and Ron were spotted holding hands as they walked down the streets of New York City on Friday, February 11, 2022. According to the Daily Mail, Palin was seen wearing a fitted black coat, leggings and a scarf as she held a rose. Duguay matched the dress as he wore a grey jacket and black jeans.
The same night, Sarah Palin and her new boyfriend went on a dinner date in Little Italy at the swanky Gelso and Grand restaurant and celebrated Palin's birthday. Now it's confirmed Sarah and Ron are dating; let's find out more about her new beau.
Who is Sarah Palin New Boyfriend Ron Duguay?
Sarah Palin's new love interest, Ron Duguay, is a former Canadian professional ice hockey player known for playing in the NHL from 1977 through 1989. Ron also played for the New York Rangers. Duguay served four seasons as a minor league coach following his pro career.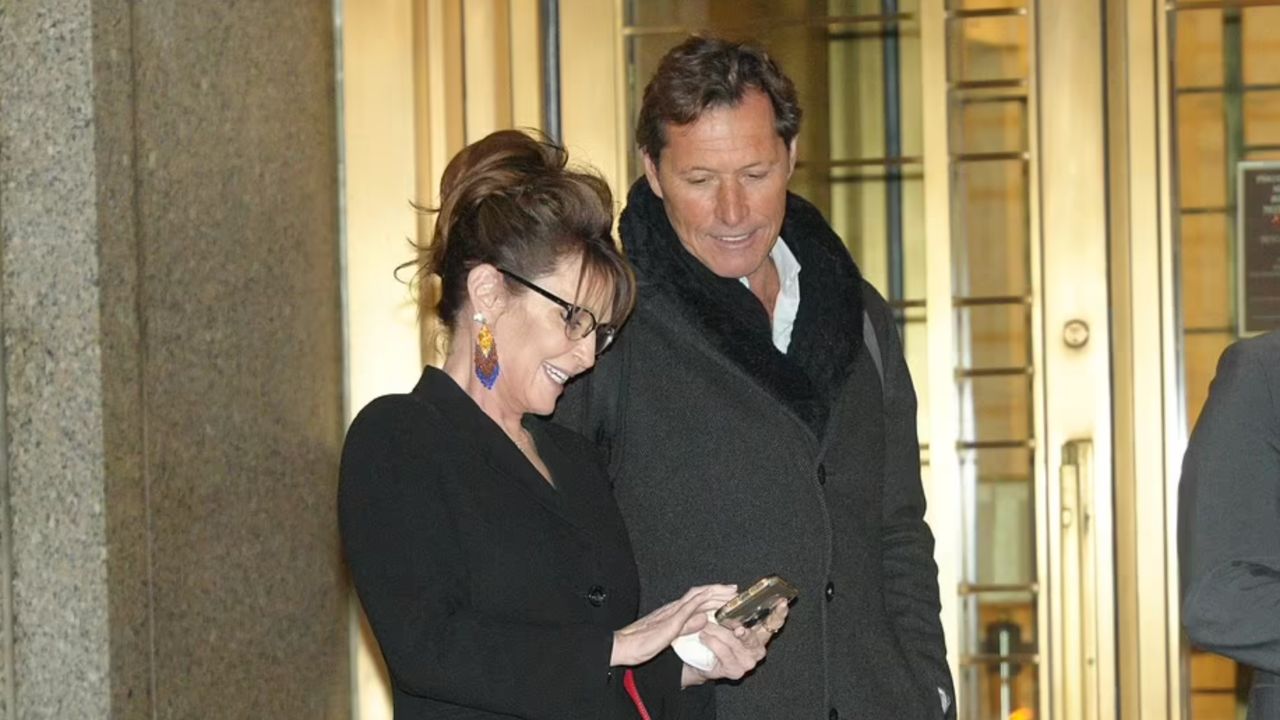 Sarah Palin is in a relationship with her new boyfriend, Ron Duguay. The couple started dating in 2021. (Daily Mail)
After his stint as coach, Ron Duguay worked as an in-studio analyst during MSG Network's coverage of the New York Rangers from 2007 to 2018. According to his profiles, Sarah Palin's beau was born in Sudbury, Ontario, Canada, on July 6, 1957.
Sarah Palin was Previously Married to Todd Palin
Sarah Palin was married to her ex-husband, Todd Palin, for 31 years. The former couple's divorce was finalized in 2020; however, Todd filed for divorce on September 6, 2019. According to the reports, Palin's ex-husband filed for divorce six days after their wedding anniversary on his birthday.
During the time, while Sarah was in an interview with Dr. James Dobson, the former Alaska Governor revealed she wasn't surprised her ex-husband filed for divorce as Todd had told her he wanted it via an email. Sarah said,
"I found out from an email from an attorney saying that she was hired, and that was on June 19, I'll never forget it. It was devastating. I thought I got shot. I'm sure so many of you either, maybe you've been through [divorce] or you have people whom you love, you've witnessed how horrible it is. But I just think, wow, maybe except for the death of a child, I don't know what could be more… Yeah, it hurts."
Ron Duguay was Also Married
Sarah Palin's new boyfriend, Ron Duguay, was also married before dating Palin. Duguay was married to his ex-wife, Kim Alexis. Ron and Kim tied knots in 1993 and were married for 16 years; The former couple's divorce was finalized in 2013.
Ron Duguay's ex-wife, Kim Alexis, is an American supermodel and actress famous in the 70s and 80s. Kim has appeared on several magazine covers like Sports Illustrated, Vogue, Harper's Bazaar and many more.
Don't Miss,