Aileen Wuornos was the female serial killer in Florida; technically, she is originally from Rochester, Michigan. According to the reports, Aileen allegedly killed seven men in Florida in 1989 and 1990. She was born on February 29, 1956, as Aileen Carol Wuornos.
After the Netflix series "Catching Killers" surfaced on the streaming platform, the female serial killer is again in the news. While it satiates the "True Crime" documentaries lovers' need, it has also drawn some criticism from the fans. Some people argue that the show failed to show the other side (Wuornos') of the story.
Aileen Wuornos, a sex worker in Florida, shot seven men; the alleged was found guilty of murders of six out of the seven people she killed. Aileen was sentenced to death and later executed by lethal injection by the state of Florida. Some fans argue she acted in self-defense each time she killed someone!
One Twitter user argued, "Not Netflix and Catching Killers painting a cop-men-perfect picture while making Aileen Wuornos be the monster whose side of the story is not even shown. And of course, the system hasn't got a flaw there."
Another user added, "Watching 'Catching Killers' on [Netflix], [Episode 2] is about Aileen Wuornos. I do not condone killing but damn if the folks in this don't seem real killable. Middle-aged bubbas cruising for hookers are not usually a citizen of the year nominees."
There's a long debate, and people are still finding the middle ground to settle after the show's second episode; however, the show missed more interesting facts, like Aileen Wuornos had a girlfriend, Tyria Moore. Where is she now, and what happened to Aileen Wournos' girlfriend? Let's find out.
Aileen Wuornos' Girlfriend, Tyria Moore: What Happened to Her?
Indeed, Aileen Wuornos had a girlfriend, Tyria Moore. The former couple met in a Florida biker bar in June 1986. Their lovestory was featured briefly on "FL V. Wuornos." According to the reports, Aileen was alone at the bar, and Tyria broke the ice; she went home with Wournos that night.
The report further suggests that Aileen was 30 when she met Tyria Moore, and it's known the longest relationship she had ever been before. The couple was so close, Tyria even knew about Wuornos' work, and she disapproved of her prostitution. Moreover, Wuornos' girlfriend even knew about one of the murders.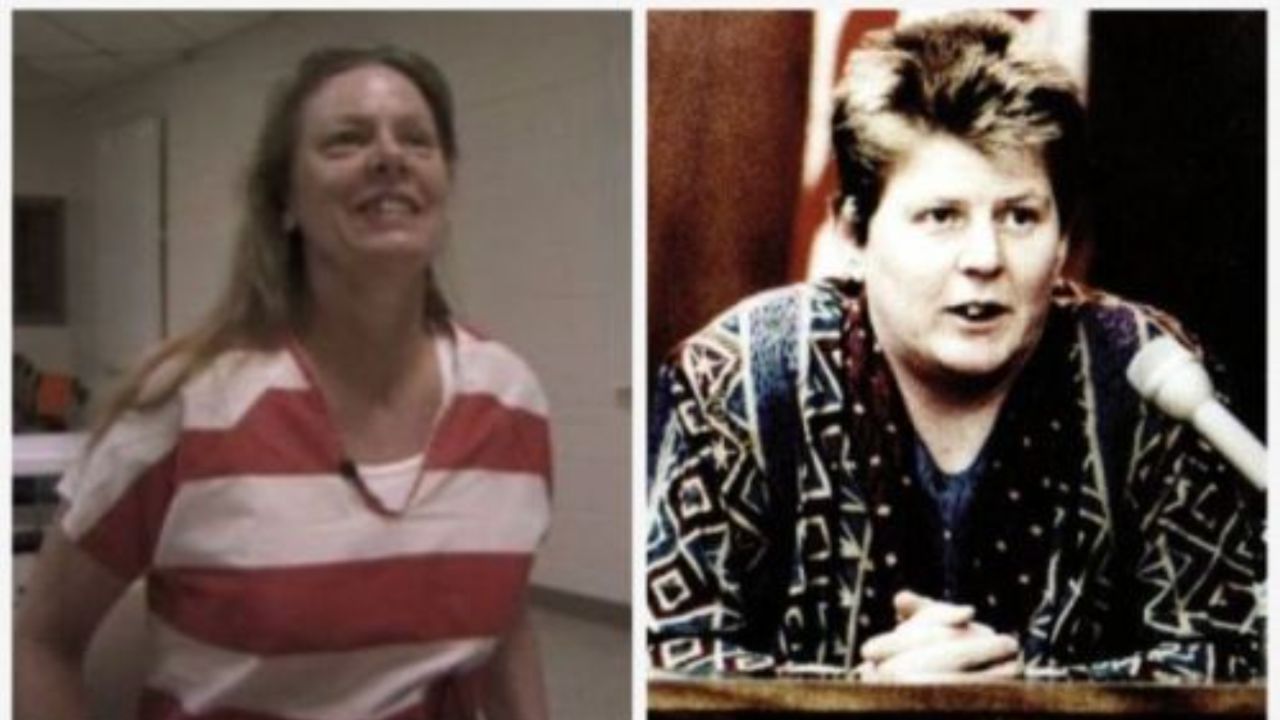 Meet female serial killer in Florida, Aileen Wuornos, and her girlfriend, Tyrie Moore. (BlogYourDog Tumblr)
Tyria Moore said, "We were sitting on the floor watching TV. She just come out and said, 'I have something to tell you.' And I asked her what. And she said she had shot and killed a man that day."
That was in 1989; the following year, it started to get worse; Aileen Wournos started to bring home more stolen belongings. They started pawning stolen belongings of murdered men for cash and driving their cars; in fact, that's how the two were caught.
On July 4, 1990, Aileen Wuornos and her girlfriend tried to run off in a 1988 Pontiac Sunbird, the car which belonged to a 65-year-old man who had disappeared a month before. A witness reported the police, and the two were on the wanted list.
After knowing the police were looking for her and Aileen, Tyria Moore moved to Pittston, Pennsylvania, to live with her sister, but the following year, she and Wuornos were arrested. Well, at that time, Tyria had enough, and she agreed to help the police in exchange for immunity. Later, Tyria Moore convinced her girlfriend to confess and later even testified against Aileen.
Where is Aileen Wuornos' Girlfriend, Tyria Moore, Now?
After Aileen Wournos' death, Tyria Moore, due to her immunity, was released and went back to Pittston, Pennsylvania, to live with her sister again. Later, it was found she had settled with a new woman.
According to some reports, Aileen Wuornos' girlfriend, Tyria Moore, still lives in Pennsylvania with her wife and family.
Don't Miss,