Allie Lutz is one of the cast members of the new Netflix show, "Buying Beverly Hills." The series premiered on the streaming platform on November 4, 2022. As of now, the show is doing pretty decent. On an average, The reality show has raked in 5.4 ratings out of 10.
The show, which follows the clients and agents of a real estate company, "The Agency," in Beverly Hills. The company is the brainchild of Mauricio Umansky, the owner and agent of the company. The show features several real estate agents like Mauricio, Alexia Umansky, Farrah Aldjufrie, Sonika Vaid, Allie Lutz, and many more.
It's apparent Allie Lutz is one of the top real estate agents from "Buying Beverly Hills" and "The Agency," as she has been featured in six episodes. Following her appearance on the show, people have been curious about her. Is she married? Let's find out.
Allie Lutz is Married to Her Husband Keegan Rosenberger
Allie Lutz from Buying Beverly Hills tied the knot with her longtime boyfriend, Keegan Rosenberg. Reports say she has been in a relationship with Keegan since high school. After dating for several years, Keegan and Allie Lutz got engaged in 2013. However, their journey to marriage was not easy.
Allie Lutz and Keegan Rosenberger took a brief break in their relationship after their engagement. When all hopes were gone, the couple somehow rekindled their romance and got back together. Three years after their previous engagement, the couple got re-engaged in 2016, and they got married in the same year.
Allie Lutz and Keegan Rosenberger Share Three Beautiful Daughters (2022 photo)
Things couldn't wait after Keegan and Allie got back together. The couple who rekindled their romance in 2015, exchanged the rings for the second time in 2016. The same year, Lutz and Rosenberger got married, and they welcomed their first daughter the following year.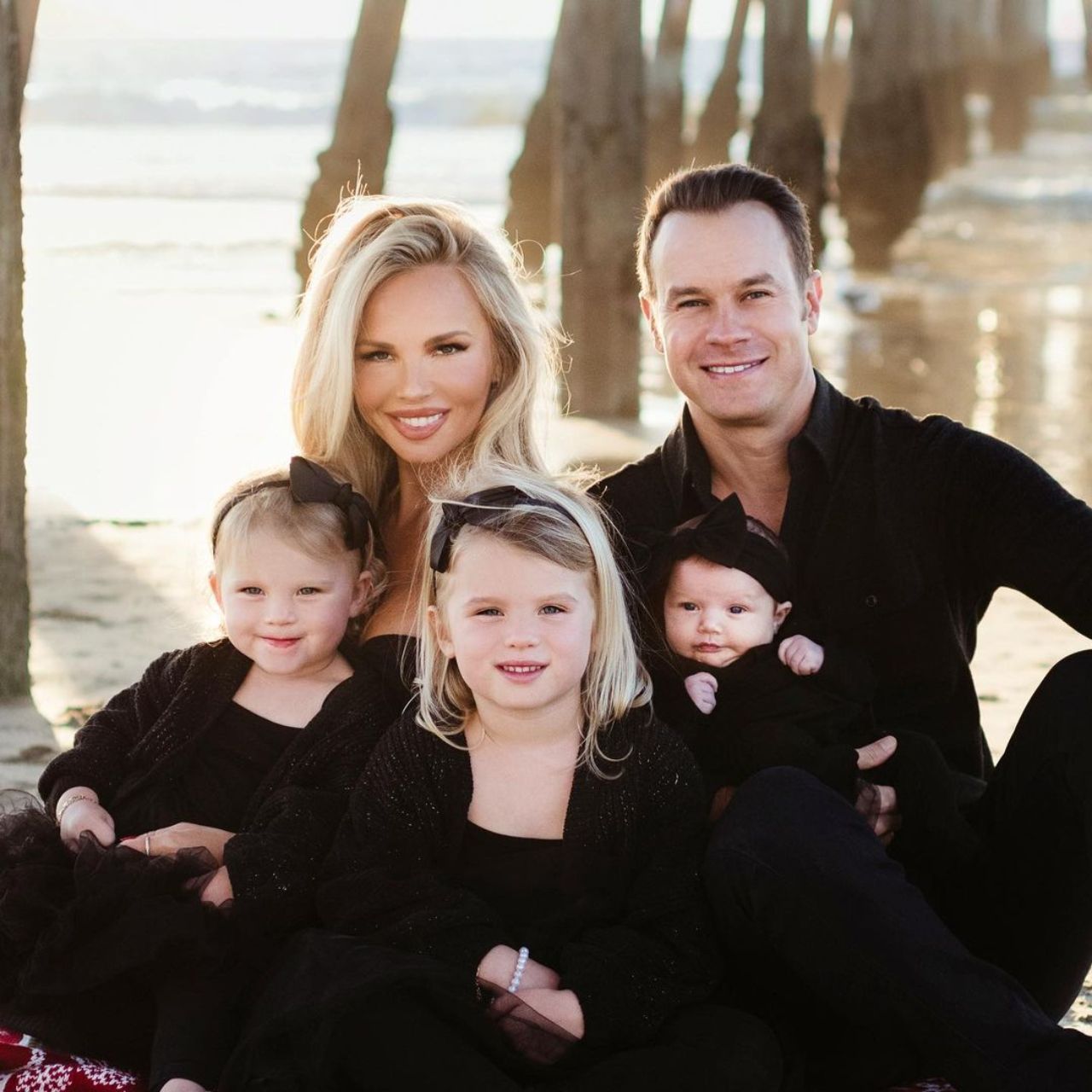 Allie Lutz Rosengerger and Keegan Rosenberger tied the knot in 2016. The couple shares three beautiful daughters, Georgia, Teddie, and Scottie. Allie Lutz from Buying Beverly Hills Instagram.
Allie Lutz's husband, Keegan, took to Instagram to announce the news of their first child's birth. Rosenberger wrote, "Beyond blessed to welcome baby Georgia Taylor to our family. She came into this world on Saturday, 4/29 at 4:36am after her rockstar mom pushed for less than 30 minutes. 7 lbs, 20.5 in. You are already so loved, G! ❤️"
The couple welcomed their second daughter, Teddie, on April 2, 2019. Keegan posted a picture of his newborn child with her mother on Instagram. He wrote, "Welcome to the world, sweet girl! Baby Teddie was born at 6:27am, 6 lbs 13 oz. Mom and baby are happy and healthy! We're so in love already!"
Recently, the couple welcomed their third child, Scottie, on October 4, 2021. Allie posted a picture of her newborn and wrote, "This morning at 9:12am our sweet little Scottie Live Rosenberger made a beautiful entrance in to this world, officially making us a family of five! 🎀 Keegan and I couldn't be more in love with all 7 lbs 2.6oz of her and her sissies are very anxious to welcome her home to their girl crew. 💗💗💗"
Who is Allie Lutz's Husband, Keegan Rosenberger?
Keegan is an entrepreneur, finance executive, and investor from Beverly Hills. He is also the co-founder and Chief Executive Officer of Cavalry Media. His company is a media platform with operations spanning film, TV, talent management, and podcasts. It's a full service talent and literary management company with over 50 actor, writer, and director clients.
Allie Lutz's husband, Keegan Rosenberger, spent several years in the entertainment industry. He recently helmed the strategy and corporate development at Relativity Media. Besides, Keegan spent many years as an investment banker. Also, he has been involved in the production, financing, and distribution of over 20 films.
Don't Miss These,