Erin Perrine is the Principal Deputy Communications Director for President Trump since 2019 and Vice President at Tag Strategies. She is in the news as the midterm elections are nearing.
Recently, she stated the candidate's views are directly tied to their electability, and Democrats in the New York, Wisconsin, and Pennsylvania nominated extreme candidates who were untouched in the primary process.
Erin Perrine said, "Once voters saw how extreme and out-of-touch candidates like Kathy Hochul for governor, and Mandela Barnes and John Fetterman for Senate are on crime, rising costs, and energy, the races became much more favorable for Republicans."
Perrine further added, "And in the current climate, candidates Democrats put forth to run in swing states and deep blue states alike may prove to be too extreme to be palatable by the electorate."
Following her statement, Erin has managed to raise people's eyebrows with her bold proclamation. Keeping her career aside, people are also curious about her personal life. So, who is Erin Perrine's husband? And does she have kids?
Erin Perrine's Married Life With Husband Nick Perrine
Erin Perrine is married to Nick Perrine; They tied the knot on July 2, 2016, at St. Matthews Cathedral in DC. According to reports, Nicholas and Erin met in Wisconsin in 2010. However, things were not like "they fell in love at first sight." Both Erin and Nicholas were campaigning for Ron Johnson.
Erin Perrine and Nick Perrine's wedding — The couple tied the knot on July 2, 2016. Erin's Twitter.
As time went by, Erin Perrine and her husband, Nicholas Perrine, got to know each other better as they have worked together on several other projects, too. Finally, the couple announced their courtship in 2013, and three years later, they tied the knot.
Does Erin Perrine and Her Husband Have Kids?
Erin Perrine and her husband, Nicholas Perrine, have been happily married for more than six years. The couple recently celebrated their sixth anniversary; Taking to Instagram, Nicholas posted a lovely picture from their wedding and wrote, "six years in the blink of an eye. Happy anniversary, my love."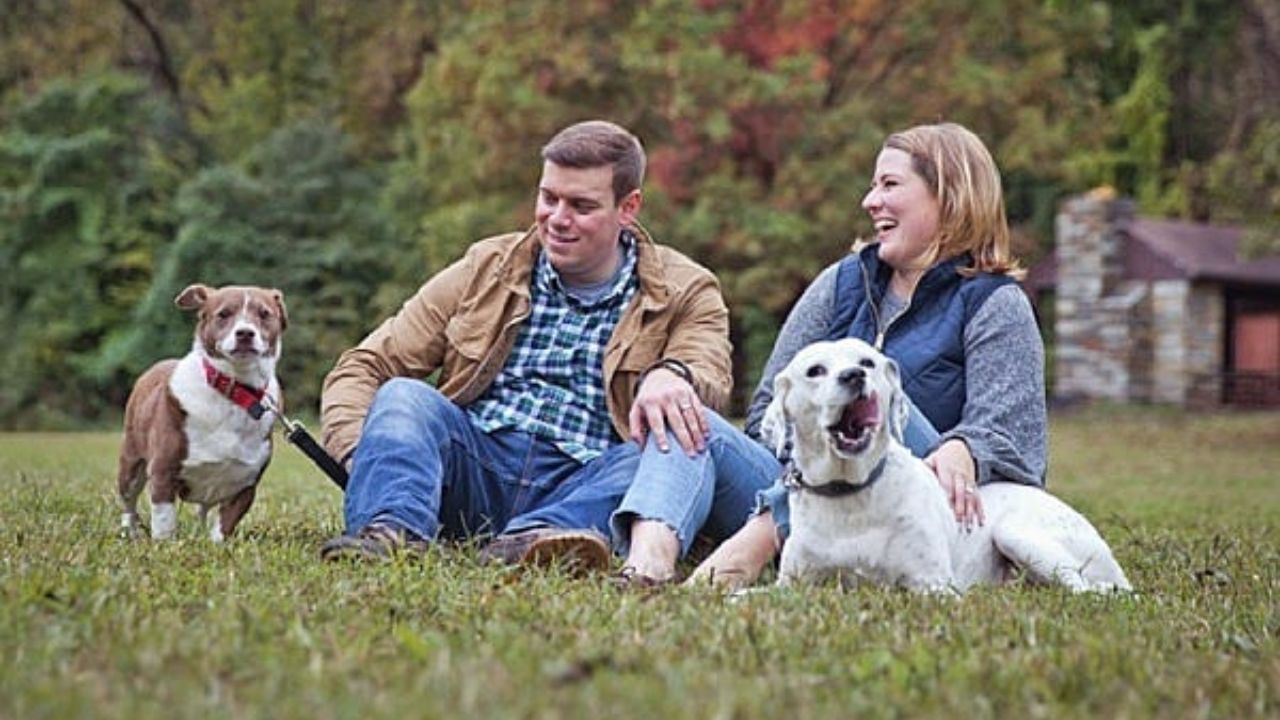 Erin and Nicholas Perrine adopted two dogs, Reagan and Lincoln. Sadly, Reagan died in 2020.
It's apparent that they love each other more than anything else, but the couple hasn't planned for their kids yet. However, Erin Perrine and Nicholas Perrine were parents to their two canine babies.
Erin Perrine and her husband had adopted two dogs, and the couple had given them rather interesting names; Lincoln and Reagan. Both named after the former presidents. Sadly, Reagan died in 2020. The couple were heartbroken following the death of their dog.
Who is Erin Perrine's Husband, Nick Perrine?
Erin's husband, Nicholas Perrine, is a former political campaign staff member. As mentioned earlier, he and Erin worked together on the Senate campaign of Republican Ron Johnson. Their campaign helped Ron bag a win against Democratic incumbent Russ Feingold.
Erin and Nicholas worked together on several other campaigns. While Erin continued her work in the political field, Nick decided to take an early retirement. Following his retirement, Nick Perrine loves to spend time with his family. Nicholas is often seen enjoying Wisconsin Badgers games with his dad, and other family members and friends.
Sources: WFIN, Rochester Beacon.
Don't Miss These,