Alvin Kamara is one of the most sought-after football players in the nation. Playing currently for the New Orlean Saints of the National Football League, the 26-year-old was the centerpiece of the Saints' offense in his recent games.
In the Saints' match against Atlanta, Alvin Kamara's team won by 30-20, RB Kamara rushed the ball 30 times for 146 yards, plus he added two receptions for 16 yards which contributed to the win.
According to ESPN Fantasy projection, the Saints' RB Alvin Kamara finished a position-best 80% of his outings as a top-1o; his role in the offense is about as clear and consistent as they come. Kamara finished between 171 and 194 carries each of the past three seasons while posting a reception total of 81, 81, and 83 during his four campaigns.
In his 2021 season, Alvin Kamara had 10 catches for 128 yards and a touchdown, along with 51 rushing yards, in a 13-10 win over the Seatle Seahawks. As we can see, Kamara is already going places since the start of his professional career in 2017. Leaving his professional career aside, for now, let's dive into his personal life and find out about his relationship. Is Alvin Kamara dating someone in 2022?
Alvin Kamara Girlfriend: RB Kamara is Dating Te'a Cooper
After his breakup with Just Ace, Alvin Kamara is now dating his new girlfriend, Te'a Cooper. The couple has been in a relationship since 2020, following Cooper's divorce from her ex-husband, Dwight Howard. According to the reports, Te'a broke her marriage after she learned her ex cheated on her.
The reports suggest Te'a Cooper was allegedly married to her longtime ex-boyfriend, Dwight. The former couple was engaged in 2019 and tied the knots in 2020. However, their marriage didn't last because of infidelity.
Cooper took to her Instagram account to make an official announcement of her split from Howard, during which she expressed she never wanted to speak on him again. While Alvin Kamara, on the other hand, was also in a relationship with Just Ace, and they broke up in 2020 as well.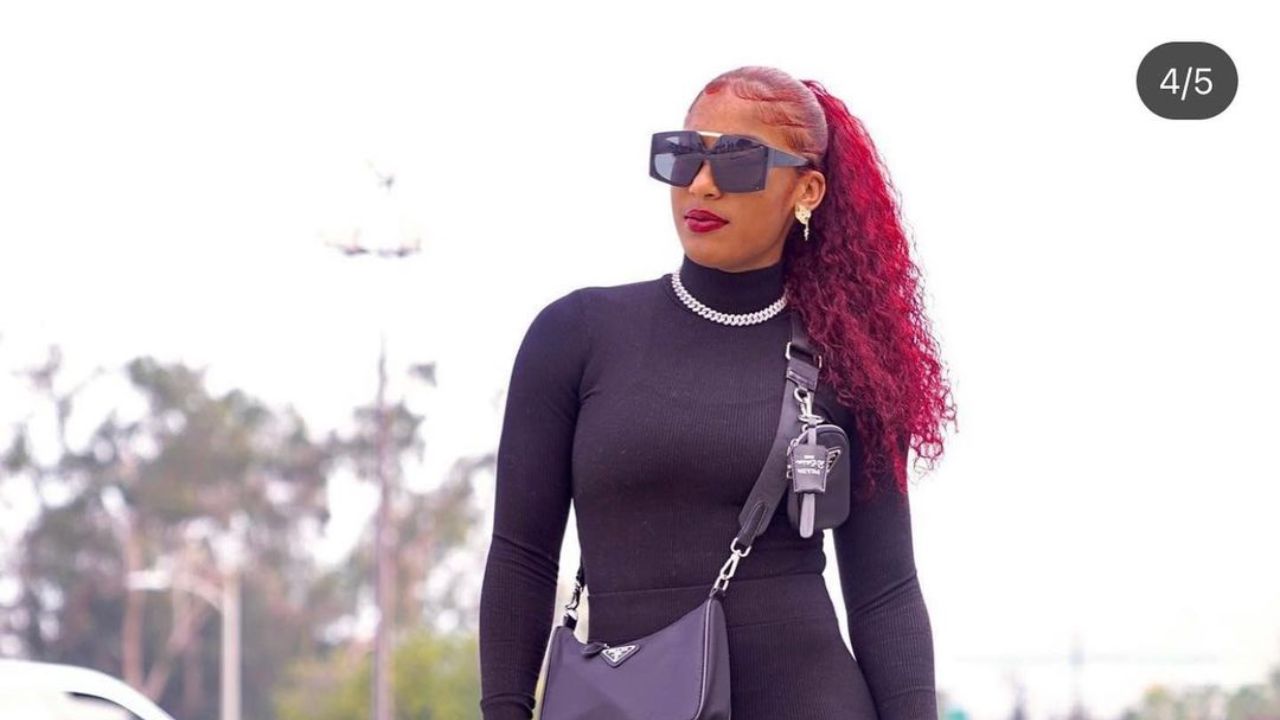 Alvin Kamara Girlfriend 2022: Alvin Kamara has been in a relationship with his new girlfriend, Te'a Cooper, following his break up with exotic dancer, Just Ace. (Tea Cooper Instagram)
Since both were single, Alvin Kamara shot his chance with Te'a Cooper and successfully won her heart. Though there were rumors and speculations about their romance, the couple initially didn't confirm it. However, fans later learned about their relationship when they were spotted together in Minnesota.
However, RB Kamara and Te'a Cooper were spotted together on several occasions before that, but they kept their relationship a secret then. Since they went public, both Kamara and Cooper seem happy in their relationship.
Who is Alvin Kamara's Girlfriend, Te'a Cooper?
Alvin Kamara's girlfriend, Te'a Cooper, is an athlete, too. Born in New Jersey to her parents, Omar Cooper and Kindall Cooper, Te'a is a WNBA player for the Los Angeles Sparks. Hailing from Springs, Georgia, RB Kamara's girlfriend started her collegiate basketball career at the University of Tennessee in 2015.
Te'a Cooper was then transferred to the University of South Carolina and later enrolled in Baylor. The Phoenix Mercury selected her as the 18th pick in the 2020 WNBA Draft, but she was dropped from the team and later picked by LA Sparks' the same year.
Don't Miss,