WNBA star Candace Parker has something to share with her friends and families; the 35-year-old took to her social media account to post the news. Candace Parker revealed her longtime girlfriend and now wife, Anna Petrokova, is pregnant.
Candace was previously married to her ex-husband, Sheldon Williams; following the divorce, the WNBA star kept her dating life a secret. No one knew whom she was in a relationship with until her recent post on Instagram. Candace dropped two bombs: she is married to her girlfriend, Anna Petrakova and next, they are pregnant with their first child together.
Uploading a picture from their wedding day, Candace Parker also revealed the couple had been married for two years. In the caption, she wrote,
"Happy Anniversary Моя жена! 2 years ago, I got to marry my best friend in front of our close family and friends. My heart could have exploded. I cried like a baby….To know me or you is to know our love. This journey hasn't been easy. I am proud of us and what we have built and who we have grown to become both individually and together."
"Thank you for always loving Lailaa as your own, being my calm, my support, my voice of reason, my laughs, my cuddles, my dance in the rain, my happy, my home… Thanks for constantly challenging me and telling me when I'm wrong ?. I LOVE YOU? I appreciate you, I value you and what we have," Candace added.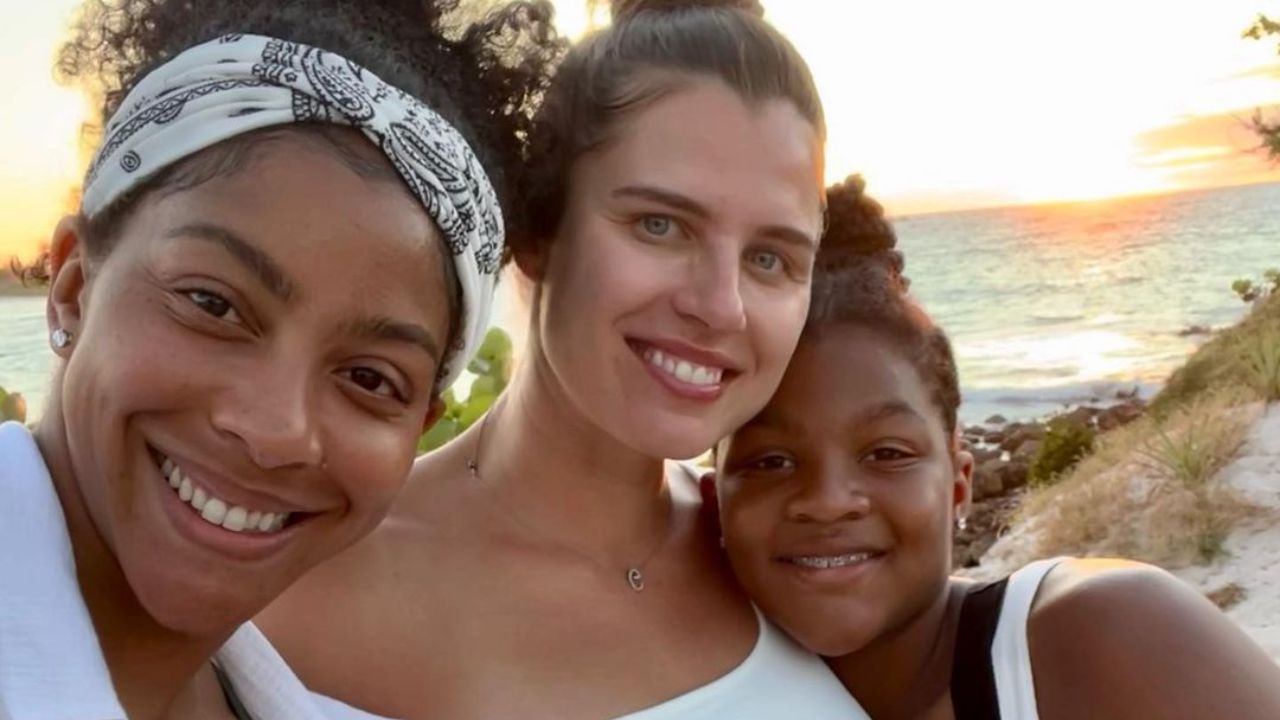 Candace Parker shares a 12-year-old daughter, Laila, with her former husband. Candace's daughter is close to her wife, Anna Petrakova. (Candace's Instagram)
Candace Parker is already a mother to her 12-year-old daughter, Laila. She shares her daughter with her former husband, Sheldon Williams. Ever since their divorce, Laila has been living with her mother. Announcing her girlfriend is pregnant, Candace added,
"We've always dreamed of growing our family… .it's surreal that we now have a baby on the way! Lailaa is pumped to be a big sister! You couldn't be more beautiful! Glowing, while understanding that I have to constantly love, kiss, and talk to your belly AND yes… play Jay-Z for the baby (Goose knows 'Song Cry' already by heart? !) I can't wait to embark on this next chapter in life with you!"
Who is Candace Parker Wife, Anna Petrakova?
Candace Parker's wife, Anna Petrakova, is a Russian professional basketball player. According to Anna Petrakova's wiki, she was part of the Russian women's national basketball team at the 2012 Summer Olympics.
According to the reports, Anna Petrakova married her longtime girlfriend, Candace Parker, on December 14, 2019. The couple held the ceremony in a private event, and only a few close friends and families were invited to their wedding.
Fans Showered the Couple With Blessings
Candace Parker announced her wife is pregnant on Instagram; many fans showered the couple with their blessings and good wishes.
Even Assistant Coach at Boston College, Lindsay Wisdom-Hylton, stopped by to wish the couple. Lindsay wrote, "Awww ? Happy Anniversary!! Can't wait to meet the new addition to the family!!! PS: them damn sparklers at your wedding about took us all out lol."
One fan wrote, "I am crying all over again! You three (soon to be four! ?) make my heart soooo full… love you! Happy anniversary.. and [Ana Petrova] working on our ?… now as I type."
Another fan wrote, "Happy Anniversary, Candice Parker and Anya Petrova!!! Sending you all lots of love! ❤️." The next one wrote, "Amazing! Congratulations and Happy Anniversary, Candice Parker and Ana Petrova. ❤️"
Don't Miss,