Laurie Hernandez is a retired artistic gymnast who competed as a member of the U.S. Women's gymnastics team at the 2016 Summer Olympics. Her team, "Final Five," won gonld in the team event. Born Laurie Zoe Hernandez, the 21-year-old is a reality television show star as well.
Following her retirement, Laurie Hernandez is keeping herself busy in the entertainment world. The 21-year-old retired gymnast appeared on the 23rd season of "Dancing with the Stars" in 2016; Hernandez won the competition along with her dance partner Val Chmerkobskiy.
The 21-year-old made her appearance on several other television series, like as the co-host of American Ninja Warrior, Stuck in the Middle, Middle School Moguls (voice), Ryan's Mystery Playdate and more. Laurie Hernandez later made a comeback to elite gymnastics, however, that was short-lived too.
While competing at the 2021 U.S. Championships in beam and vault, the 21-year-old withdrew from the competition hyperextending her left knee in balance beam warm-ups, and her dream to compete at the Olympics for the second time was shattered.
All this time, while she was in hiatus, Laurie Hernandez utilized her free time with something productive. The 21-year-old released two books, "I Got This: To Gold and Beyond" in 2017, and "She's Got This" in 2018. Well, not only that, but the retired gymnast is traveling too. Past couple of months, she has been to Ireland, and other many local destinations.
While she was on her trips to these beautiful locations, we saw Laurie Hernandez was tagged along by another gymnast, Charlotte Drury.
Is Laurie Hernandez Dating Charlotte Drury?
Indeed, the news is out. The 21-year-old retired gymnast recently came out, and she debuted her new girlfriend on Instagram. Laurie Hernandez recently confirmed her relationship with her partner, Charlotte Drury. The speculations of their relationship was going on for a while now as the couple made made several trips together in the few months.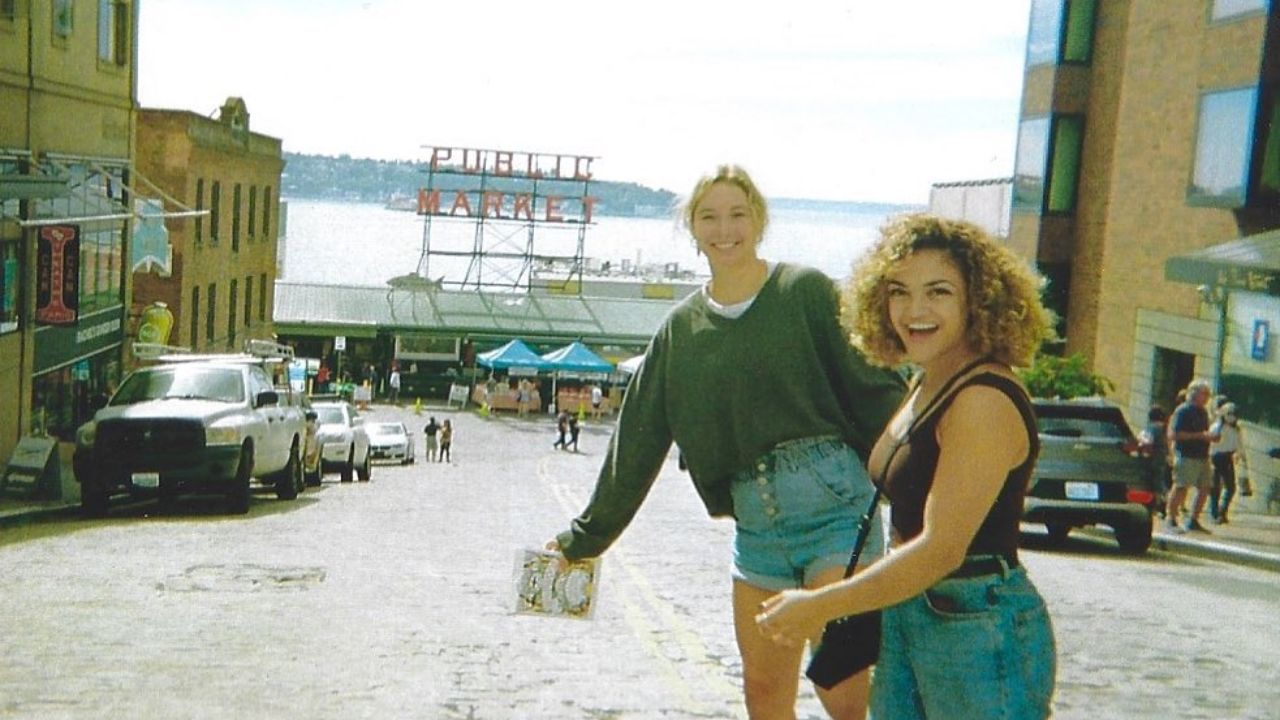 Laurie Hernandez is in a relationship with her girlfriend (partner), Charlotte Drury. The couple went public about their relationship on Instagram. (Charlotte Drury Instagram)
On December 5, 2021, Laurie Hernandez ended the speculation following she confirmed her relationship with Charlotte Drury. The retired gymnast took to Instagram to upload a series of couple photo, and went Instagram official about their relationship. In the caption, Laurie wrote, "cheesin! happy year!!!!!!!!!!"
Even Charlotte Drury took to her social media profile to upload the picture of her and Hernandez the same time. Charlotte, in the caption, wrote, "Best Year!" Well, certainly, the couple dubbed 2021 as their best year as they fall in love with each other, and they both home the upcoming year will be better.
Who is Laurie Hernandez Partner, Charlotte Drury?
Laurie Hernandez girlfriend, Charlotte Drury, is a trampoline gymnast, and is the first American woman to win a gold medal in trampoline at a World Cup in 2014 at the Minsk World Cup. Born on June 4, 1996, the 25-year-old gymnast is from Laguna Beach, California.
It seems Laurie Hernandez's girlfriend is going place in her career, no doubt she is one of the best gymnasts; following her national and international success, Drury has drawn interest from many sponsors and advertisers as of now.
Charlotte Drury was placed second at US Nationals in 2021 and was selected as an alternate for the 2020 Tokyo Games; sadly, three months before the trial, the 25-year-old gymnast was diagnosed with Type 1 Diabetes. Since she was in a hiatus, she decided to do something productive too, and started a YouTube channel.
The channel is still new and has some hundred subscribers to it. Charlotte has only one video uploaded to her channel, where she talks about her experience following she was diagnosed three months before the Olympics 2020.
Don't Miss,