Corey Kispert signed a rookie deal with the Wizards; the 22-year-old was the 15th pick in this year's draft; Kispert, a Gonzaga product, earned first-team All-American honors and helped Zags reach the national championship.
Some assumed, rounding off his averages, the former Zags player received %120 percent rookie salary scale, which implies the 22-year-old will earn approx. $3.38 million this season alone. Well, it's a much-deserved accomplishment, we must say.
Congratulations are in order for the former Zags' player, but there's this one person, above all, who congratulated Corey Kispert in a special way! That' person is none other than Corey Kispert's girlfriend, Jenn Wirth.
And there's a reason why Jenn's congratulation was special, not only for Corey but we all as well, in a way. The couple is known for recreating this epic "Love and Basketball," kiss and hug scene, and if this one doesn't steal your heart, then what does?
Kispert Girlfriend Took to Instagram to Recreate "Love & Basketball" Epic Scene!
Corey Kispert's girlfriend, Jenn Wirth, took to her Instagram to upload a series of pictures and recreate that epic scene from the movie "Love & Basketball," again! In the caption, Jenn wrote,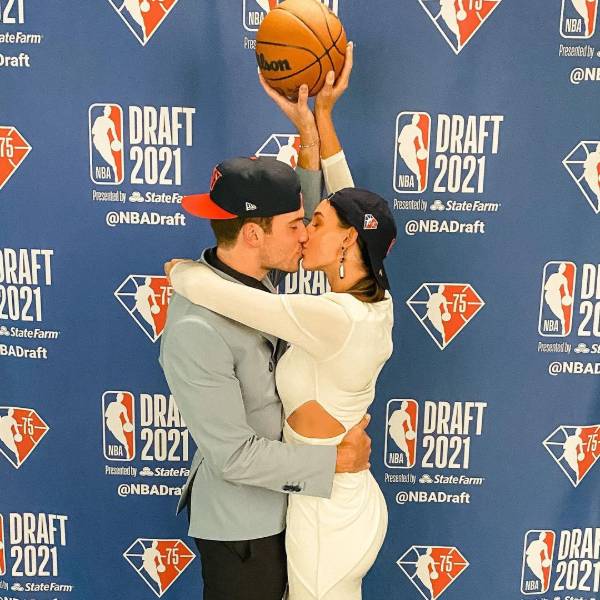 Corey Kispert and his girlfriend, Jenn Wirth, recreate the epic scene from "Love & Basketball."
"The love and basketball saga continues...It has been a blessing to watch you dream this dream and put in the work to achieve it. I can't help but believe that our late night h.o.r.s.e. games helped get you here but I guess we'll never know 😉 Congratulations, love! The wizards got a good one. I can't wait to see what you do next <3"
Before the draft, Corey Kispert took to his Instagram and posted a series of pictures; The 22-year-old, in the caption, wrote how excited he was for the draft and also thanked everyone who helped him along the way.
Kispert wrote, "DRAFT DAY. Can't wait for tonight and what the future holds. To everyone who's helped me along the way, you know who you are, I love you so much." We don't know about you, but why do we feel "I love you so much," was all for his girlfriend, Jenn Wirth?
And we think, after family, Jenn deserves all the credit, as she has been the supportive girlfriend one could ever ask for throughout!
Kispert Girlfriend Recreated the "Love & Basketball" Scene in 2019 As Well!
We can tell already, this couple loves the movie 'Love & Basketball,' we are repeating the name so much that it almost feels like we are spamming! But, not our fault completely. Kispert girlfriend, Jenn Wirth, loves to recreate the scene from the movie, so much that we can expect it again when Corey achieves something bigger in his career again. Just like this time, and back in 2019!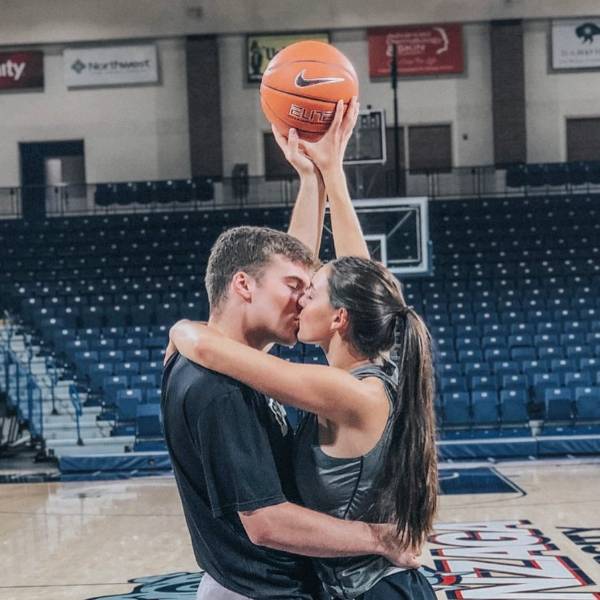 Here's another one! The couple did it in 2019 as well!
Kispert girlfriend, recreating the scene, with their picture side by side with the movie poster, wrote a caption that read, "Love & basketball 😉 that's been our life for the last year and I wouldn't have it any other way. One year down of finding new things to love about you everyday...thanks for making it so easy and thank you God for my best friend <3 I love you (now go kill it the rest of the season)"
Who is Corey Kispert Girlfriend, Jenn Wirth?
Corey Kispert's girlfriend, Jenn Wirth, is a Gonzaga WBB alum; Indeed, she is a basketball player too. The New York Post mentioned that 6-3 forward, Jenn Wirth, was named WCC's (West Coast Conference) Co-Player of the year.
The Mesa, Arizona native has an identical twin sister, LeeAnne Wirth, who also plays for the Gonzaga. The twins were declared for the 2021 WNBA Draft, but neither was selected.
Selected or not, Kispert girlfriend holds an impressive career point; Jenn became the 25th player in Zags program history to reach 1000 career points, finishing with 1,051 to rank 22nd overall. And also, she comes from a famous athlete's family. Jenn Wirth's father is a well-known MLB player for the Oakland Athletics; her sister Christina played for WNBA's Indiana Fever.
By the way, we almost missed this one. Here's another post and instance, Jenn mentioned 'Love & Basketball.'
Don't Miss,