Quarterback for the Detroit Lions of the NFL, Jared Goff, is engaged to his longtime girlfriend, Christen Harper. Jared announced his engagement to Christen on June 21, 2022. Taking to Instagram, Goff posted a picture from their special day, in which the 28-year-old is seen kissing his wife-to-be, Christen Harper.
In the caption, Jared Goff wrote, "I'm the luckiest guy in the world because I get to spend forever with you. I love you ❤️, Christen Harper." But Christen was ahead of her fiance regarding the announcement.
Harper let the world know that she is now engaged on June 18. She posted a short video on her Instagram, with a caption. Christen Harper wrote, "'6.16.22' Can't wait for forever with you," followed by a white heart. So, the couple got engaged on June 16.
Following the announcement, Jared Goff and his wife-to-be were overwhelmed with the good wishes. One friend of their wrote, "Oh the sweetness!!!! I'm so happy for you boo! Congratulations!! 💫🤍." The next one wrote, "Congratulations! Wishing you two a lifetime of love and happiness 🤍✨"
Since the fans of Lions' QB are happy that he is now engaged to Christen Harper, they also want to know more about his fiance. So, who is Christen Harper? How did the couple meet? Here's everything you should know!
Who is Jared Goff Wife-To-Be, Christen Harper?
Jared Goff's fiance, Christen Harper, is a Sports Illustrated swimsuit model. Harper was named SI Swimsuit's 2022 Rookie of the Year along with Katie Austin. This was the first time the SI picked co-winners. Out of eight rookies, Harper and Austin were picked as winners for this year.
The modeling career for Jared Goff's fiance, Christen Harper, started when she was in college. She pursued modeling at the age of 20 to help pay her way through college. However, the journey to be a successful swimsuit model was not easy for her. Reports suggest she was pushed back by agents and clients for her weight.
Despite the losing weight, Christen Harper chose to stay true to her size and continued pursuing her dream. Her adamantness to keep doing what she loved finally paid off when she was spotted by SI. Christen was photographed by Yu Tsai in Atlantic City, New Jersey in 2021.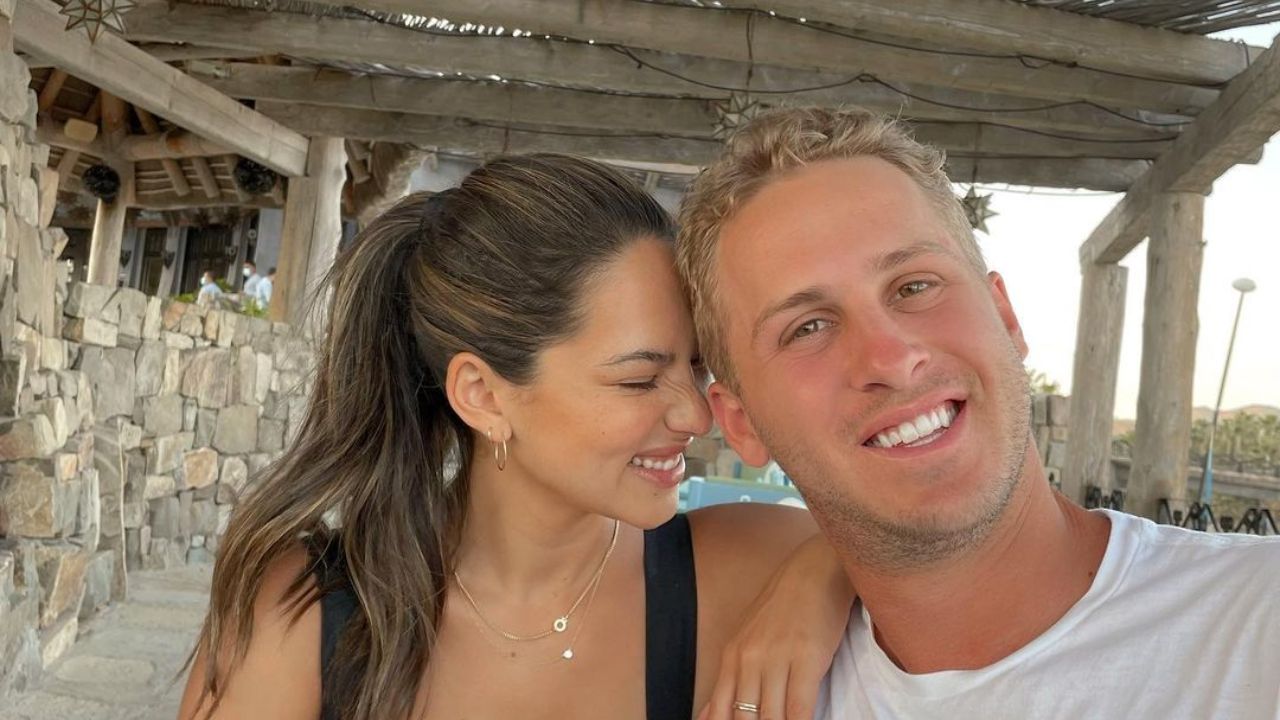 Jared Goff is engaged to his longtime girlfriend, Christen Harper. Harper is an SI swimsuit model and actress. The couple has been dating since 2019. Christen Harper's Instagram
Later, Christen Harper was photographed by Ben Watts in Barbados. She wore swimsuits by "Solid & Stripped," "Mikoh," "Sage Swim," Toxic Sadie," and "Neena Swim." Apart from modeling, Christen is an actress as well.
Jared Goff's wife is known for roles in movies like "Auggie" as Auggie, "Seven's Eleven" as Sparkler in 2004, and "The Obituary of Tunde Johnson" as Caroline in 2019. The movie with Harper's prominent role is Auggie. Harper portrayed the character of an augmented reality companion.
The storyline of Auggie movie revolves around "Felix Greystone." Greystone is a forced retired man who falls in "Auggie" that leads to the detriment of his relationship with his wife and daughter.
How Did Jared Goff Meet His Longtime Girlfriend, Christen Harper?
Jared Goff and Christen Harper met in 2019; Around the same time, Harper was busy filming for the movie Auggie. The rumors of their relationship started to circulate following Goff and Harper were seen together at Super Bowl 53. Later, it was confirmed that they were dating when Christen posted a story on her Instagram.
Jared was then playing for Rams; At Super Bowl 53, Christen Harper was seen decked out in Rams gear to show support for her beau. Taking to Instagram, she posted a story from Mercedes-Benz stadium in Atlanta.
Don't Miss These,