6.7 million fans is not a joke! Be it any platform, the numbers are incredibly overwhelming for anyone, but this 18-year-old content creator handles his popularity pretty well. Jean-Victor Macky, aka JeanVictorm, is a TikTok star from Georgia.
The teen content creator started his TikTok channel back in July of 2019, and within two years, his followers soared to almost seven million; all this says JeanVictorm knows how to keep his fans entertained.
While TikTok became his stepping stone, JeanVictorm just didn't limit himself on the platform and explored his potential through other mediums as well. As of this writing, the 18-year-old has several credits to his name already.
JeanVictorm, who came into prominence through his comedy skits and memes videos on the video-sharing platform, has appeared on different commercials and collaborated with fellow TikTok stars.
JeanVictorm stands pretty good on other social platforms; the 18-year-old has more than 477k followers on his Instagram. And there's one more thing, while e-stalking his posts, we saw JeanVictorm is possibly dating someone!
JeanVictorm Girlfriend 2021
After e-stalking and going through some of TikTok star's Instagram posts, we saw JeanVictorm possibly dating his new girlfriend, Ana Sobonja. Jean's recent picture of him with his girlfriend shows him giving a flower to Ana.
While we thought this could be just a pose and nothing more as Macky often posts pictures and videos with randoms on his Insta, all his other feeds with Ana suggest something else.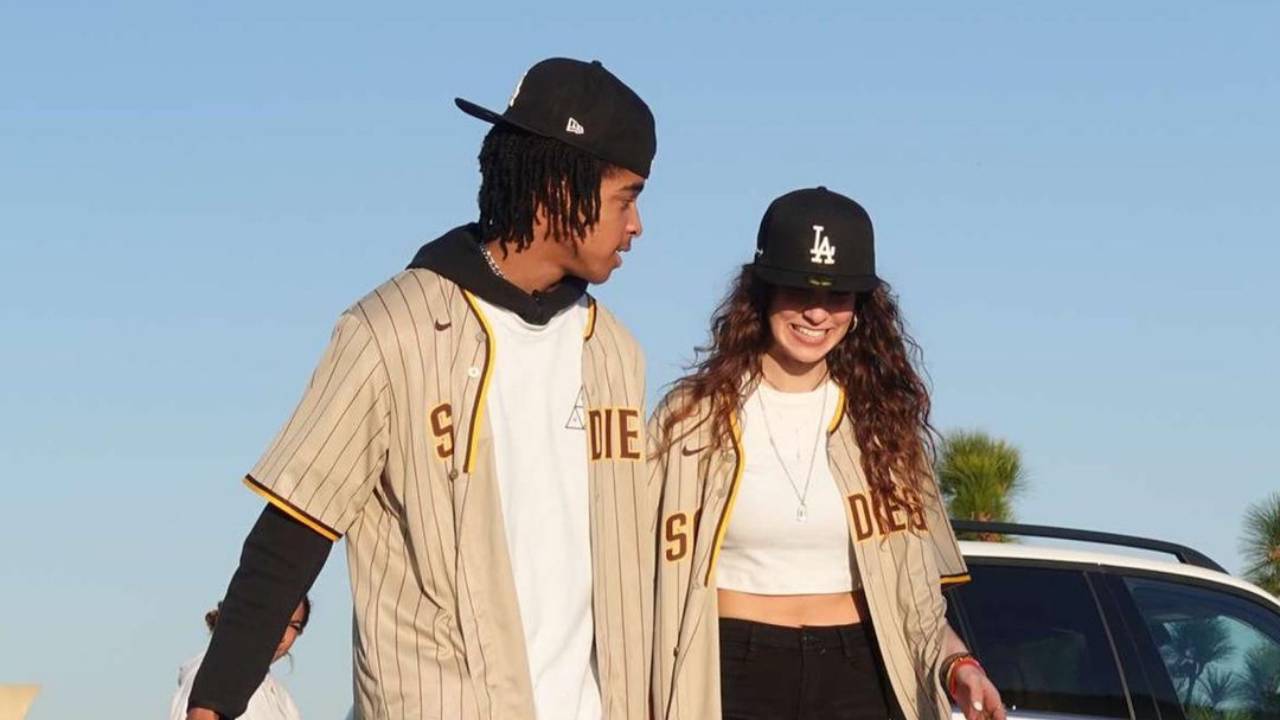 JeanVictorm is dating his girlfriend, Ana Sobonja. The couple made it official on March 7, 2021. 
While the couple never really confirmed their relationship, it's apparent from their post the two are dating for sure. Even JeanVictorm's fans ship him with Ana Sobonja.
JeanVictorm and Ana Sobonja are speculated to have started dating in February of 2021. The couple went public about their secret love story in March when Jean posted a duet with Sobonja, and Ana, on the other hand, posted a series of pictures with a rather hinting caption that read, "J a random guy and a random girl."
Who is JeanVictorm's Girlfriend, Ana Sobonja?
Jeanvictorm's girlfriend, Ana Sobonja, is a social media star, just like her beau. The 18-year-old Ana is massively popular on Instagram, and TikTok, amassing 183k and 2.3 million followers on the respective platforms.
Ana has dueted with so many web stars; we have lost count, but yeah, she garnered her loyal fanbase through her trending dance and lip-synced performance on TikTok.
JeanVictorm's girlfriend is also linked with 1UpTalent Network, a talent management company with the slogan "connect dots that build digital experiences, authentic campaigns, and integrations that cut through the noise, and long term relationships between brands, artists, and content creator."
JeanVictorm and Ana Sobonja's Fans Always Wanted them to Date
Ever since JeanVictorm and Ana Sobonja started posting videos or photos of them together, their fans began to ship them. While the couple was already dating, they never told their fans, but all loved seeing them in a post together. We went back in March's post to see the initial reaction of the followers, and they are all gold.
When JeanVictorm's girlfriend posted a series of pictures on her Instagram with her beau, most fans reacted positively.
One fan wrote, "ts a love story come trueeeee ??"
Another fan wrote, "definition of perfect:)."
Even Jean saw a similar reaction when he uploaded a duet video with his girl, but a sure giveaway that the couple was dating when they uploaded the same kind of pictures on their Instagram, on the same date! ooohhhhh!!!
Jean's fan, when the TikToker uploaded his gal photos, wrote, "Y'all should date y'all is too cute ?"
One "savage bich" (it's an Instagram handle, people!) wrote, "I am still thinking that you can make a great couple."
So, there you have it. JeanVictorm and Ana Sobonja are genuinely in love, and though lowkey, the couple made it official on March 7, 2021. So, next year on March 7, two will probably celebrate their first anniversary with a bang!
Don't Miss