Netflix's original, "Squid Game," is now the biggest show on the streaming platform. The South Korean thriller is something like serving old wine in a new bottle. We are pretty sure you have watched "Hunger Game," and Enders Game; if yes, this new S. Korean drama is pretty much based on the same idea.
Squid Game on Netflix taps into the class divide; according to us, this show is a well-written piece with an equally talented cast. One of the show stars, Park Hae Soo, who played the character of Cho Sang Woo, is undeniably the most talented actor in the limited series.
This is not the first time Park Hae Soo proved his acting skills; the 39-year-old actor bagged the Best New Actor award at The Seoul Awards for his lead role in "Prison Playbook," drama series. Well, people didn't have good things to say about Park Hae Soo's role on Squid Game, but it just proves he successfully justified the character.
Park Hae Soo was dubbed "the real villain" of the show, But the 39-year-old thanked the fans for loving it and the show for giving him a chance to prove his talent yet again. Let's find out about his personal life.
Park Hae Soo Wife: Is the Squid Game Actor Married?
The 39-year-old Squid Game actor, unlike his character on the show, is a happy man in real life. Park Hae Soo is married to his longtime non-celebrity girlfriend. The actor has not disclosed his wife's name, but it's understandable; Most of the South Korean stars who marry a non-celebrity SO often keep their name a secret.
According to the sources, Park Hae Soo and his girlfriend (now wife) met through a mutual friend in 2017. After two years into their relationship, the couple decided to tie the knots in 2019. Player number 218 on Squid Game, Park Hae Soo, is six years older than his wife but loves sees no differences.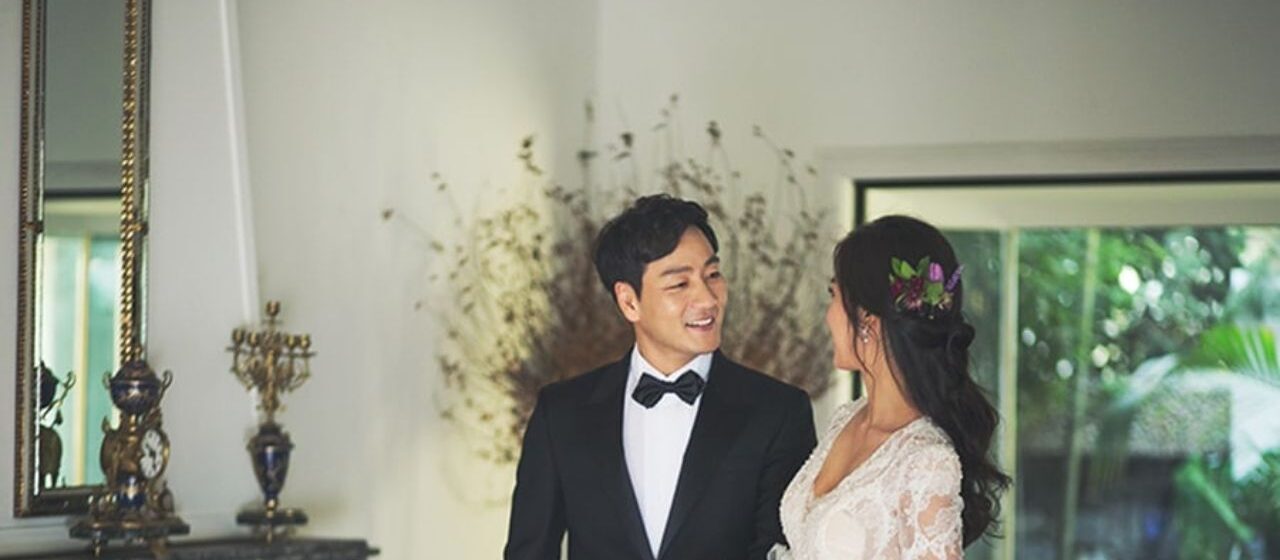 Park Hae Soo married his longtime girlfriend. The couple recently welcomed their first child. (Annyeong Oppa)
When Park Hae Soo announced his wedding, the actor said that his girlfriend was a blessing. Sang Woo actor said, "Hello. This is Park Hae Soo. It's been a while, so it's awkward to write a letter and not [talk through] a video. It may be unexpected, and some of you may be surprised, but I want to tell you my happy news."
He continued, "I want to tell you first before my agency does in a few hours, so I am apologetically writing this inadequate letter. I'm going to make a new start with my life partner. On January 14, 2019, we will have a quiet wedding with family and close acquaintances."
"She's a real gift to me. I want to spend my life with this person who is there for me through thick and thin and gives me strength, so I decided to marry her. I think it would be a happy day if I could celebrate my marriage with my fans who have accompanied me for a long time from my days on stage to the present," Park added.
Park Hae Soo and his wife invited only close family members and friends to their wedding. Actor Lee Ki-seop and Park Kwang-sun hosted the wedding ceremony.
Park Hae Soo and His Wife Welcomed Their First Baby
Park Hae Soo and his wife welcomed their first baby on September 29, 2021. The 39-year-old actor announced the news through his agency, BH Entertainment. The statement read, "It's true that Park Hae Soo wife recently gave birth to their first son."
In a press interview, Park Hae Soo said he is thankful that so many people worldwide congratulated him on the birth of his first child. He added, "I let my wife know before the interview today that the news was being released today, so she should expect to hear from a lot of people."
Don't Miss,