Born Stetson Fleming Bennett IV, Stetson Bennett is an American football QB for the Georgia Bulldogs (Dawgs). The 23-year-old is named the "Next Big Thing" following the Bulldogs match against Tennessee Volunteers. From the outside, it seems like the perfect season for Dawgs.
The team is averaging 38.7 points per game despite missing their key players, and credit goes to none other than Todd Monken, the team's Offensive Coordinator. The Bulldogs are known for their discipline, putting themselves in manageable situations and not turning the ball over.
Stetson Bennett Girlfriend in 2021, Who is the Georgia Bulldogs' QB Dating?
Stetson Bennett is dating his girlfriend, Cameron Liss. The couple has been together for more than three years now. Recently, Bulldogs QB uploaded a series of pictures of him and his girlfriend on his Instagram account. The photos were from last year's Christmas, and the occasion was his girlfriend's birthday.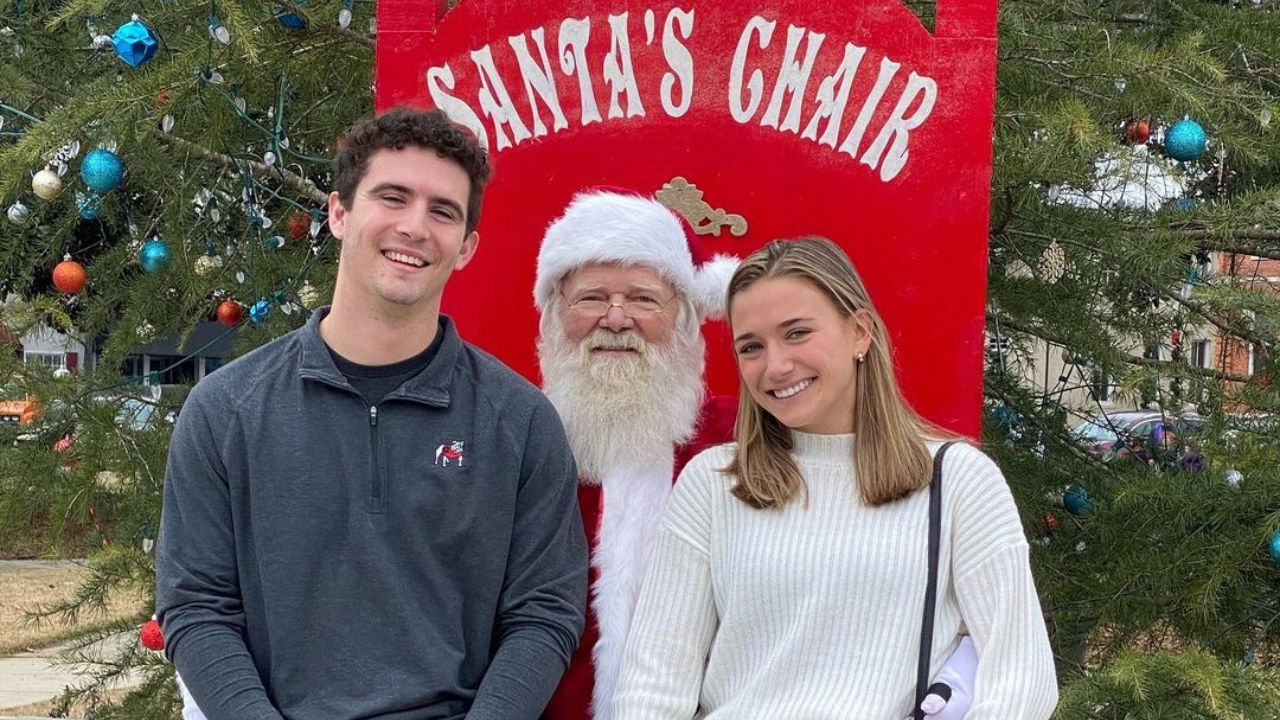 Stetson Bennett is in a relationship with his girlfriend, Cameron Liss. The couple has been together for more than three years now.
In the caption, Stetson Bennett wished his girlfriend; he wrote, "Happy birthday sweetheart! This past year has been a roller coaster for both of us and I thank God that we were by each other's side through it all. Now let's go grab some good food and celebrate," followed by some hashtags.
Dawgs QB uploaded the picture on February 3, 2021, but it has been getting attention recently. The reason: people think Stetson Bennett was cheating on his girlfriend all along. Is it true, though?
Was Stetson Bennett Cheating on His Girlfriend?
Both Stetson Bennett and his girlfriend are yet to confirm this; however, fans believe the Bulldogs QB was cheating on his girlfriend all along. The news came from a TikTok, indeed, TikTok! However untrustworthy it may sound, but it came from a reliable source.

Fans are furious after learning Stetson Bennett cheated on his girlfriend; however, it's not proven if he really cheated on Cameron!
The person to break the news was Zach Von Rosenberg. The LSU alum was recently featured on "One Team, One Podcast's" special segment, "One Team, One Tailgate." During the segment, Zach talks with a random girl following Georgia's match against Tennessee.
The girl featured on the segment came out with some big revelations and nasty accusations. She says, "I am already fu**ing the QB." Then Zach interrupts to correct her and says, "She is already spooning with the QB," and asks, "Maybe more than just spooning?" to which the girl replies, "If this goes viral, he's gonna kill me, but it's okay. Stetson Bennett, Hello!"
Following the video surfaced on all major social platforms, netizens are charging on Stetson Bennett's social media comment section.  One social media user wrote, "I'm not totally convinced this dude really pulled more than 1 chick at a time. I came to collect evidence ?"
Another user wrote, "Oh come on, guys, am I really the first one here from TikTok," to which another replied, "I was just in here wondering the same thing. ? We're here to tell this girl she can do better!! ?❤️" Despite the drama, we will still have to wait for confirmation from the couple.
One of the readers recently reached out to us, claiming this is false news. An internet user named "Brom Guild" wrote, "There is no proof to what was happening or mentioned in the video; and knowing the people mentioned in the article, it was in fact false."
Don't Miss,