Jesiel Amon Robinson, aka Yung Joc, is an American rapper best known for his single "It's Goin' Down." The 38-year-old Atlanta rapper is also the owner of Swag Team Entertainment. Moreover, the rapper has made several television appearances, like VH1's "Love & Hip Hop: Atlanta" as a supporting cast member and Scared Famous.
While talking about his personal life, Joc Yung was previously married to Alexandria Robinson from 2001 to 2014. The former couple shares four children, Ja'Kori Robinson, Amir Robinson, and Chase Robinson. The 38-year-old rapper has five other children with his previous partners.
The rapper is again on the news following the recent announcement. Yung Joc announced on his social media that he is now married to his longtime girlfriend. Who is his longtime girlfriend? Let's find out.
Did Yung Joc Get Married to Kendra?
Indeed, Yung Joc is now officially married to his longtime girlfriend, Kendra Robinson. The fans of the rapper and VH1's show know about Kendra as Yung had previously brought her into "Love & Hip Hop: Atlanta" in 2019. The couple exchanged the vows in front of their closest friends and families.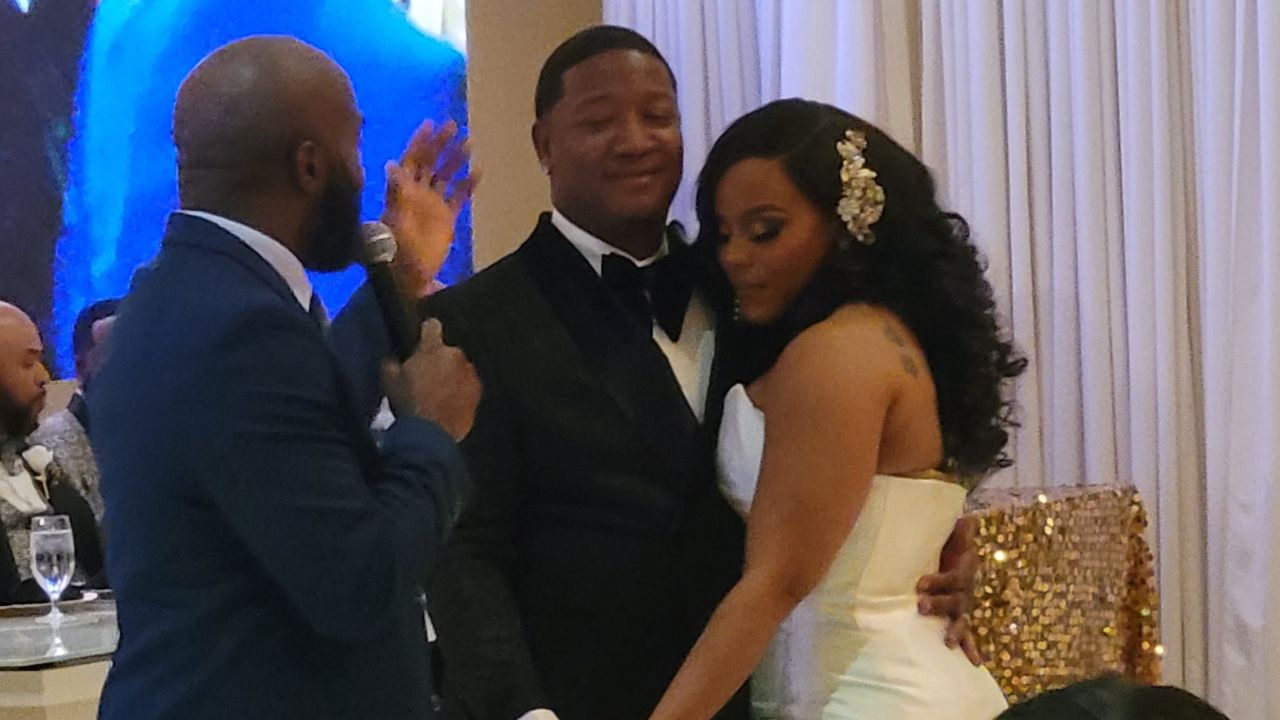 Yung Joc got married to his longtime girlfriend, Kendra Robinson. The couple was engaged in 2019, due to a global pandemic, they had to push back the wedding date. (Jason's Tweet)
The couple went Instagram official about their marriage. The fans of the rapper are congratulating the newlywed couple on all major social media platforms. One fan wrote, "Wow, Kendra and Yung Joc finally got married. Congratulations to the newlyweds."
The wedding was hosted by Jason, aka JBoy; Jason tweeted, "Hosted rapper Yung Joc's Wedding this past weekend. A good crowd of people and you know when they put me on the floor, they had an amazing time!!! This is what J Boy does!"
Yung Joc and Kendra Robinson's Wedding Interrupted!
Yung Joc and Kendra Robinson's wedding was attended by their Love & Hip Hop co-stars like Erica Mena, Safaree, Momma Dee, Sierra Gates, and many more. All shared a clip or pictures from the special day, and along with the wishes.
Spice wrote, "Congratulations "Yung and Kendra Robinson. Your wedding was beautiful." Kirk Frost wrote, "An evening of celebration! We all stepped out to attend the #robinson2robinson ceremony! Congrats to #joc&Kendra."
But, it seems Joc's friend, Kountry Wayne, wanted to add some spice to the after-party. While all the guests were busy congratulating the couple and enjoying the lovely night, Kountry went a step further and tried to enter the wedding venue without the dress memo. It appeared the wedding was interrupted for a while, but it was all a joke.
Kountry, on the caption, wrote, "When Drip goes to Yung Joc wedding goes wrong!"
Who is Yung Joc Wife, Kendra Robinson?
Yung Joc's longtime girlfriend and now wife, Kendra Robinson, is an attorney, realtor and investor. Moreover, she is also an entrepreneur and owns a business called "Kendra Robinson and Associates." According to the sources, Kendra was born and raised in Clinton, South Carolina.
Born on Janaury 26, 1988, the 33-year-old was engaged to Yung Joc in 2019; however, the couple couldn't marry any sooner due to the global pandemic. Finally, the day came, and Kendra and Yung tied the knots on November 7, 2021.
Yung Joc's new wife is doing pretty well on social media platforms as well; Kendra, with Instagram handle "@attorneykendra_robinson," boasts an impressive more than 87,000 followers.
Don't Miss,