Aria Mia Loberti has emerged as a rising star in the world of entertainment with her debut in the leading role of Marie-Laure Leblanc in the highly anticipated Netflix series, "All The Light We Cannot See." What sets Aria apart is not only her talent but also her unique journey into the spotlight.
Get to Know Aria Mia Loberti: Her Age and Bio Explored
Aria Mia Loberti, born in 1997 and hailing from Rhode Island, is a remarkable individual in more ways than one. She received her Master's degree in 2021 as a Fulbright Scholar from the Royal Holloway University of London, following her undergraduate degrees earned in 2020 from the University of Rhode Island. Beyond her academic achievements, Aria is a staunch advocate for disability equity.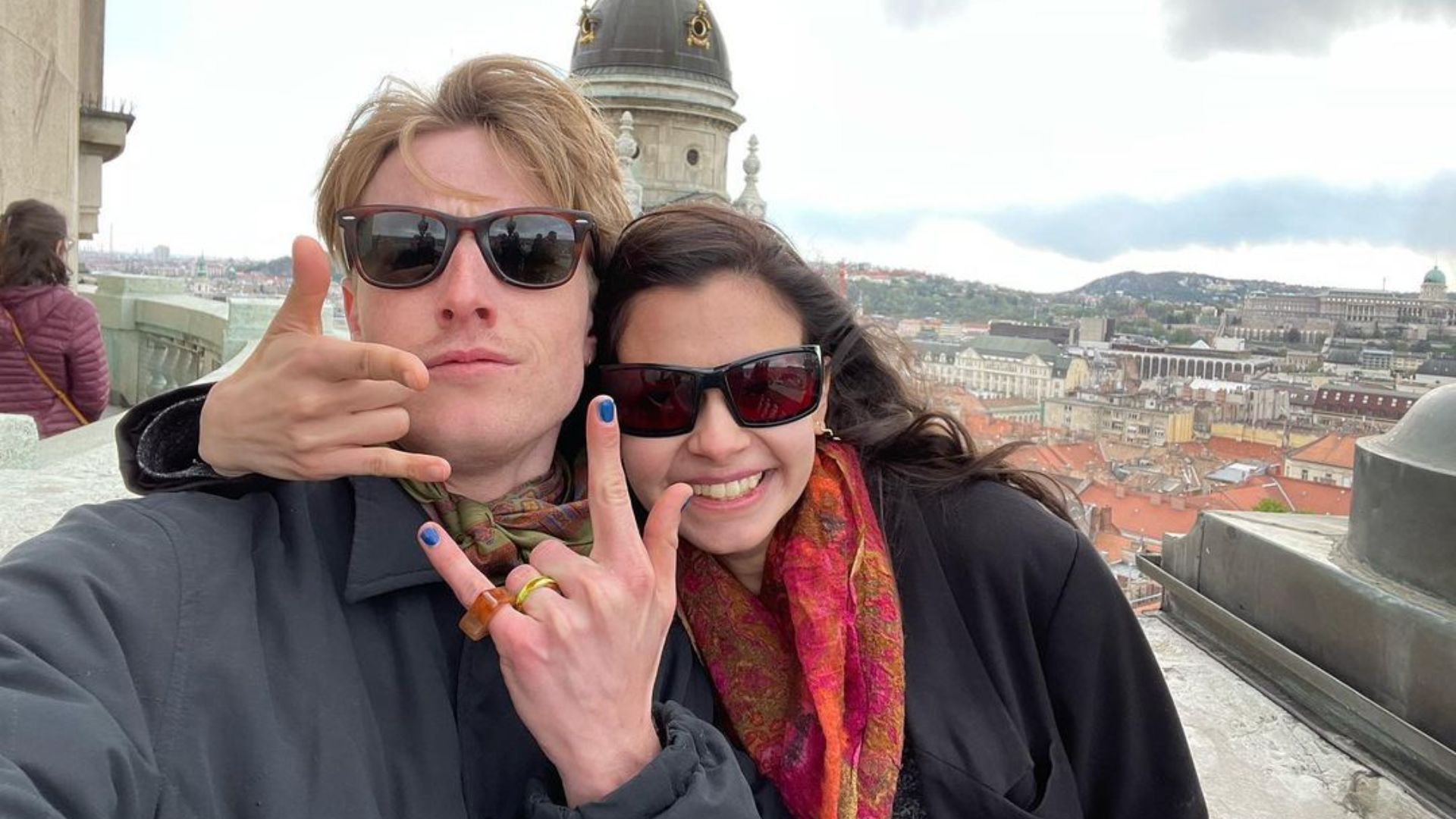 Aria with her All Light That We Cannot See co-actor, Louis Hofmann. Louis plays the character of "Werner" on the show. Aria's Instagram.
Her commitment to advocacy is evident through her collaboration with UNICEFUSA on multiple occasions, where she has tirelessly fought for the rights of every child. Aria is particularly inspired by UNICEF's mission to address the root causes of inequity, ranging from the climate crisis to political violence, to ensure that every child can realize their full potential.
Is Aria Mia Loberti Really Blind?
Yes, Aria Mia Loberti is legally blind, a fact that adds a profound layer of authenticity to her portrayal of a blind character on "All The Light We Cannot See." Aria relies on her trusty guide dog, "Ingrid," for assistance in her daily life.
Several years ago, the 26-year-old actress penned an insightful article highlighting the importance of understanding how to interact with guide dogs and their handlers to ensure their safety and effectiveness. She fervently encourages people not to approach or pet guide dogs like Ingrid without permission, emphasizing that these dogs are working, and distractions can be hazardous.
Loberti's dedication to her advocacy is further underscored by her research on guide dog/handler communication, which revealed how guide dogs play a pivotal role in reducing the stigma surrounding disabilities. She advises individuals to communicate with the handler, not the dog, and to exercise judgment when approaching a guide dog and handler, always respecting the fact that the dog is on duty.
Who is Aria Mia Loberti's Boyfriend? Is She Dating Someone?
Aria's focus has primarily been on her career and education, making her a committed single. Apart from her academic pursuits and acting work, Aria is an enthusiastic traveler who enjoys exploring different places with her friends, family, and her loyal guide dog, Ingrid.
Her advocacy work also takes her to various destinations, where she immerses herself in learning about the challenges faced by children and young people. Recently, she embarked on a journey to Kosovo alongside UNICEF, where she gained firsthand insight into the environmental issues confronting the region.
Reflecting on her experience, she remarked, "While in Kosovo, I was simultaneously devastated by the condition of the air quality and inspired by the youth who are using their voices to enact change. If we don't act now, this planet will be inherited by billions of children who did not cause this damage but will be left with the responsibility to fix it. The climate crisis is often viewed in isolation from issues like access to sanitation, health care, and education, but they're inexorably linked. UNICEF is giving young people the tools they need to advocate for a cleaner, and therefore more equitable, tomorrow. It's time we all listen."
All The Light We Cannot See on Netflix
"All The Light We Cannot See" promises to be a captivating series that delves into the story of Marie-Laure, a blind French teenager, and Werner, a German soldier, whose paths intersect in occupied France as they strive to survive the tumultuous backdrop of World War II. Mark your calendars as this highly anticipated show is set to premiere on Netflix on November 2, 2023.
In Aria Mia Loberti, we find not only a talented actress but also a passionate advocate for change and equity, making her a remarkable addition to the world of entertainment. As her star continues to rise, we eagerly await her portrayal of Marie-Laure Leblanc and the impact she will undoubtedly make both on and off the screen.
Don't Miss These,