Ricard Foyé is the contestant on "Survivor" season 41; he was one of the top castaways, with Deshawn Radden, Heather Aldret, Xander Hastings, and Erika Casupanan. Eighteen Castaways (contestants) were divided into three tribes, Ua, Luvu, Yase, and other tribes were merged to Viakana.
Hailing from the Ua tribe, Ricard was a fan favorite. Basically, Foye and Deshawn were on the radar and making things intense for every other competitor. However, during the final voting round, Ricard Foye became the 14th person to be eliminated from the show.
Following the elimination, fans took to social media to show their disappointment as they wanted Ricard Foye to win the season. Ricard also discussed something important during the elimination.
Ricard revealed that he and his partner have already welcomed a baby boy and chose to be in Survivor and miss such an important moment in his life. So, he made us all emotional and all; we just wanted to know who Ricard Foye's partner is? Is he married?
Ricard Foye is Married to Andy Grier Foyé
Indeed, Ricard Foye from Survivor is married to Andy Grier Foye. The couple has been together for more than six years now. The couple celebrates their anniversaries on the 23rd of August. At the same time, it's still unclear when Ricard and Andy Grier started dating.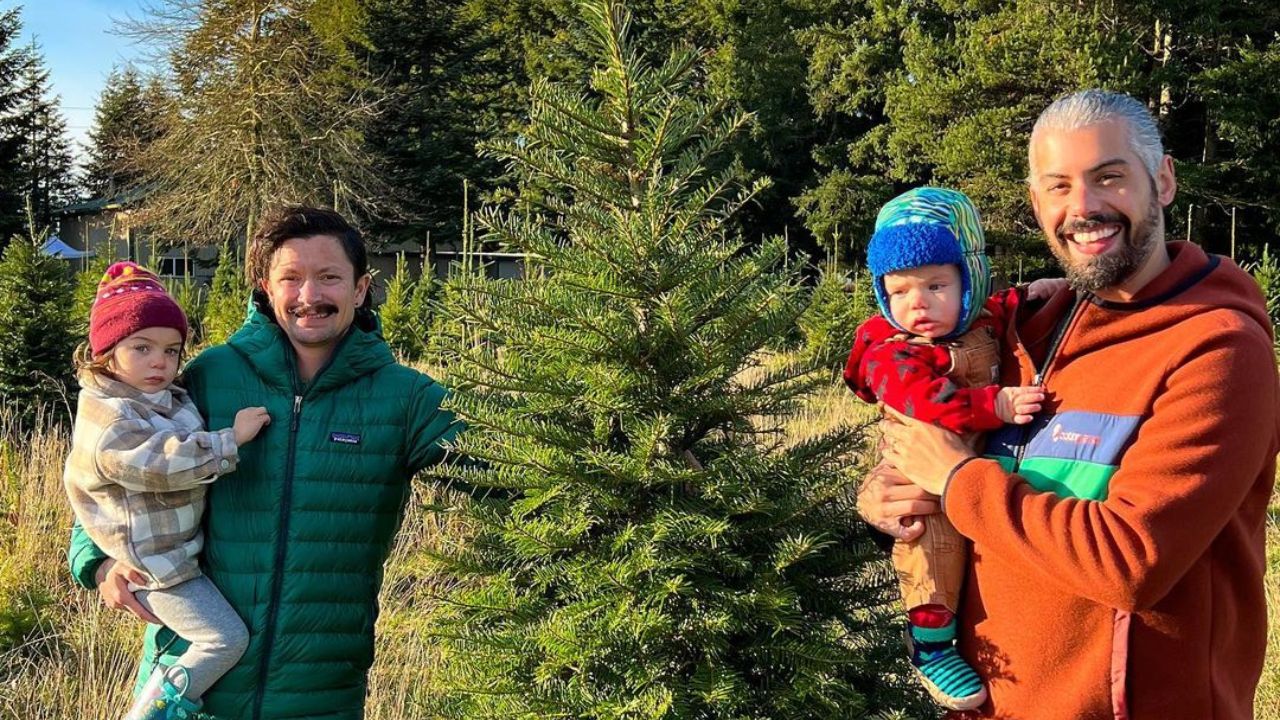 The vibrant family: Ricard from Survivor with his husband, Andy Grier Foyé, and two children. (Ricard Foye's Instagram)
The first time Ricard from Survivor Season 41 posted a picture of his husband was on August 28, 2016. The couple celebrated their special day at a camp. Uploading a picture of him and Andy, Foye wrote, "#Camp #Husbands," in the caption.
There are other speculations as well, reportedly Ricard Foye's husband is a trans man, and they choose the pronounce "He and They." Well, it makes sense as Andy is the one who is giving birth to all their children.
Ricard Foye and Andy Grier Foye Share Two Children Together
Ricard Foye and his husband, Andy Grier Foye, are parents to two beautiful kids, Aurelia Grant Foye and Lucia Sebastián. During the time of Aurelia's birth, Ricard took to his Instagram account to post a series of photos of him, his husband and his daughter.
In the caption, Ricard Foye wrote, "Aurelia Grant Foyé. My sweet baby daughter. Welcome to this world. Summer solstice baby born at 19:22 June 21, 2019. We love you so much, Auri Bear."
In a now-deleted post, Ricard shared his appreciation for his husband; the Survivor contestant wrote, "Andy is also a seahorse dad. He is trans and carries out little loves, Aurelia and Lucia."
The Survivor contestant added, "Ya see, the male seahorse carries and gives birth to their babies so, it's kind of precious. So his 'push present' was always going te be a seahorse tattoo."
Not sure if Ricard got the tattoo, and not sure why he deleted the post either, but in all honesty, it was one of the most beautiful things he said to his husband, Andy.
Don't Miss,