It seems Hakeem Jeffries will be the Democrats' next house leader. The votes are in favor of Democratic Caucus Chair. The recent vote count shows Hakeem leading with more than 72% of voters in his favor. The 52-year-old is popular among people as he has served as the US representative for New York's 8th congressional district since 2013.
Nancy Pelosi stepping down from Congress played a huge role in Hakeem Jeffries candidacy. On November 17, 2022, Nancy confirmed she will not seek re-election to Democratic leadership in the next Congress. However, she revealed she will remain a member of the House.
Hakeem Jeffries represents a district that covers parts of eastern Brooklyn and Southwestern Queens in New York City. He has built a reputation around his people that you can't just unsee him.
He says, "whether at home in New York or in Washington, DC, my job is to fight for the people of the 8th Congressional District. Since there's a lot we already know about his career, let's dive in to know more about his personal life.
Who is Hakeem Jeffries Married To? Meet His Wife Kennisandra Jeffries
Hakeem Jeffries is married to his beautiful wife, Kennisandra Jeffries (born Kennisandra Arciniegas). The couple tied the knot in 2000. In their more than two decades-long marriage, Hakeem and Kennisandra share two sons.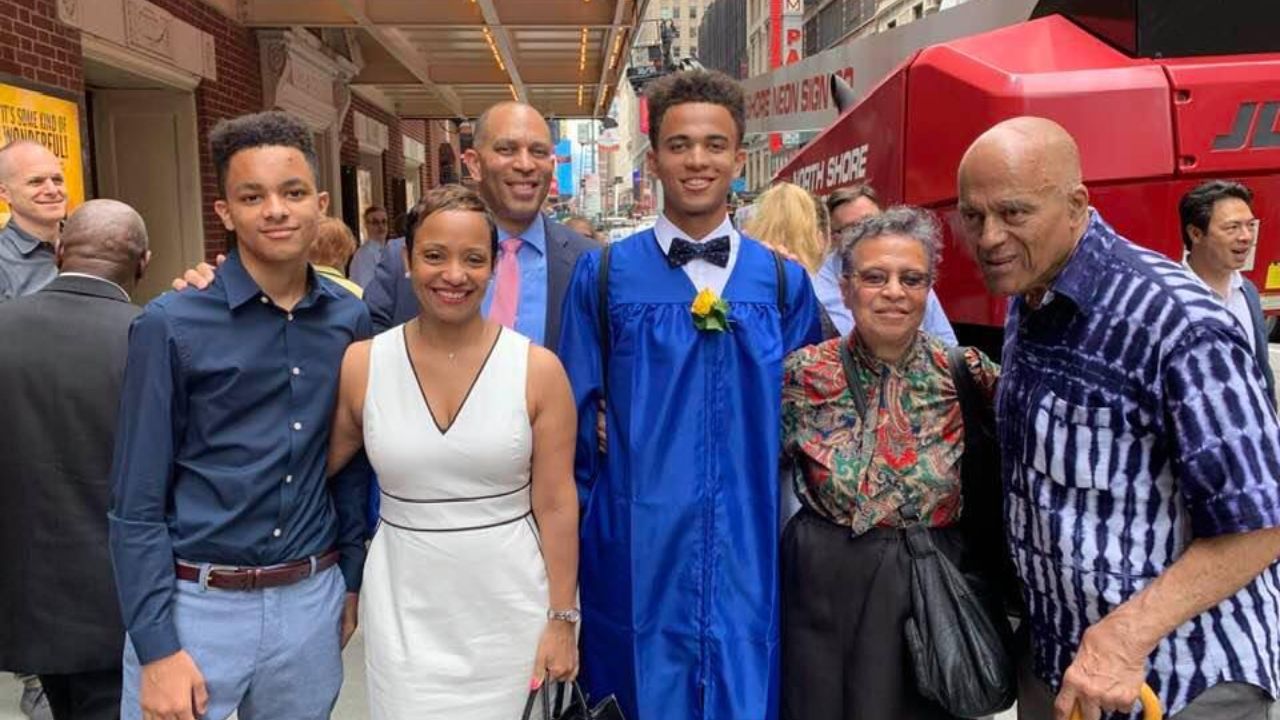 Hakeem Jeffries' Family: Hakeem is a proud father. His son Jeremiah graduated from High School. (from left: Joshua, Kennisandra, Hakim, Jeremiah, and Hakeem Jeffries' parents.
Hakeem Jeffries and his wife, Kennisandra, welcomed their first son, Jeremiah Jeffries, in 2002. Two years after the birth of their first son, the couple welcomed their second child, Joshua Jeffries, in 2004.
Who is Kennisandra Arciniegas-Jeffries?
Kennisandra Arciniegas-Jeffries is the wife of Democratic Caucus Chair, Hakeem Jeffries. While she is widely known for being Hakeem's wife, she has made her name of her own. Kennisandra Jeffries is a social worker.
Born on August 4, 1970, Kennisandra is quite active on social media and is often seen involving herself in social and philanthropic work. She recently started a fundraiser for American Cancer Society.
On her social media post, Kennisandra wrote, "I am taking on the National 2nd Annual Push-ups a Day Challenge! Please support me as I raise funds by taking on the challenge. Every donation, big or small, counts. Cheer me on in making a difference."
Hakeem's wife is also a member of Alpha Kappa Alpha Sorority, INC. AKAS was founded on January 15, 1908, on the campus of Howard University in Washington, DC.
AKASorority founders, Anna Easter Brown, Beulah Elizabeth Burke, Lillie E. Burke, Marjorie Hill, Margaret Flagg Holmes, Ethel Hedgemon Lyle, Lavinia Norman, Lucy Diggs Slowe and Marie Woolfolk, were among the fewer than 1,000 African-American enrolled in higher education institution in 1908.
It's apparent from Kennisandra Jeffries social media posts that she is actively working on Alpha Kappa Alpha Sorority programs. Every year on January 15, Hakim's wife changes her profile picture to celebrate Alpha Kappa Alpha Sorority, INC's founder's day. Moreover, she is actively working on "Service to all Mankind" campaign.
Don't Miss These,