The Little People Big World star Jacob Roloff and his wife, Isabel Rock, are expecting their first child together. The couple announced the news on their social media.
Jacob took to his Instagram account to share a series of pictures where the LPBW star is seen holding Isabel's baby bump. In the caption, Roloff wrote, "Not for you but us: I'm very happy to say We're having a son."
Even Isabel Rock posted the same pictures on her Instagram, where she wrote, "we are elated to share that the baby boy we have been dreaming of is coming this December."
The excitement is obvious; Isabel later reposted the same photo on her IG story and further opened up about her pregnancy. She wrote, "I'm so happy I can finally be excited about Little Star Boy publicly."
Following the announcement, many fans, friends, and family members congratulated the couple.
Jeremy Roloff wrote, "LET'S GO! So excited for you!???"
Jeremy Roloff's wife, Aubrey Roloff, who is also pregnant, congratulated the couple. She wrote, "Baby BOYYYYYY? cannot freakin wait to meet you!? Praying for you already??"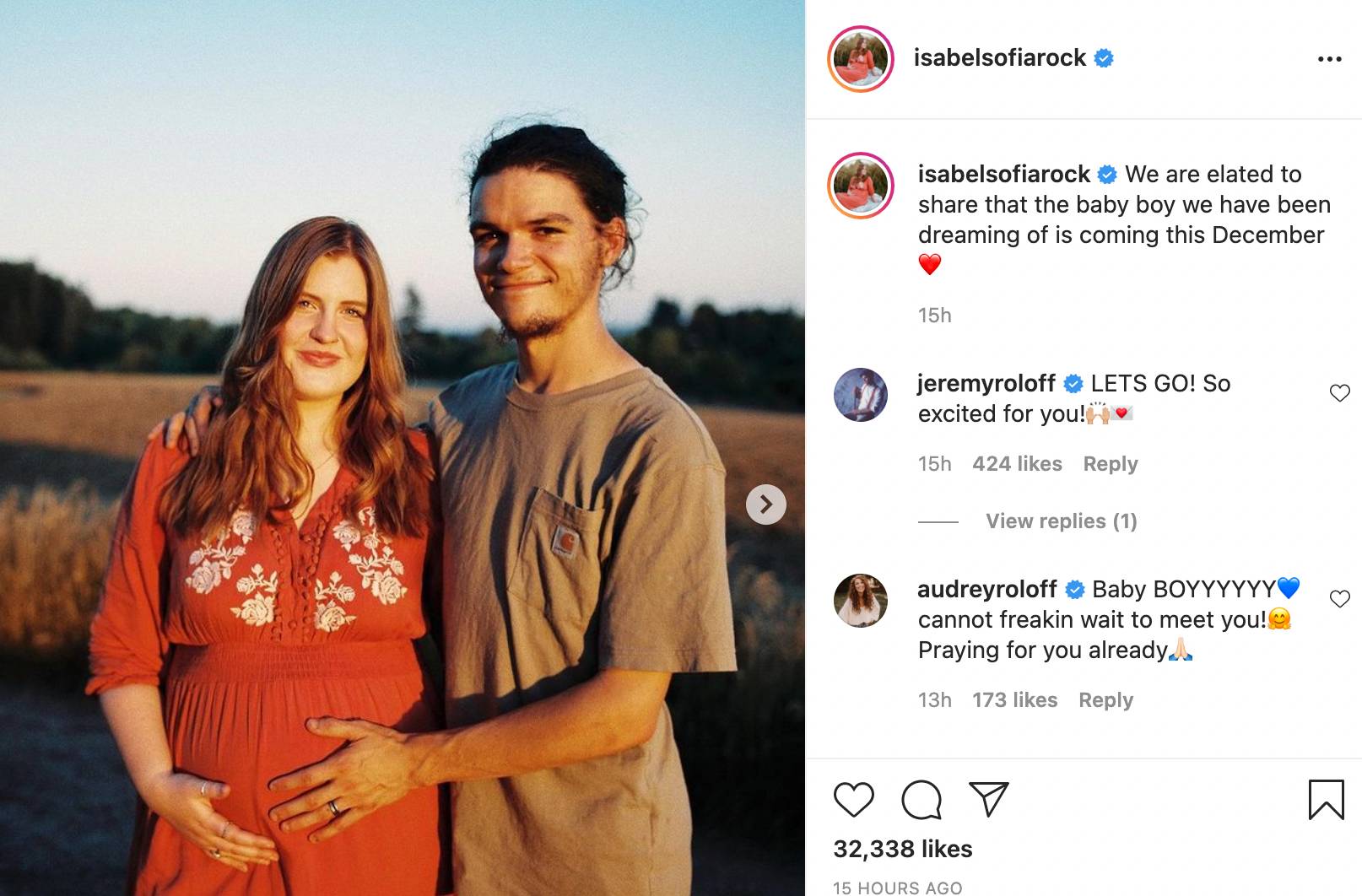 Jacob Roloff and his wife, Isabel Rock, are expecting their first child. (Jacob's Instagram)
Mom Amy Roloff also took to the comment section to congratulate Isabel and Jacob. She wrote, "Love this and so happy for you both. This grandma can not wait to meet and hold this bundle of joy ❤️."
While fans also showered them with best wishes. One fan wrote, "Oh my gosh!!!!! Congratulations!!!!!!! I am thrilled for you both! That kid is the luckiest in the world to be raised by two awesome parents! ?"
Another fan wrote, "Congratulations! You're going to be a great dad and your wife will be a wonderful mom! ❤️"
The next one wrote, "Cheering your family on from afar. You guys owe us nothing and owe your baby the best life possible. I applaud you both for taking your life experiences and protecting your son in the way you guys know how ❤️ ?"
Jacob Roloff and Isabel Sofia Rock tied the knots in September 2019, and after two years in their marriage, the couple will welcome their first baby in December this year.
Don't Miss: