Monica Aldama is the head coach at Navarroo Cheer, she was featured on Netflix docuseries, Cheer. The 49-year-old was born on February 9, 1972, in Corsicana, Texas. Navarro's coach graduated from Corsicana High School and was a student at Tyler Junior College.
While Monica Aldama was in college, she was a member of cheerleading team, and that's how her journey of head coach began really. In 1995, the 49-year-old started as head cheerleading coach at Navarro College and has been remained in that position ever since.
As fans learned more about Monica Aldama on Netflix docuseries, Cheer, they were curious to know more about her personal life and professional career. More importantly, people wanted to know how much she makes in a year following seeing her lavish lifestyle.
After some research, we have gathered some information about her personal life and professional career. Let's find out how much Monica Aldama gets paid as head coach at Navarro College.
Monica Aldama Salary and Net Worth
According to GovSlaries, Monica Aldama enjoys a salary of $84,000 annually as a head coach for Navarro College, the post she has been since 2017. Monica's LinkedIn profile suggest she is currently serving as Director of Cheerleading and Associate Professor.
Aldama is a star, not only because she was featured on Cheer, but she is a well-known television personality; she was a contestant on Dancing With the Stars Season 29. Apparently, the 49-year-old coach was paid a hefty salary for appearing on the show, too.
Sources suggest any celebrity contestants get paid roughly about $125K for rehearsal period and the firs two weeks they are on the show, and Monica made around $185K as a contestant of the show. With that massive fee and her handsome salary, Monica Aldama has an estimated net worth of $1.5 million as of 2022.
Monica Aldama is Also an Author
Monica is the author of "Full Out." In her book, Aldama shares how she built one of the most successful and beloved cheerleading program in the country. Prioritizing discipline and consistency, Aldama says these two things goes far beyond the mat - "showing how the principles of building a winning team apply to personal goals, the corporate world, parenting and all aspects of life."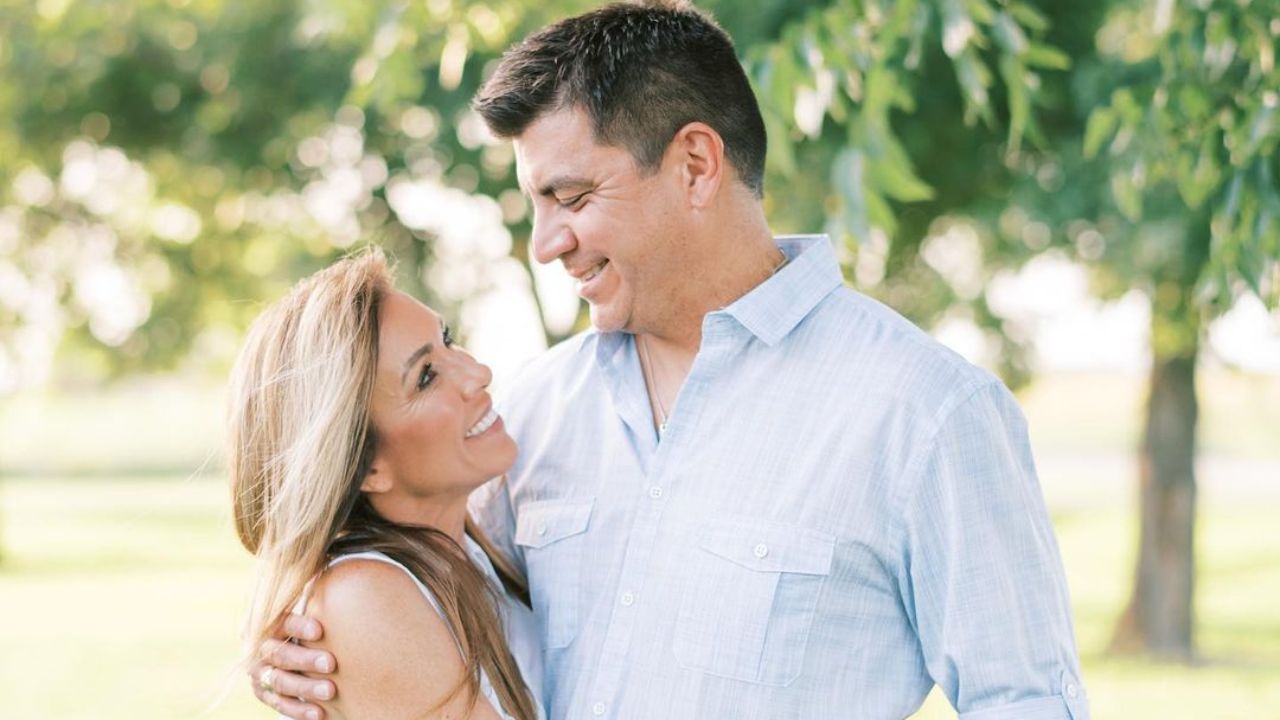 Monica Aldama is married to Chris Aldama following her divorce with her ex-husband. (Monica's Instagram)
Aldama said,
"There's a lot of talk these days about shortcuts and life hacks, but what really counts is commitment and integrity, helping your friends, and improving your teammates."
The 49-year-old also shared deeply personal stories on her book, stories of triumph and tragedy. At the time when she was a contestant of "Dancing With the Stars," she had recently gone through a divorce with her first husband. Monica revealed she was emotionally struggling and said, "The show was the hardest thing I had ever done!"
Monica added,
"Still, I would do it all over again in a second. In the middle of one run-through, [Valentin Chmerkovskiy, aka Val] stopped and angrily told me that I had to stop looking down at our feet. His body language and tone communicated pure disgust. My posture was also an issue. It was the last thing on my mind when I was trying to learn the steps and just make it through the routine."
After the divorce with her first husband, Monica Aldama is now married to her new husband, Chris Aldama. There's always a happy ending, if you believe it!
Don't Miss,