Former NFL player and champion, TV and Radio Analyst, Seth Joyner recently celebrated his birthday on November 19, 2022. The 58-year-old took to Twitter to thank his fans for birthday wishes. Joyner wrote, "Thank you ALL for the Happy Birthday wishes! I had an awesome birthday week, and certainly felt the love. Blessings to you all."
Well, fans were not the only ones who wished Seth on his birthday. In fact, the awesome birthday week he mentioned was all because of his wife, Kendra Butts. Seth Joyner's wife, Kendra Butts, was with her husband all week and made his birthday special. Kendra posted pictures of Seth's birthday and wrote a long caption.
Kendra Butts wrote, "Happy Birthday my Love! I love you & I'm so very proud of you and all the great things happening with your career. You have certainly put in the hardwork and it shows."
"Cheers to you, our fiery love & passion, more travel adventures and lots of laughs. I hope today you felt as special and as loved as you are! God's gift to me🙏🏼😍 HAPPY BIRTHDAY ❤️," Seth Joyner's life partner added. We suppose Joyner's fans know Kendra well, but if you don't, here's what you should know about her.
Who is Seth Joyner's Wife, Kendra Butts?
Kendra Butts needs no introduction. She is the wife of former NFL champion, Seth Joyner. However, the 52-year-old Kendra has made a name for herself as an entrepreneur. Butts is the owner of Divine 9's, a clothing brand dedicated to creating the finest suits, dress shirts, golf pants and shorts.
Do you know, who is the brand ambassador for Divine 9's? Well, you guessed it. It's none other than Kendra Butts' husband, Seth Joyner. Seth often wears suits designed and tailored by his wife's company. Moreover, it seems the couple are co-owners of the custom clothier.
Kendra is mostly involved in PR & Marketing of the company, while the design and tailoring work is outsourced. But lately, Divine 9's custom work is all done in-house. According to her profile, Butts started her company in 2019, but the official website is still under construction.
How Did Seth Joyner and Kendra Butts Meet?
Seth Joyner and his wife, Kendra Butts' relationship goes back a long way. The couple is believed to have started dating in the late '90s. After years into relationship, Kendra and Seth tied the knot in 2000. Two years after in their marriage, Joyner and Butts welcomed their son, Tobias Joyner.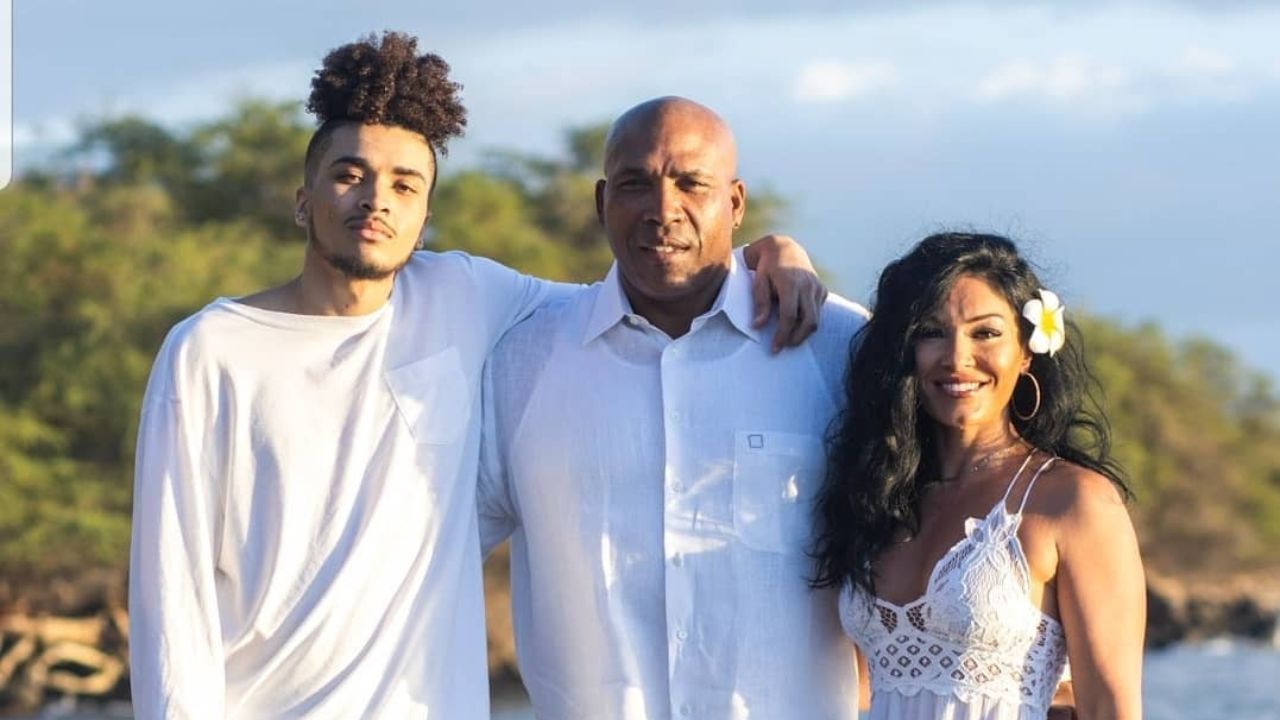 Seth Joyner and his wife, Kendra Butts, share a son, Tobias Joyner. The couple welcomed their kid in 2002. Kendra Butts' Instagram.
In an article published on NBC Sports on September 25, 2011, Joyner's son was featured and interviewed. At the time, Seth and Kendra's only child, Tobias, was nine years old, which makes him 20 years old as of 2022.
Seth and Kendra's Personal Life Explored!
It's been more than three decades since the couple knew each other, and are already 22-year in their marriage. But when we see their Instagram posts, it feels like they started dating just recently as their romance is still alive.
It's apparent Seth Joyner and Kendra Butts are the happiest couple; What could be the secret sauce for their perfect marriage life? We can't tell much, but they love traveling, and Joyner once told us that his wife enjoys playing golf. So, every time the couple makes plans, either it involves a vacation or golf.
We can't say it for all, but since it's working for Kendra and Seth, their secret to happily married life is holding on to every little thing in life that brings joy in them. Moreover, their son, Tobias, also enjoys spending time with his parents. Well, they certainly are the Joyners!
Don't Miss These,