Stephanie Grisham, the former press secretary of Donald Trump, is making a stir in the political scenario following her recent statement. In one of her interviews, the former Trump's aide claimed the way they handled Covid was "Tragic."
In the interview, she claimed, "I think the way we handled Covid was tragic. think the President's vanity got in the way. [Trump] was working for his base, he was not working for this country. He didn't wear a mask quickly enough."
Stephanie didn't stop there; she revealed she can't forgive herself for being a part of Trump's administration and how they handled the COVID situation; she added, "I don't think I can ever redeem myself."
Stephanie Grisham even gave us the scenario if Trump will run and win for the White House in 2024. And believe us, the way she put it, it's going to be one of the scariest nightmares for the country, according to her.
Trump's former press secretary said, "If Donald Trump wins, he will be able to whatever he wants and we all know there's going to be retribution, there's going to be revenge. I have a feeling the 1/6 crowd might be working in the White House in 2024. Or the Sidney Powells or the Rudy Giulianis."
As we mentioned earlier, following Stephanie's statement has created a stir in the political scene, even led former president Trump and his wife Melania Trump to comment on the subject. Trump said she said what she said in the interviews resulted from frustration following her failing relationship, and she turned bitter after her breakup.
After seeing the recent development, we can safely assume that Trump and Grisham didn't share a healthy relationship while working with each other. This whole thing has brought up Stephanie Grisham's boyfriend in the conversation.
So, who is Stephanie Grisham's boyfriend? Is she dating someone in 2021? Here's what we know.
Stephanie Grisham Boyfriend 2021 - Is She Dating Someone?
It seems Stephanie Grisham is single and doesn't have a boyfriend as of 2021. But rewind a couple of months, the former White House press secretary was in a relationship with her ex-boyfriend, Max Miller.
Stephanie Grisham and her ex-boyfriend, Max Miller, dated for 18 months. The couple's relationship was going well; they even got a dog named "Gus," for themselves. However, it was short-lived, and who would have imagined, the once fairy tale would turn into a nightmare.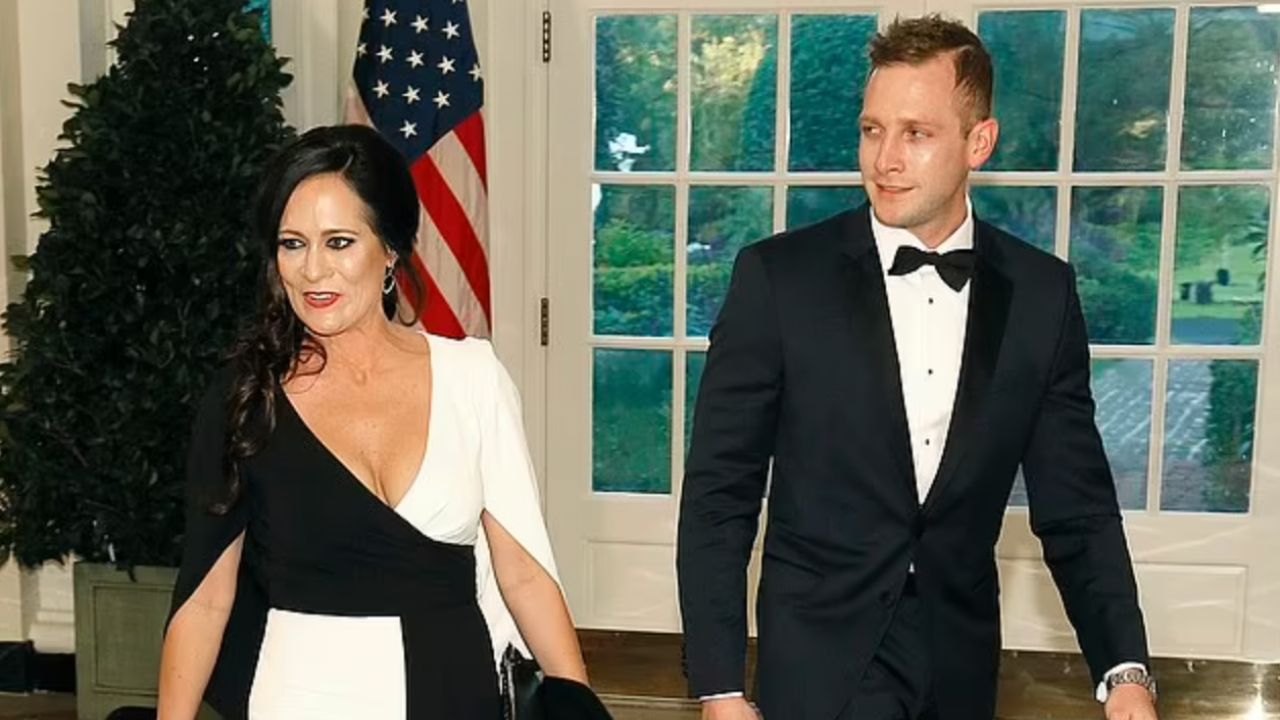 Stephanie Grisham dated Max Miller for 18 months before their relationship turned sour. Following her breakup with Max Miller, she is single in 2021. (DailyMail)
Stephanie Grisham and Max Miller started dating in April 2020, but 18 months later, she confronted her ex-boyfriend in his Washington DC condo, accusing him of cheating. Sources claim Max pushed Stephanie against a wall, slapped her, and threw a dog-toy tennis ball at her.
Max Miller and his attorney denied all the allegations of assault in a nine-page letter. The statement read, "Mr. Miller has never, ever assaulted Ms. Grisham in any way whatsoever."
Stephanie Grisham's New Book Answers All! MAYBE!!
Stephanie Grisham's tell-all memoir is out; she has made some nasty accusations to the former President and his administration. Stephanie's new book, "I'll Take Your Questions Now," discusses the state of Trump's genital.
Guardian obtained a copy of Stephanie's book and has shared phallic information about Trump we never wanted to know. However, it's all there in Grisham's book, so we can't unread it now.
Trump and Melania have commented on this; the former first couple said Stephanie Grisham was angry and bitter about her breakup with Max Miller.
Don't Miss,