Nick Cannon and his girlfriend, Alyssa Scott's son, Zen, died at age five months from a brain tumor. The news came out on Tuesday, December 7, 2021. The television presenter broke into tears when he announced the news on his talk show, "The Nick Cannon Show."
The 41-year-old said,
"Over the weekend, I lost my youngest son to a condition called hydrocephalus… brain cancer. It's tough. And I have my therapist here, who's been helping us through it."
Nick added,
"We were hopeful, he was playing with his brothers and sisters. I embraced every moment. [Alyssa Scott] is the strongest woman I've ever seen. I gotta say thank you to my entire family but specifically to Alyssa, thanks everyone for coming together during this difficult time."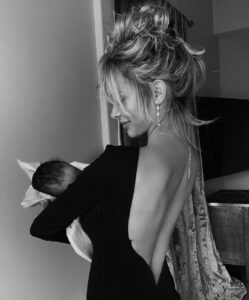 Alyssa Scott son passed away at age five-months from brain tumor.
Nick Cannon and his girlfriend is devastated for their loss.
Alyssa Scott Instagram
While Nick Cannon baby Mama hasn't spoken anything about her loss, but Alyssa Scott has been sharing heartbreaking last photos and videos on her Instagram stories of her son Zen.
In of the shared videos, it shows Alyssa Scott cooing to her son Zen. She says, Hi, you slept pretty good. Did you have lots of dreams? What were you dreaming about?" Another video shows Alyssa Scott softly speaking to her son, saying, "Hi, can you say, 'Good morning, daddy?' Can you say, 'I love you so much?"
Certainly, it was the most heartbreaking moment for Alyssa; she still finds the strength to navigate through it. Nick Cannon and Alyssa Scott welcomed their son, Zen, on June 23, 2021. The same day, Alyssa Scott took to her Instagram account to post a picture of her son. "n the caption, she wrote, "I will love you for eternity ? 6•23•21."
Fans are Heartbroken, too!
Many fans of Nick cannon and his baba took to Alyssa Scott's Instagram to send their prayers. They tried to ease the pain of the lost child with their blessings and prayers.
One fan wrote, " have"no words Dear One only an outpouring of immense love and sadness that this is part of your story.. Enveloping you and yours in the most gentlist of love, light and healing .. ))))) huggggzzz(((((."
Another fan wrote, "My sincerecan'tolences to you and all "ho loved your precious son. May you find strength and peace through all the outpouring of love and compassion. Hug your daughter longer tighter, she will be your strength❤️"
The next one wrote, "I lost a baby girl, Hannah, almost 28 years ago from SIDS-she was 3 months old. My heart is broken for you. I know and fell your pain. If you ever need to talk, please reach out. I'm here..."
Another wrote, "My heart ❤️ goes out to you , Nick and Zens brothers and sisters. May God hold and comfort you all during this time. HUGS???"
Don't Miss,