It's goodbye from Ed Orgeron; the 60-year-old will not coach his team in a bowl game. Following LSU Tigers win over Texas A&M in Death Valley, Coach Ed decided it was a good call to leave the team already, though he still had a few days left as a coach.
Reports suggest the decision was mutual on the part of Oregon and Scott Woodward (athletic director) and LSU's administration. Coach O said, "I told the guys I wish them luck. I am not going to sit here and coach when there's another guy coming in to be the head coach this week or the week after that. I am not going to do that!"
After Coach Ed Orgeron's exit, offensive line coach Brad Davis will call the shots as an interim head coach of LSU. Following the announcement, Ed said, "Brad will do a a great job and whoever the new coach is, I wish them all the luck in the world. I am always going to be an LSU Tiger fan."
Things, however, are not going in LSU's direction, or at least its fans' direction, to say the least. There were three candidates for the post, Jimbo Fisher, Billy Napier, Lincoln Riley, and Riley was a fan favorite. But, Jimbo said no, Lincoln chose USC, and Napier headed to UF. So, with that, the LSU job remains open.
On the other hand, it was a bit emotional for Ed and LSU players; Damone Clark almost cried! Sure he shared a special connection with his coach. Following the announcement, Damone said, "It was emotional because we know day-in and day-out, Coach O gave his all for us. He treated us like his own kids and its hard to see somebody walk away, but that's the nature of the business, and we wish him the best of luck."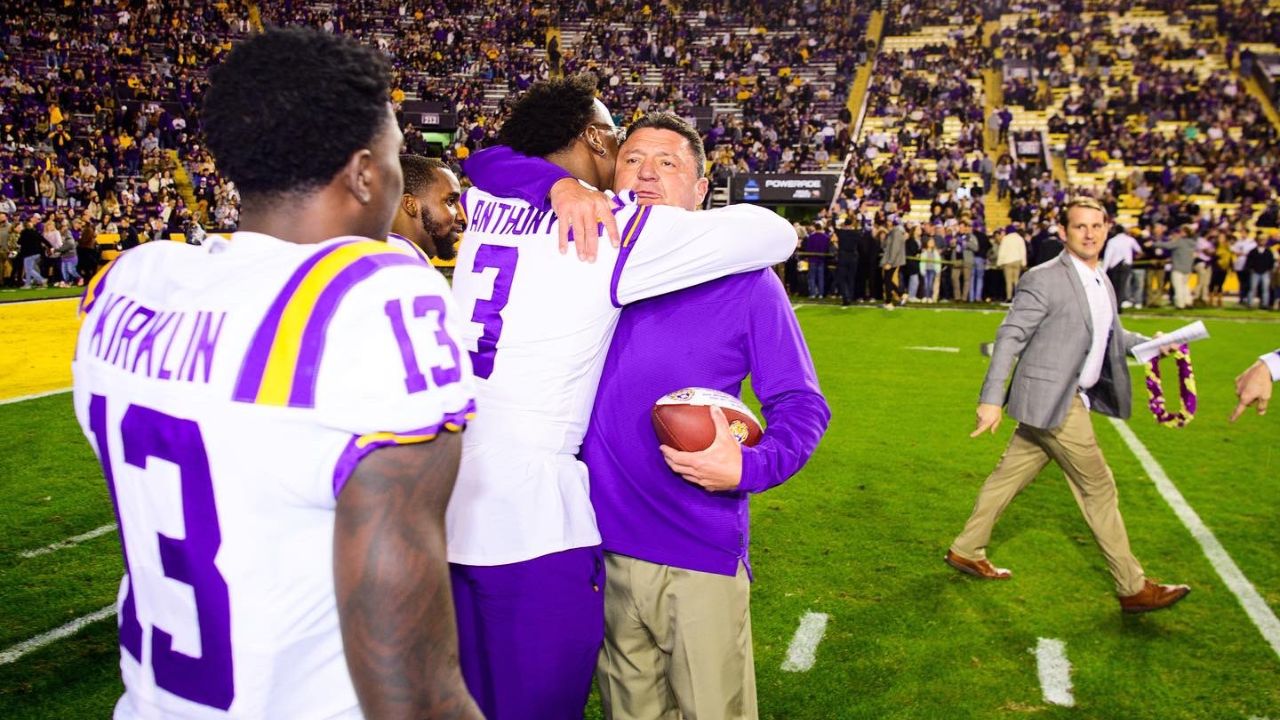 Coach Ed Orgeron exits LSU; players get emotional as they see him off. (Andre Anthony Tweet)
But as it turned out, things are not as gloomy as it seems for Coach Orgeron. LSU administration confirmed that Ed walked away with $16.9 million buyouts that the team will pay over installment until 2025. And, what more? The 60-year-old is going on a vacation with his girlfriend! His last words for the team were, "I am packing to go to Destin, I will be there tomorrow," with his girlfriend.
So, exactly is Coach O's girlfriend? Let's find out.
Ed Orgeron Girlfriend: Is He Still Dating the Blonde Girl?
When it comes to girls, Coach Ed didn't have a good reputation in this department. People claim he gets more action than we can imagine, and he is infamous for his affairs with married women with kids. That's just allegations, and there's no official report to confirm it either; however, Matt tweeted about his actions recently.
Weekend Sports talker at WBRZ, Matt Trent, wrote, "With regards to Orgeron's personal life bleeding into his coaching life, sources also tell @WBRZ that there were multiple practices where 'girlfriends' would be in attendance at prax and would "interfere." To the degree of children of the women taking part in drills with the team."
The LSU's players declined the allegations about their ex-coach; LSU Quarterback, Miles Brennan, replied, "I have been at LSU for quite some time now and can confirm this has never happened. Not once."
Now, coming back to Ed Orgeron, some reports suggest he is still with the blonde model girlfriend, Bailie Lauderdale. Coach O's girlfriend, Bailie Lauderdale, is a model and fashion entrepreneur from Louisiana.
The news of Ed Orgeron dating Bailie came out when their rather intimate pictures went viral on the internet. Coach Ed Orgeron allegedly started dating Bailie Lauderdale following his split from his former wife, Kelly Orgeron.
Now, Who is This Coach O's Girlfriend, Brandy?
Some reports claim that Coach O is dating a new girlfriend, Brandy Landry. However, there's no confirmation from any sources. The name "Brandy" was linked to Coach Ed following his comment after he decided to walk away from the team.
After some research, we found that Brandy Landry is a fan of Coach Ed Orgeron, but we need to wait to figure out whether Coach O and Brandy share any intimate relationship.
Don't Miss,