Tai is one of the cast members of "Love During Lockup." WeTV is back with another peculiar love story; the new show, "Love During Lockup," is a spin-off of "Love After Lockup." The show will put relationships to the test, as the cast of the new show will navigate through their life to be together with their S.O.s after prison time.
The new series premiered on WeTV on Janaury 7, 2022. The series came four years after the O.G. series, "Love After Lockup." While the original show documented people's lives and their relationships after prison, the new show documents the fascinating drama that unfolds when ordinary people first decide to pursue a relationship with prison inmates.
The show presents an early dating period filled with a very specific set of unique challenges and obstacles the people in relationships face. As the network describes, Love During Lockup is all about "putting relationships to the test as they endure!" "Will romantic letter and steamy phone calls be enough for these romances to last?" We will know as the show progress!
During the sneak peek of the show, we were introduced to Tai; While her episode is yet to be aired, here's what we know about her so far.
Tai From Love During Lockup
Tai is one of the cast members of Love During Lockup, a spin-off show of "Love After Lockup," which has already premiered its first episode on January 7, 2022. After watching the sneak peek video, we found Tai is originally from Buffalo, New York.
Tai works as a mortician for a living; she said she had this huge fascination to be a mortician from her childhood! In her own words, her career as a mortician began when she was a little girl before she knew what a mortician was."
Tai from Love During Lockup said, "When I was about nine years old, the whole O.J. Simpsons Scandal thing happened, and I would take my Barbie dolls and my toys and go and reenact the scene."
Tai added, "I wasn't like obsessed with the death itself, it was of the finding! You know, the scientific aspects of it, so from there I went to school to be a mortician, and I excelled."
Tai is in a Relationship With Her Boyfriend, Hottie!
Tai from "Love During Lockup" is in a relationship with her boyfriend, Hottie! And as we all know it, Hottie is an inmate; while we are yet to learn more about him after the show airs, there's something more important Tai has to share.
Tai said, though she is in a relationship with Hottie, there's this person who she will never stop loving, and that person is "Ricky." And wait, there's actually a list of people she is into, and she has them labeled on the map. Name written over a few states on the map, Tai said all the men are in prison.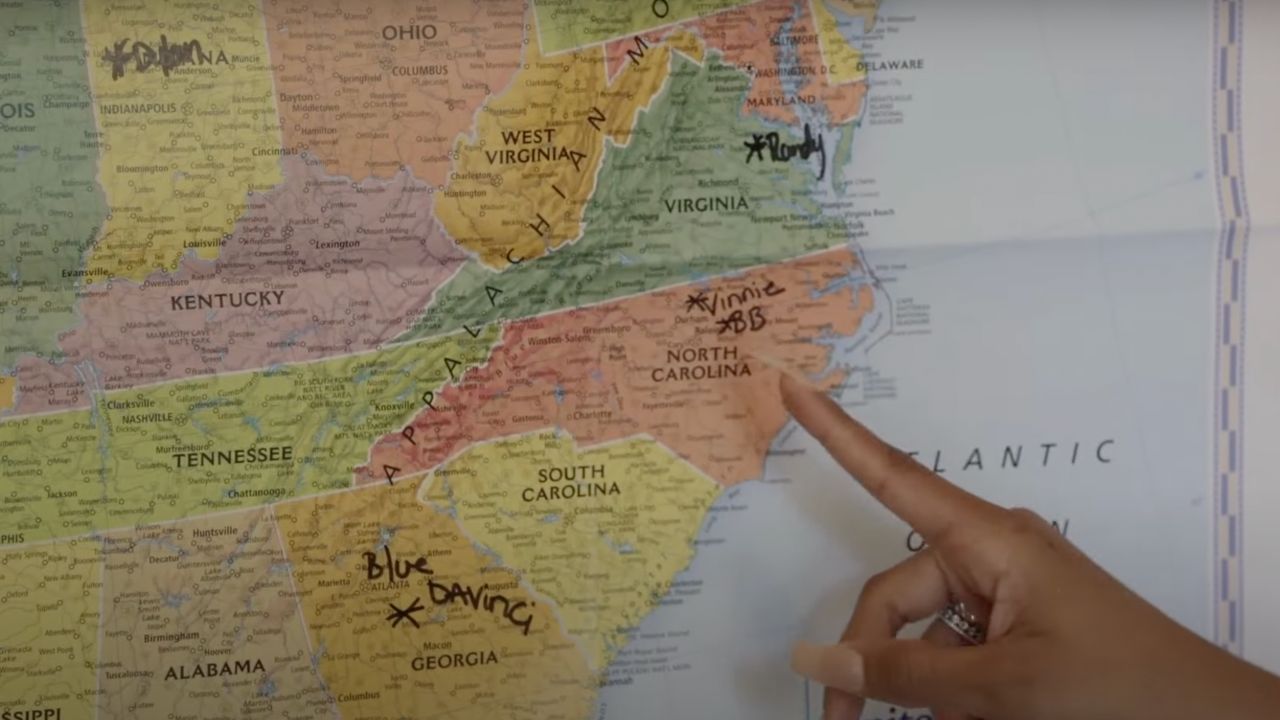 BB, Ricky, Blue Davinci are a few names Tai is into! (WeTV)
Tai shared she has some special bonding with BB, too! She said, "I am gonna love him to the day he takes his last breath. We communicate through text messages, we communicate through emails and we communicate through US postal mail as well as online virtual visits."
Tai shared the pandemic has a toll on their relationship as they can see each other in person right now and have to rely on video calls, but once that band is lifted, she will be at every prison. She said, "dating a person in jail was kind of comfortable because it gives you time to still work on yourself. Honestly, I never looked for love in an inmate, inmates found me!"
Tai is a Mother of Three!
Tai from Love During Lockup is "over thirty" and has "three kids" from her previous relationship. She didn't tell her real age; however, some people found out that she is 37 years old as of 2022. And also, she didn't tell us about her babies' father.
Tai thinks dating an inmate is thrilling because she gets to hear prison stories; About the things that happened in jail, hearing about the secrets. That's the whole other world, but shared money is the most challenging thing about dating an inmate.
Does Tai From Love During Lockup Have an Instagram Account?
Tai hasn't disclosed her social media profiles yet; However, please check back again to see the updates.
Don't Miss,