Winsome Sears is an American politician and businesswoman who recently etched her name in history with golden letters. The 57-year-old Republican was sworn in as Virginia's 42nd Lieutenant Governor and became the first female of color, only the second woman to hold a statewide office in the commonwealth.
Winsome Sears will preside over the state Senate as lieutenant governor; Winsome, as president of the 40-member chamber, will be tasked with breaking tied votes when lawmakers are locked on a measure. Following the historic win, Sears told,
"I didn't run to make history, and I ran to leave it better than I found it. It doesn't mean all of those things to me, I just see myself as me. It's probably a good thing because then I might get the big head."
Winsome added,
"I want people to understand that I didn't do anything special to become Lt. Gov. of Virginia; all I did was stay in school and study. Prepare, prepare, prepare, that's all I did because I want the little girls and boys to know that if I can do it. As his mother, my grandmother, used to tell me nothing beats a try but failure, but if you failed it means you've tried."
Winsome Sears was born in Jamaica; she immigrated to the U.S. when she was a kid. She and her parents arrived in the country with just $1.75, and that too during the height of the civil war. However, Sears learned that education was the only gateway to a "better life."
Winsome earned an A.A. from Tidewater Community College, then she went to Old Dominion University and received a Bachelor of Arts in English. For the master's degree in Organizational Leadership, she went to Regent University. Following her Post Graduation, she married a Marine Corps veteran, Terence Sears.
Who is Winsome Sears Husband, Terence Sears?
As mentioned earlier, Winsome Sears' husband, Terence Sears, is a Marine Corps veteran. The couple tied the knots in the 90s and are blessed with two kids, Katie E. Sears and Janel C. Sears, now. Actually, Winsome and Terence had three children; they lost their eldest daughter, DeJon Sears, in a car accident in 2012.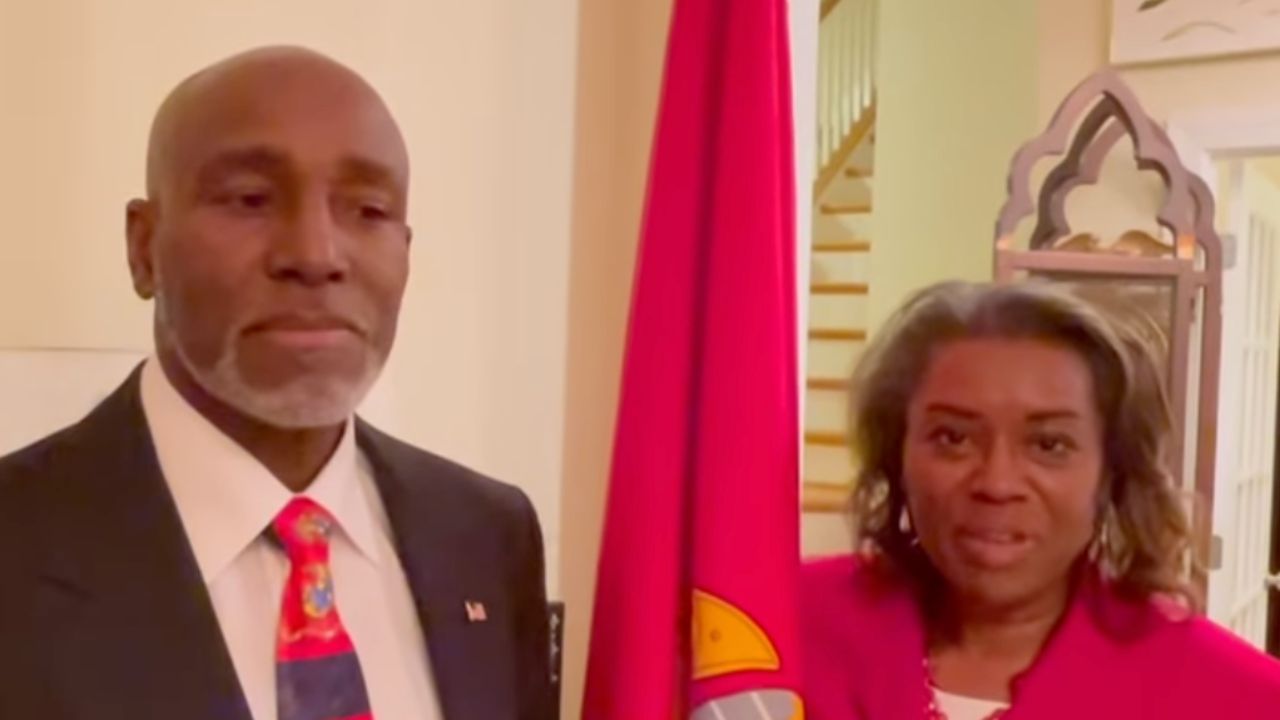 Winsome Sears' been married to her husband, Terence Sears. They both are proud Marines. (Winsome Sears' Instagram)
Winsome Sears and her husband, Terence Sears, co-own a plumbing company called "Shenandoah Appliance Plumbing & Electric." Terence is in charge of the company, while Winsome oversees the business with the clients and parties. Moreover, Winsome Sears is also the director of a local women's homeless shelter for The Salvation Army.
What Happened to Winsome Sears and Terence Sears' Daughter?
Winsome Sears and her husband, Terence Sears, lost their eldest daughter, Dejon L'Air Williams, to a fatal car crash. Williams, who was 27 years old at the time, was pronounced dead at the scene of the Fairfax crash. Sadly, it was not just the daughter Sears lost that day; the crash killed her two grandchildren, Victoria Williams and Faith Williams, too.
According to the report from The Virginia Pilot, the cause of the crash was cited as "excessive speed." The crash happened on Lee Highway as Dejon Williams was driving east with her daughters in Honda Civic when she sideswiped another vehicle while passing on the left.
Some reports also suggest Dejon Williams was diagnosed with bipolar disorder, but she stopped taking her medication.
Don't Miss,