Dwayne Haskins, the Steelers QB, is probably done with his girlfriend, Kalabrya Gondrezick-Haskins. A recent story suggests Dwayne Haskins' girlfriend knocked out one of Steelers QB's teeth when the accused punched him on the face.
The fight broke following a disagreement; the reports obtained after the arrest suggest a piece of Dwayne's tooth was found on the floor of a room at The Cosmopolitan.
One of the security officers at the location told the Steelers QB asked for help following the verbal arguments turned physical. According to the security officer, Dwayne said, "I want her out of my room. She hit me and cut my lip open."
The 24-year-old American football QB, however, told the authority that he and his girlfriend had verbal disagreements in the past but never physical. The couple had tied the knots recently.
Who is Dwayne Haskins Girlfriend, Kalabrya Gondrezick? Her Sister Kysre Gondrezick
Dwayne Haskins girlfriend, Kalabrya Gondrezick, is a graduate of Michigan State University. According to her profile and a recent post on her Instagram, she holds a bachelor's degree in Interdisciplinary Studies in Arts and Humanities.
During her graduation day, Dwayne Haskins girlfriend posted a series of pictures followed by a long caption.
"I am so humbled and extremely proud to announce that I've received my bachelor's degree on a full-ride academic scholarship in Interdisciplinary Studies in Arts and Humanities with a minor in Innovative Studies & Entrepreneurship."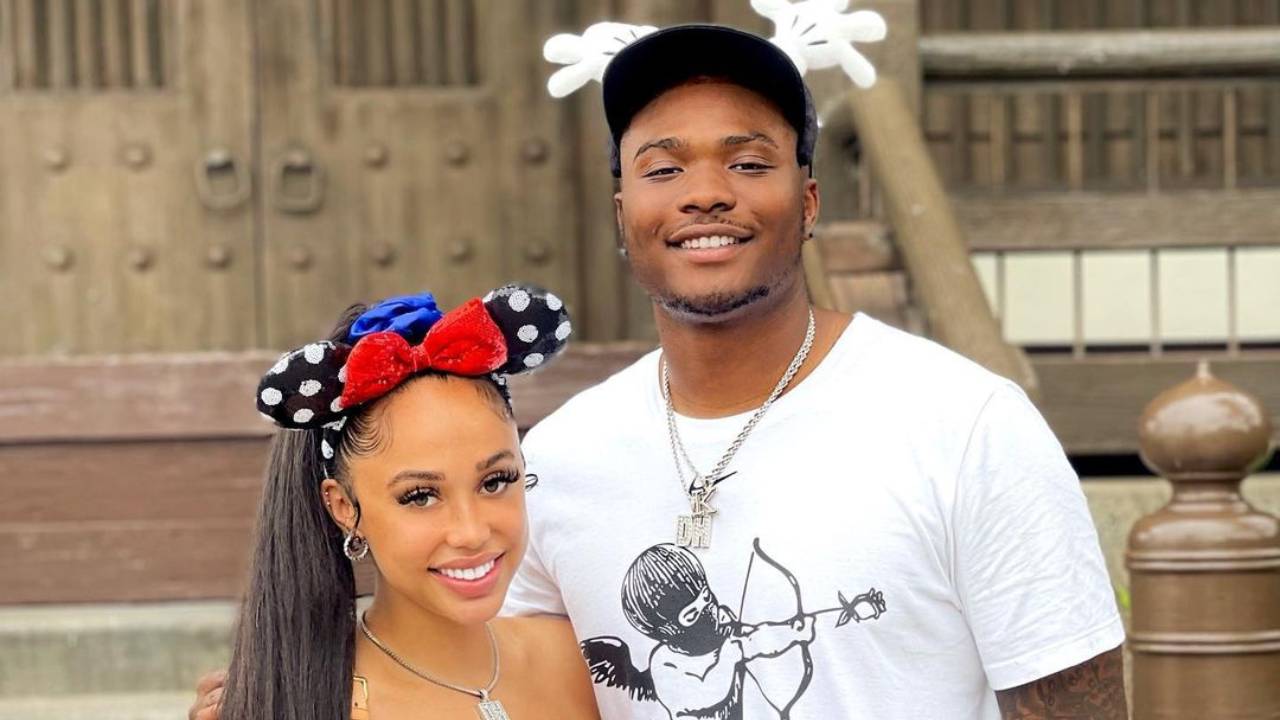 Dwayne Haskins recently got engaged to his girlfriend, Kalabrya Gondrezick. The couple was all set to get married, but their verbal argument took a furious turn and turned physical, following which Steelers QB lost a tooth.
"My degree consists of three triads: theatre, social science, and arts & cultural management; two cognates: communications & business, and a foreign language - Spanish. There were many times I wanted to throw in the towel and quit," she continued.
"I'm so thankful for anyone who has ever supported me to continue following my dreams, despite any obstacles that life threw my way. I hope those reading and seeing this, understand the importance of never giving up on yourself. Can't wait for you all to see what's in store next. I'm only doing things that are going to make me elevate ? God Bless, ????" Kalabrya Gondrezick added.
Kalabrya Gondrezick is also the sister of a well-renowned women basketball player, Kysre Rae Gondrezick. Kysre, the younger sister of Kalabrya, plays for the Indiana Fever.
What Happened Between Dwayne Haskins and Kalabrya Gondrezick?
Dwayne Haskins and Kalabrya Gondrezick seemed happy in their relationship. The (reportedly former) couple got engaged on their tour to Vietnam. Their Instagram posts were filled with pictures from their engagement day.
Later, Dwayne Haskins and Kalabrya Gondrezick decided to get married, for which the two were in Las Vegas. But some reports also suggest the couple was already married on March 19, 2021, and this time they were renewing their vows.
But things took the wrong way when something didn't go as planned. According to the reports obtained by the police, the dispute stemmed from plans for social outings, Dwayne Haskins gf, and her friends were going to a "Magic Mike show," and the Steelers QB and his friends were going to Drai's Beach Club & Nightclub.
Haskins didn't wait for Kalabrya, which he was supposed to; instead, he left with his friends. When he and his friends returned, the scene was not what Dwayne expected. The verbal arguments led to a physical fight.
The Steelers QB was taken to Sunrise Hospital and Medical Center for facial injuries.
Don't Miss: