Tia Mowry is one of the cast members of the Netflix series "Family Reunion." Even though she is gaining massive popularity through the show, it may feel like this was her breakthrough. Still, the 43-year-old received her recognition through ABC's "Sister, Sister," an American sitcom she starred opposite to her twin sister Tamera Mowry.
Following Tia Mowry and her twin sister, Tamera Mowry, the success through the show, the "Family Reunion" star bagged a role in the Disney Channel movie "Twitches" and "Twitches Too." Well, there's no stopping for the 43-year-old ever since.
Now, Tia Mowry is doing exceptionally well on the new Netflix show; however, success comes with a price, and you have to prepare for the things people wonder about your life. Tia is no exception to those; she has faced a few backlashes and some criticism, but other mostly gullible fans' curiosity. We will neglect all the negativity and focus only on the latter part, that is some gullible fans' curiosity. One of them is,
Is Tia Mowry Still Married? - Yes, Indeed, She Is Still Married!
Following the start of "Family Reunion," Tia Mowry has been away from her family; this led some fans to ask if she is still married. Well, yes, indeed, Tia Mowry is still married to her husband, Cory Hardrict. If you don't know Cory,  he is an accomplished actor himself, just like his wife.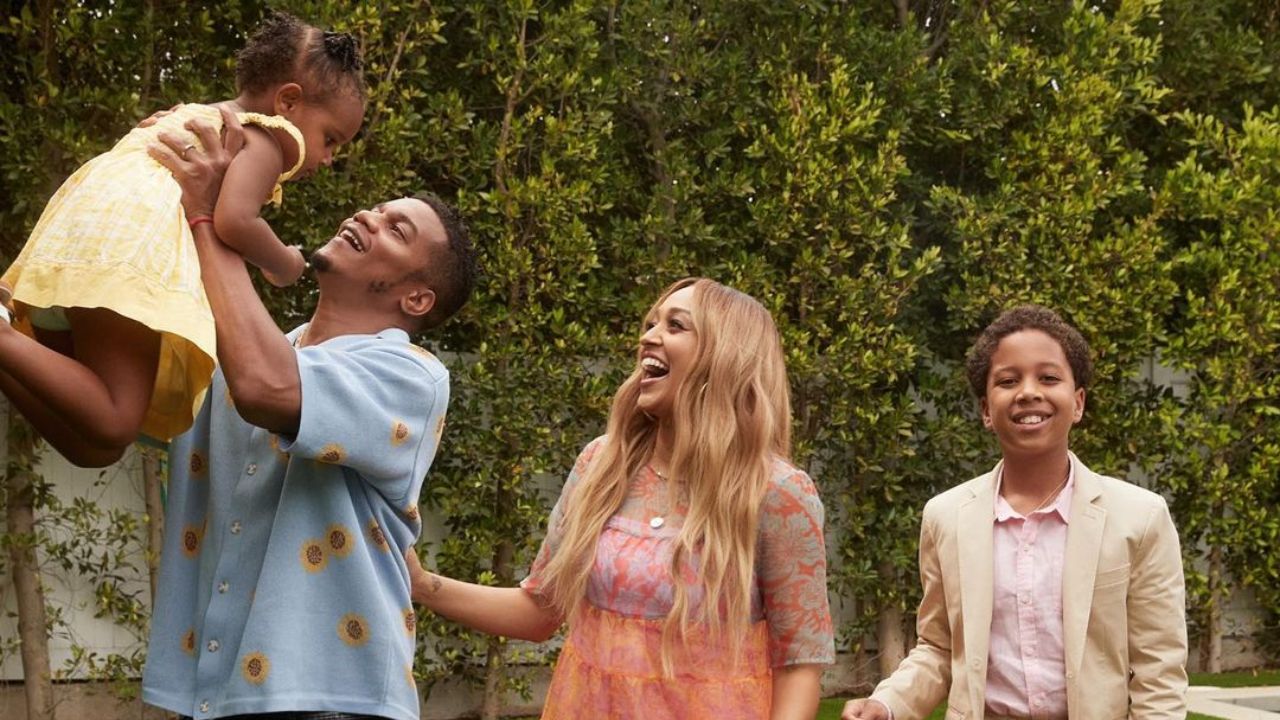 Tia Mowry is still married to her husband, Cory Hardrict. (Instagram)
Cory Hardrict's recent project includes 'The Chi," "All American," "Bronzeville," and many more. And recently, he has enrolled in a new project; reports suggest Cory will star in a new thriller series, "Die Like A Man."
Tia Mowry and Her Husband Share Two Children
Tia Mowry and her husband, Cory Hardrict, are blessed with two children, a son, Cree Hardrict, and a daughter, Cairo Hardrict. The couple is often seen posting pictures of their children, and we can tell this is the happiest family we have seen.
The couple welcomed their son, Cree, on Jun 28, 2011, while daughter Cairo was born on May 5, 2018. Family Reunion star is often vocal about her ways of raising children, and she also shares parenting tips with her Instagram followers.
Is Tia Mowry Pregnant Again - No, She Is Not!
Despite the speculations, no, Tia Mowry is not pregnant. The confusing came following a post on her Instagram. The cryptic message on the caption led many fans to believe the couple will have a baby no. 3. She also mentioned some big announcements.
Tia wrote, "Hey guys! As mentioned a few days ago, I have some VERY exciting news and we're playing the guessing time. Here is clue #2. Cree and Cairo are in the photo, what do you think the surprise could be?!"
It turned out, the big announcement Tia Mowry kept us waiting for was not baby no. 3, but her new cookbook. On the announcement day, she wrote, "THE BIG ANNOUNCEMENT!!! My second cookbook, The Quick Fix Kitchen, is coming out on September 28th, and I could not be more excited ? I've spent a year working on this book, and it's filled with so many easy, delicious, incredible recipes for the entire family. I hope you guys enjoy it! ❤️ You can preorder with the link in my bio!"
So, Tia Mowry is not pregnant, but her cookbook is available to buy if you are interested! Family Reunion star has made it clear she doesn't want a baby no. 3. Talking to the Us Magazine, the 43-year-old actress said, "I no longer need therapy [to decide baby No. 3],
Tia Mowry added, "No to the no to the no to the no to the no. I was so confused [before]. I didn't know what I wanted. One minute I was like, yes, the next minute I was like, no. But being in quarantine has really made me realize I'm good."
Don't Miss,