Michael Strahan is the former NFL player, television personality and journalist known for "Good Morning America." Before working on ABC's show, Michael started appearing as a football analyst for Fox NFL Sunday on television.
Michael found more similar success on television as he did in his athletic career; Somewhere between while working on NFL Sunday and Good Morning America, Strahan co-run a show with Kelly Ripa named, "Live! with Kelly and Michael." The 50-year-old won two Daytime Emmy Awards.
Michael Strahan was inducted into the Hall of Fame in 2014, which is enough to say how good he was a player and is as a human. Well, just recently, the 50-year-old is in the sub-orbital space. (shooting for the moon already!).
Michael Strahan, Alan Shephard's daughter, Laura Shepard Churchley, Dylan Taylor, Evan Dick, and Lane Bess and his child, Cameron Bess were in the flight. This flight marks the first time Jeff Bezos' rocket company, Blue Origin, filled all six seats on its New Shepard rocket and capsule.
Blue Origin has made two flights prior to this one on December 11, 2021. Boss Jeff was in the July flight that sent him to space, only four seats were taken up at that time, CNN reported.
But it seems, Michael Strahan was already flying "in love" before he became the first television personality to make it to the sub-orbital space. Indeed, we are here to talk about his relationship, so without further ado, let's find out about his love life.
Michael Strahan Girlfriend Now 2021!
No! Michael Strahan already broke up with Marianna Hewitt, the couple was together for years, but they have parted their ways. Following his split with Marianna Hewitt, Good Morning America host is in a relationship with his new girlfriend, Kayla Quick.
According to the reports, Michael Strahan met his new girlfriend at a bar in Port Charlotte for the first time, the bar where she was working as a waitress. Their love story goes a long back, the couple met at a bar for the first time, and next thing we saw was, Strahan bringing his new girl at the 2015 Super Bowl after-party.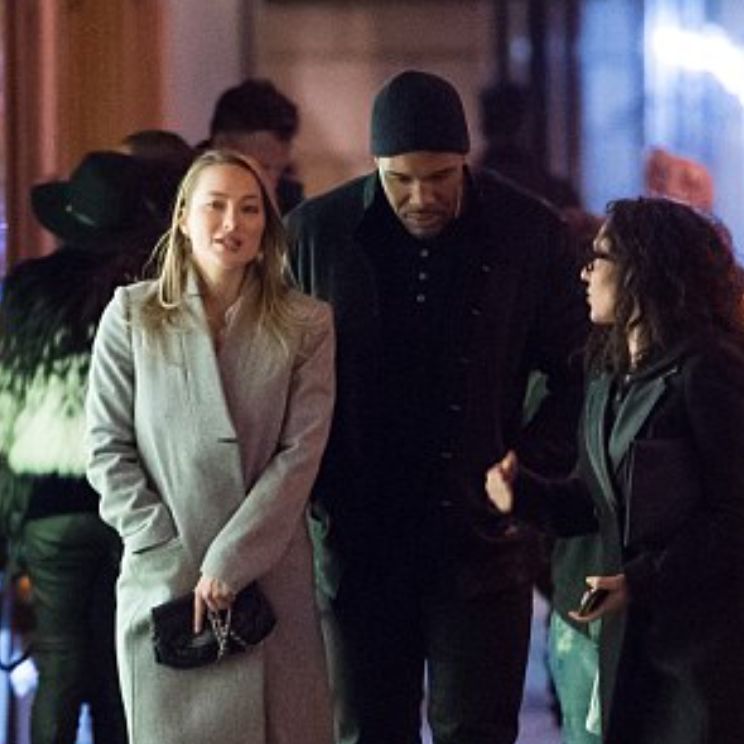 Michael Strahan is in a relationship with his girlfriend, Kayla Quick.
The couple has been dating for over four years now. (DailyMail)
Indeed, though their romance a little earlier, people found out about their relationship following Strahan and Kayla Quick was spotted at the after-party. But we must give it to both, Kayla and Strahan, for keeping their relationship wayyy out of the public attention.
But, What Does Michael Strahan's Girlfriend Do?
It's still unclear what Michael Strahan's girlfriend, Kayla Quick, does now, but some outlets suggest she used to work as a waitress, and later stripper. Well, how true is that? It's still be verified, but some site even claimed she used to make  a little over two-grand a week working as a stripper.
When it comes to find out some useless information about someone famous' life, who can do it better than DailyMail itself. The British outlet dug deep to extract information about Kayla Quick's past, and found she had criminal past.
According to the outlet, Kayla Quick was "not a stripper" but a waitress who used to work in a strip club. But what's dreary about her is, she has a criminal record, Michael Strahan's girlfriend was arrested in 2005 for allegedly stealing her own grandmother's jewelry worth $6,000.
Another similar outlet, RadarOnline, that blatantly labeled Kayla Quick as a "former strip club vixen," wrote, she stole the jewelry with the help of her then-boyfriend, Justin Hundley. Her ex said, "Kayla had been a good girl before high school, but that all changed around the time she turned 14."
Hundley added, "She was arrested for disorderly conduct when she got into a fight at her home in Port Charlotte, Florida. It was like a switch was flipped. Almost overnight she became this huge partier." Well, we suppose things have changed now, and Kayla has left her past behind, and it seems, she did. Michael and Kayla look happy together.
Don't Miss,